Groupon's stock held up by optimism, not realism
The coupon site needs to get its merchant mix right, focusing more on service-based businesses that benefit from daily deals.
Groupon
's (
GRPN
) journey going public has been bumpy, to say the least. After a slew of public relations mishaps, questionable accounting practices and some highly publicized merchant fallouts, the company's stock finally ended 2011 at a price slightly less than its $20 offering price.
While Groupon can become a sustainable business, we believe that its present fundamentals do not support the stock's current market price.
We recently launched coverage of
Groupon with a $13 price estimate
. Groupon leads the daily-deal market and shares the sector with players such as LivingSocial and
Google
(
GOOG
) Offers.
Groupon's touted valuations have fluctuated wildly in the past, and investor views continue to be polarized. Many industry experts have cited that Groupon's business model is doomed to fail, especially in the wake of intense competition and the entry of large players like Google. On the flipside, many have bought Groupon's revenue blitzkreig story, reiterating Executive Chairman Eric Lefkofsky's description of the company as "wildly profitable." Both these views have garnered lots of press, leaving the retail investor in limbo as to where exactly Groupon stands.
While consumers are always happy to jump on the cheapest deal, Groupon's main problem arises from its merchants. Surveys conducted recently have yielded a mixed bag, with one stating that merchant demand is expected to decline in the next six months. While this debate continues, the most visible trend is that merchants with high marginal costs (for instance, food and beverage businesses) are bearing the brunt. Groupon's deals led to a hefty loss for a bakery, and another food business was liquidated in January 2012 after running heavy losses from an arrangement with the site. In contrast, there have been no reports of service-dominated businesses like spas being adversely affected by daily-deal schemes.
Food and drinks still constitute around 24% of Groupon's total deal mix in North America, and it would not be a surprise if more such incidents crop up in 2012.
Groupon urgently needs to get its merchant mix right, focusing more on service-based businesses that will tangibly benefit from daily deals. Merchants also seem to be relatively unaware of the risks involved in running a daily deal, and Groupon must highlight these risks before striking a deal. The company may also need to compromise on the sales pressure it puts on merchants as more failing small businesses simply means more bad PR for Groupon.
Groupon's take rate was little over 40% for its daily deal business in 2010 and 2011, and we expect this to decline to around 30% by the end of Trefis forecast period. The primary factor behind this is intense competition, especially from tech giants like Google and Amazon. Such companies have a sufficient cash cushion through their primary businesses that enables them to give more payouts to merchants.
Further, Groupon cannot continue with its marketing blitz forever, with these expenses at around $613 million for the first nine months of 2011 (around 55% of its net revenues for the period). This means that to get more subscribers it needs to strike partnerships, a recent one being with Deutche Telekom. As partners command their own revenue share, Groupon's take rates are bound to decline. Take rates are a crucial driver in determining Groupon's stock. In fact, to achieve a $20 stock price, Groupon's daily deals take rate would have to increase to close to 60% by the end of the Trefis forecast period.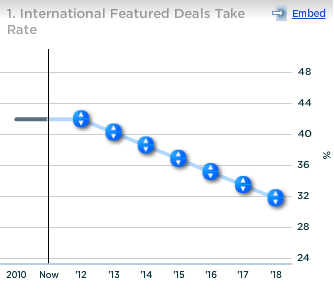 See our full analysis for Groupon, and our discussion of Groupon's fluctuating valuation.
ABOUT
Top Stocks provides analysis about the most noteworthy stocks in the market each day, combining some of the best content from around the MSN Money site and the rest of the Web.
Contributors include professional investors and journalists affiliated with MSN Money.
Follow us on Twitter @topstocksmsn.