Dow loses critical support as selling intensifies
Global markets drop as the yen carry trade collapses and ends the cheap-money dream.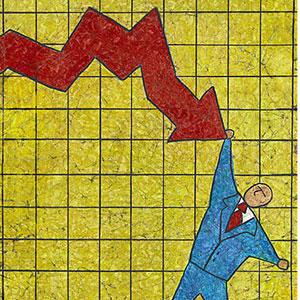 The dream that cheap money can solve all was coming down around the bulls' heads Thursday as markets worldwide were in turmoil. Japanese stock futures have fallen into bear market territory. European stocks and sovereign bonds are dropping, pushing borrowing costs and reminding everyone the eurozone crisis is far from solved.
And here at home, the Dow Jones Industrial Average has just scythed below its 50-day moving average for the first in seven months -- proving the fundamentals still matter and that the concept of mean reversion, to the frustration of momentum traders, is still in play. At the same time, repressed defensive plays like Treasury bonds and gold are surging.
How long will the selling last? And where are the profits to be made along the way?
The catalyst for all this is the reversal of the yen carry trade that has fueled this market, single handedly, since the marcoeconomic data started rolling over months ago and executives started marking down Q2 earnings. That encouraged the X factor in all markets -- emotion -- to come into play, pushing NYSE margin debt to record highs, boosting consumer confidence and pushing investor sentiment gauges into bull market topping territory.
Now that the yen carry is collapsing, panic is setting in as the emotional tailwind fades.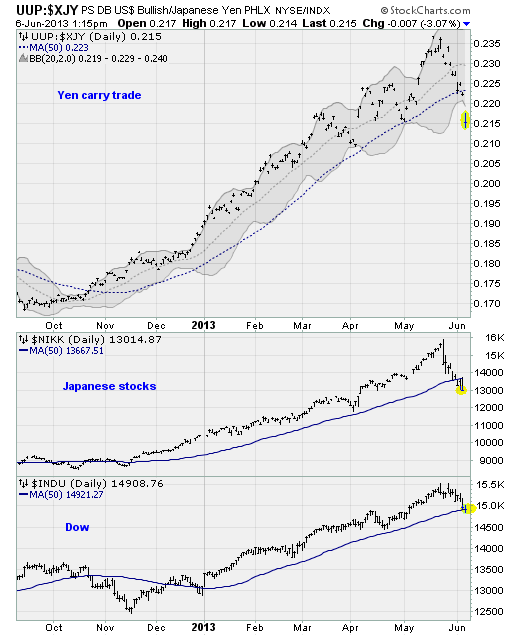 You can see this in the chart above, which I first showed in a blog post Wednesday, illustrating the relationship between the U.S. dollar and the Japanese yen. For hedge funds putting on the yen carry, they would short the yen and buy stocks -- profiting from the trade on both sides as this chart climbed and stocks rose.
Now they are being squeezed on two sides as the yen carry falls and stocks melt. Without strong support from the fundamentals, selling will only encourage more selling until sentiment has fully reversed from myopic optimism to haggard indifference.
When will that be? Wednesday, I mused that a test of the S&P 500's 200-day moving average near 1,500 would, at the bare minimum, qualify as a cathartic enough event to clear the air of overconfidence. The S&P 500 is about 100 points away from there, which would be worth a 6.3% drop from current levels and take us back to the January-February trading range.
At that point, a short-term bounce would be likely as the market waits to see what the impact of its drop on the real economy will be. Remember, a higher stock market is one of the few bright spots in the economy right now, as manufacturing activity is contracting at a pace not seen since the recession ended.
We'll also need to find out if the eurozone can handle higher borrowing costs (unlikely) or the export damaging impact of a stronger euro (also unlikely as Germany's economy starts contracting). And we will need to see how the market reacts to the failure of Japan's efforts to inflate a stock market bubble by destroying its currency and shaking its huge government bond market.
For conservative investors, in situations like this cash is king. But also consider that beaten down defensive assets like precious metals and Treasury bonds are showing signs of life for the first time in months. Gold and silver, in particular, have been heavily shorted and are vulnerable to a short squeeze -- which could send prices up quickly.
Plays include the iShares 20+ Year Treasury Bond (TLT), the Gold Trust SPDR (GLD), and the iShares Silver (SLV).
More aggressive traders can follow the same logic, only use more leverage via the Direxion 3x Treasury Bond (TMF) and the Velocity Shares 3x Silver (USLV), both of which I've added to my Edge Letter Sample Portfolio.
For individual stock ideas, precious metal mining stocks are forming would what be an inverse head-and-shoulders reversal pattern and could be pushing higher soon. I've recommended AuRico Gold (AUQ) previously and it still looks good.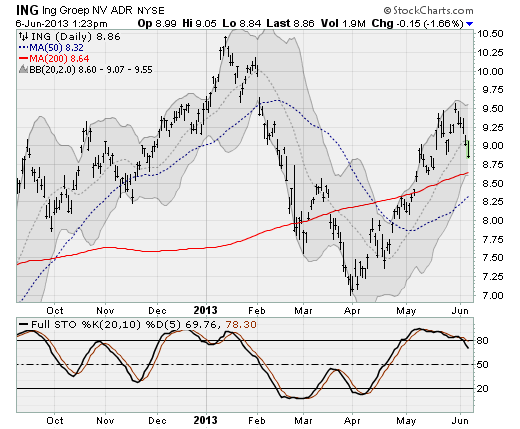 For short ideas, emerging market inverse ETFs such as ProShares UltraShort China (FXP) have performed well but might be too extended for new money. Consider the UltraShort Nasdaq QQQ (QID) instead. European financials are looking weak, including the short in ING Group (ING) I've added to my holdings.
And finally, for the risk takers, the CBOE Volatility Index (VIX) is surging as options traders scramble for put option protection against further losses, pushing up the iPath VIX (VXX) and the VelocityShares 2x VIX (TVIX).
If this is, in fact, as high as stocks will go this cycle the VXX and the TVIX are going to surge in a huge way as the bull market regime of lower and lower volatility is replaced by a bear market regime of higher volatility. I'm not saying that's what's happening right now, only to be aware of it.
***
Update 5:00 PM ET
The bull managed to stick save the situation by pushing the S&P 500 and the Dow back above their 50-day moving averages. For regular folks catching the closing prices on the nightly news, everything will seem tranquil. But it's not.
While U.S. equities stepped back from the edge of the cliff, the massive decline in the yen carry trade stuck. Let's see how the Japanese markets respond when they open in a few hours.
Currency volatility is a sign that the tailwinds that have gently pushed markets higher over the last few months have turned into gusty headwinds.
Now, all eyes turn to Friday's payroll report. The bulls better hope it's strong enough to bring back the fundamental case to own equities -- A strengthening economy -- as liquidity from a falling yen disappears.

Disclosure: Anthony has recommended FXP, TVIX, TMF, AUQ, and USLV to his clients.

Check out Anthony's new investment newsletter, the Edge, and his money management service, Mirhaydari Capital Management. A two-week free trial has been extended to MSN Money readers. Click the link above to sign up. Mirhaydari can be contacted at anthony@edgeletter.c​​​​​​​​​​​​​​​​​​​​om​​ and followed on Twitter at @EdgeLetter. You can view his current stock picks here. Feel free to comment below.

MSN Money on Twitter and Facebook
Like us on Facebook: MSN Money and Top Stocks
Follow us on Twitter: @msn_money and @topstocksmsn
DATA PROVIDERS
Copyright © 2014 Microsoft. All rights reserved.
Fundamental company data and historical chart data provided by Morningstar Inc. Real-time index quotes and delayed quotes supplied by Morningstar Inc. Quotes delayed by up to 15 minutes, except where indicated otherwise. Fund summary, fund performance and dividend data provided by Morningstar Inc. Analyst recommendations provided by Zacks Investment Research. StockScouter data provided by Verus Analytics. IPO data provided by Hoover's Inc. Index membership data provided by Morningstar Inc.
ABOUT
Top Stocks provides analysis about the most noteworthy stocks in the market each day, combining some of the best content from around the MSN Money site and the rest of the Web.
Contributors include professional investors and journalists affiliated with MSN Money.
Follow us on Twitter @topstocksmsn.