8 of the most shorted stocks in the market
Short-sellers are well-known for doing excellent research and uncovering accounting improprieties, financial embellishment and outright fraud.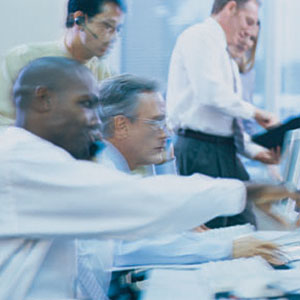 By 
Scott Rubin
One of the most misunderstood aspects of the stock market is short-selling, where investors borrow shares of a stock and sell them into the market collecting the proceeds.
If the investor is able to buy back the stock at a later date for less than they he sold it for, they keep the difference as profit. Short-selling not only increases market liquidity but it also helps increase market efficiency.
A two-way market where investors can both buy
and
short stocks helps to prevent prices from moving too far away from intrinsic value.
Although a high short interest in a stock is not necessarily indicative of a bad company, it is something that investors should keep an eye on when picking stocks. 
Usually high short interest coincides with some sort of headwind for the business or potential downside catalyst. Although heavily shorted stocks can often be great investments it is important to understand why the market is so bearish before buying.
Below, Benzinga takes a look at eight of the most heavily shorted stocks in the market today and examines the reasons why investors are so bearish on these companies' prospects.
First Solar
(
FSLR
): According to data taken from finviz.com, more than 30% of First Solar's float had been sold short in recent days. Despite the bearish sentiment surrounding the name, FSLR had been rallying in recent months prior to the company's first-quarter earnings release on Tuesday after the closing bell.
In after hours trading, the stock was down 11%after falling more than four%during the regular session. On a longer term basis, FSLR has been crushed, with the stock falling better than 85%over the last five years. Shifting trends in the solar industry in recent years have weighed on both First Solar and its competitors.
The company has been forced to reduce capacity amid cuts to government solar subsidies and a 31%decrease in solar-panel prices in 2012.
Herbalife
(
HLF
):  This stock is Wall Street's biggest battleground right now. Roughly 34% of Herbalife's float has been sold short, and hedge fund manager Bill Ackman's Pershing Square Capital Management accounts for a large percentage of the short interest.
In December, Ackman publicly revealed that his firm was short around $1 billion worth of Herbalife shares at an investment conference. He said that the company was a "pyramid scheme" and that his price target for the stock was "$0." Subsequently, HLF fell sharply before quickly recovering as two prominent investors stepped up to take the other side of Ackman's trade. Dan Loeb's Third Point LLC purchased a 8.2% stake in the company as the stock fell in the wake of Ackman's bear raid.
Top activist investor Carl Icahn also revealed a roughly 13% stake in the multilevel marketer of nutritional and weight-loss products in February.
Research in Motion
(
BBRY
): This company's business has experienced a long, steady decline at the hands of competitors such as
Apple
(
AAPL
) and
Google
(
GOOG
).
Between the iPhone and the Android ecosystem, Research in Motion's share of the smartphone market has been devastated. Given the realities that this company faces, it is little surprise that the stock is so heavily shorted. Over the last five years, shares have lost around 88%of their value and Research in Motion's market cap has dwindled to around $7 billion.
Currently, around 32% of the company's float has been sold short as RIM attempts to resurrect its business with its recent launch of BlackBerry 10.
Deckers Outdoor
(
DECK
): This one time high-flier fell on hard times in 2012. Over the last year, the stock has lost 48% as revenue growth has slowed and profitability has been hurt by rising input costs. The company is the maker of UGG boots and Teva footwear.
Falling demand for UGGs, which account for the majority of Deckers' sales, have made this stock a favorite of short-sellers. According to finviz.com, around 39% of the company's float has been sold short as the stock continues to attract negative sentiment even after a large decline in 2012.
GameStop
(
GME
): This stock has been a favorite of short-sellers who view the company's brick and mortar business as being increasingly cumbersome. The short thesis for GameStop is similar to that of companies such as
Best Buy
(
BBY
) and
Barnes & Noble
(
BKS
) who have been hurt badly by the rise of e-commerce.
Over the last five years, shares of GameStop have lost around 46%. Over the last year, however, the stock is up around 9%. Nevertheless, traders have been consistently bearish on this name no matter what the near-term price action has been. In recent weeks, around 33% of the company's float had been sold short as investors believe there is more downside ahead.
J.C. Penney
(
JCP
): This company has been attempting to restructure its business under former Apple executive Ron Johnson. Among the initiatives launched by Johnson was a straight-forward pricing model that eschewed frequent sales in favor of everyday low prices.
The company, however, began rolling out sales once again in January as the new pricing scheme flopped with consumers. On Feb. 27, the company is expected to report its fourth consecutive quarter of sales and profit declines. Bill Ackman's Pershing Square was the largest holder of the stock as of Dec. 31, 2011 with a near 18%stake.
Over the last year, the stock is down almost 50% and currently around 33% of the company's float has been sold short.
Tesla Motors
(
TSLA
): It is not difficult to understand why investors would be bearish on Tesla's stock. The electric car manufacturer is an unproven company attempting to carve out a niche in a new and competitive market. Using standard metrics, this is an expensive stock.
For example, TSLA trades at a forward P/E above 24, a price/sales ratio over nine and a price/book ratio of 31. Despite the fact that TSLA is a heavily shorted name, the stock has performed well in recent years with shares rising almost 80%since their first trading day on July 9, 2010. Nevertheless, traders continue to bet against the name with around 37% of Tesla's float currently sold short.
Strum, Ruger & Co.
(
RGR
): The strategic landscape for Strum, Ruger & Co's business is extremely interesting. On the one hand, the company may face long-term headwinds if more onerous firearm laws and regulations are passed in the wake of shifting gun control sentiment in the United States.
The renewed debate over gun control, however, has set a fire under Strum, Ruger's business with record firearm and ammunition sales. Undoubtedly, this is a near-term catalyst for the company, but investors remain concerned about the long-term ramifications of stricter regulations. The share price also faces headwinds irrespective of how the business is performing as large institutional investors have been dumping the stock due to the unfavorable publicity surrounding the company.
Many of these large investors may never invest in a gun company again. Although the future of Strum, Ruger is very much in flux, the stock has attracted a significant amount of negative sentiment with almost 37% of its float sold short.
More from Benzinga
DATA PROVIDERS
Copyright © 2014 Microsoft. All rights reserved.
Fundamental company data and historical chart data provided by Morningstar Inc. Real-time index quotes and delayed quotes supplied by Morningstar Inc. Quotes delayed by up to 15 minutes, except where indicated otherwise. Fund summary, fund performance and dividend data provided by Morningstar Inc. Analyst recommendations provided by Zacks Investment Research. StockScouter data provided by Verus Analytics. IPO data provided by Hoover's Inc. Index membership data provided by Morningstar Inc.
ABOUT
Top Stocks provides analysis about the most noteworthy stocks in the market each day, combining some of the best content from around the MSN Money site and the rest of the Web.
Contributors include professional investors and journalists affiliated with MSN Money.
Follow us on Twitter @topstocksmsn.