Europe headed back into the danger zone
It's almost certain that the region's economy has slipped into a recession again.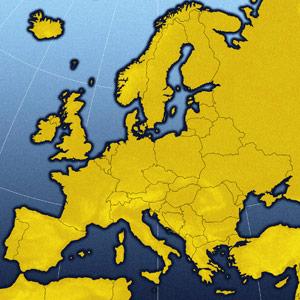 More evidence -- in case you needed it -- is showing that Europe has slipped back into recession in the third quarter. And the newest economic danger zone is named France.
In September, Europe's manufacturing sector suffered its worst decline since 2009, according to the Markit Economics purchasing managers index released Monday morning.
Two countries in the eurozone did manage to show growth in their manufacturing sectors -- Ireland at 51.8 and the Netherlands at 50.7. (In this index any number above 50 shows that the economy or sector is growing. Less than 50 and the economy or sector is in contraction.)
After those two countries, though, the data was grim indeed. Germany 47.4. Italy 45.7. Austria 45.1. Spain 44.5. France 42.7. And Greece 42.2.
For the eurozone as a whole, the manufacturing index came in at 46.1 in the month. That's the 11th month in a row with an index reading below 50. It is now almost a given that the eurozone economy as a whole will slip back into recession when data for the third quarter is put together.
Nobody can be surprised at the 42.2 reading for Greece, a country whose economy is a shambles. But the 42.7 reading for France, just barely above that for Greece, is a shock. (France is the second largest economy in the eurozone.) In September, the French manufacturing sector contracted at the fastest pace in three and a half years. The index had stood at 46.0 in August. The sub-index that tracks new orders was an even lower 39.6.
Other data showed that unemployment in Greece and Spain continued to worsen. The overall unemployment rate in Spain hit 25.1% and in Greece 24.4%. In Spain, 52.9% of adults under 25 are unemployed. The figure in Greece rises to 55.4% of all adults under 25.

At the time of this writing, Jim Jubak didn't own shares of any companies mentioned in this post in personal portfolios. The mutual fund he manages, Jubak Global Equity Fund (JUBAX), may or may not own positions in any stock mentioned. For a full list of the stocks in the fund as of the end of the most recent quarter, 
see the fund's portfolio here
. 

Who cares?  The market will not react negatively and drop as long as Draghi says he is "committed" to fixing things or they pump/dump more money into the economy ala the USA...all will be well.  Europe has an austerity program and don't have the revenue to support it through traditional methods such as taxed so the cure to make sure protesters don't create an uprising...just print more money!!  Seems like a familiar tactic and one that we continue to do here in the USA.  I find it amusing when you have key economic indicators (not opinions and phony surveys) that all point to a global slowdown in China, Europe and USA and yet some CEO or financial "expert" thinks things will get better and the media pumps it up with sensational headlines to give the illusion all is well and the market soars!!  Meanwhile, we have a broken US postal service losing billions of dollars a year, an anemic housing market, lackluster job growth, slowdown in manufacturing etc. and yet the market once again "soars" on some bullsh*t newsbite.  I am also sick and tired of all the various manufacturing indexes, consumer surveys etc.  If you want the truth dig into the numbers and you will find what is reality in our economy and not what the media wants to spew forth.  I'm surprised the Euro isn't up based on the European stunning comeback over the USA...that's the type of ridicouous info driving the market these days. And lets not forget as we enter the holiday season the blaring announcement about all the jobs being created but what they headlines don't say is they are part-time, low pay, no benefits retail jobs that will be eliminated in January once people return all the junky Chinese goods they bought at Christmas.

Europe didn't do squat to fix their SPENDING problem.  The PIIGS are all still running massive budget deficits.   The French boosted taxes to insane levels, so that the high income earners have left and taken up residence elsewhere.    
Cross this imaginary line and you get to keep what you earn?  People will move to the better side.
Europe is trying to practice Obamanomics...  i.e. Borrow, Print, Tax and SPEND there way to prosperity.  That however, is the formula for bankruptcy, not economic growth.
Are you sure you want to delete this comment?
DATA PROVIDERS
Copyright © 2014 Microsoft. All rights reserved.
Fundamental company data and historical chart data provided by Morningstar Inc. Real-time index quotes and delayed quotes supplied by Morningstar Inc. Quotes delayed by up to 15 minutes, except where indicated otherwise. Fund summary, fund performance and dividend data provided by Morningstar Inc. Analyst recommendations provided by Zacks Investment Research. StockScouter data provided by Verus Analytics. IPO data provided by Hoover's Inc. Index membership data provided by Morningstar Inc.
ABOUT
Top Stocks provides analysis about the most noteworthy stocks in the market each day, combining some of the best content from around the MSN Money site and the rest of the Web.
Contributors include professional investors and journalists affiliated with MSN Money.
Follow us on Twitter @topstocksmsn.