Domino's pizza is ready to be sliced
It's been an outstanding turnaround story, but the best days for the chain are likely behind it.

By
Daniel Putnam
Talk about a recipe for success. Apologize for a bad product, launch a brilliant marketing campaign to support a change, then watch your stock soar to an all-time high.

It's not the traditional route to riches, but it has certainly worked for Domino's Pizza (DPZ). The stock closed at $33.42 on Thursday, up from $15.95 at the start of the year and $2.61 in late 2008.

It's been an outstanding turnaround story, but it's time to start betting against Domino's. Here are a few reasons that the best days for DPZ stock are likely behind it: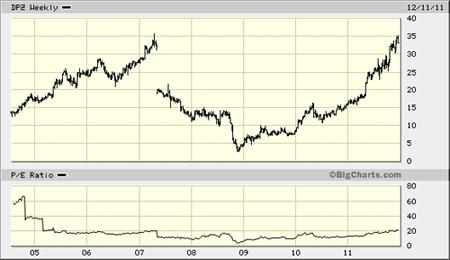 Valuation: Domino's is trading at 22.2 times trailing earnings, just short of its five-year high of 23.4 (hit in March, 2007), and well above its five-year average of 13.4. The forward P/E, at 17.7, also is rich.

Comparatively, Papa John's International (PZZA) trades at 14.6 times forward earnings. Other metrics: Domino's PEG ratio has hit an all-time high, and its earnings yield, at 4.76%, is well below the five-year average of 9.3%. Price-to-sales paints the same picture: 1.25 now versus a five-year average of 0.65.
Valuation alone doesn't break a story, but this indicates that the margin for error has narrowed considerably.

Debt: Domino's also has a ridiculous $1.45 billion debt, versus cash of $78.6 million and a market cap of a little around $2 billion. Operating cash flow in the trailing 12-month period was $123 million, indicating the burdensome nature of the current debt load and the potential for higher rates to damage this company down the road.

Insider Selling: According to data on Yahoo! Finance, insiders have dumped 2.6 million DPZ shares in the past six months, which is a full 22% of the 9.2 million insider shares held. And keep in mind that with the stock having risen so much already this year, the majority of these sales were executed at lower prices than the level where DPZ is trading now -- not exactly a vote of confidence. Institutions also have been lightening their position in the past six months.

Earlier this week, Domino's shares rose to their all-time high just above $35, then pulled back. With the stock up more than 105% so far this year, there appears to be more potential for a double-top than a sustainable breakout.
Domino's stock still has some positive trends working in its favor. The admission that its pizza was subpar has been an attention-grabbing gambit that has helped drive business, although the quality of the new recipe remains up for debate. The company's web initiatives also have boosted growth, as evidenced by its first week of more than a million combined orders from the web and mobile devices in the week ended Nov. 4.
Other factors supporting the stock have been the company's ability to withstand a slow-growth environment, its short interest (at about four days to cover), and a recent positive mention by Jim Cramer on Mad Money. But for all the hype about Domino's turnaround story, sales growth is projected to come in at just 5.8% year-over-year in 2011 and 3.5% next year. On balance, consider the stock a better short than a buy at this level.
Daniel Putnam has long puts on DPZ.
Related Articles:

Come on people if you don't know your being charged a delivery fee for a service that used to be free almost 11 years ago then most people must be delusional. If your lazy butt doesn't want to get up and cook then you have to pay for it.  Food delivery is a service and it is a privilege not a right.
It depends on the state and the owners of the franchise that will dictate how much a delivery fee will be. Food delivery companies pay less than minimum wage and pay an unfair amount in mileage or fuel incentives. Delivery fees are not a "tip included" fee. Major pizza chains in the U.S. are being sued by Drivers uniteing for a better future. If fuel prices get considerably worse then services that most people take for granted will be a thing of the past.     

Domino's delivers Dog Food!!  I hope this piece of encouraging news would be on their slippery slope 2 going out of business.
There is a corrupt DP franchise is operating in Chicago W. Burbs, this lying, welching, double crossing  coward loves firing good quality employees. & replacing them with losers, i.e. drunks, potheads, racists, bigots, &  mental cases that are unable to adjust to a regular work enviroment.
I'll never want anything 2 do with this company which is run by idiots, & losers that make pizzas with body fluids.
Are you sure you want to delete this comment?
DATA PROVIDERS
Copyright © 2014 Microsoft. All rights reserved.
Fundamental company data and historical chart data provided by Morningstar Inc. Real-time index quotes and delayed quotes supplied by Morningstar Inc. Quotes delayed by up to 15 minutes, except where indicated otherwise. Fund summary, fund performance and dividend data provided by Morningstar Inc. Analyst recommendations provided by Zacks Investment Research. StockScouter data provided by Verus Analytics. IPO data provided by Hoover's Inc. Index membership data provided by Morningstar Inc.
ABOUT
Top Stocks provides analysis about the most noteworthy stocks in the market each day, combining some of the best content from around the MSN Money site and the rest of the Web.
Contributors include professional investors and journalists affiliated with MSN Money.
Follow us on Twitter @topstocksmsn.