Will Washington kill the rally?
Automatic spending cuts known as sequestration will hit March 1 unless Congress and the White House can agree on a new spending plan. Markets are betting the cuts won't take place -- and could be rattled if they do.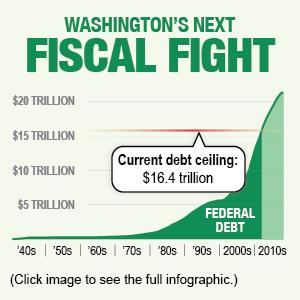 Updated: 2:07 p.m. ET
Sequestration. Don't fall asleep over the word. It may well happen, and, if allowed to fester, it could cause quite a bit of economic mischief.
No, not as much as a government shutdown, which may come at the end of March. But a serious problem nonetheless.

Sequestration is the dreadful word used to describe the automatic spending cuts required under the 2011 budget bill if Congress and the White House can't agree on a budget plan. The plan came after a near-default on U.S. debt.
So far, no one has begun to talk seriously about a realistic budget plan. So either the cuts will kick in, or Congress will opt to delay the decision.

Financial markets appear to be betting on delay because there is increasing reluctance in Congress to derail the economic recovery. That's one reason why the stock market, while weaker this week after a recent rally, isn't in free-fall.
The bigger worry is that a full-scale fight over the $16.4 trillion debt ceiling will erupt. Again, the resolution depends on how Democrats and Republicans weigh the political risks. The budget battles are really over who gets to be in charge.
"Seriously, control of the House two years from now is the underlying theme in this entire sequester debate," Greg Valliere, chief political strategist at Potomac Research Group, wrote clients on Friday.
Refusal to lift the debt ceiling would force a shutdown of non-essential functions of the government. That would have very damaging effects on the economy, says Greg Daco, a senior economist at IHS Global Insight.
If sequestration happens, it requires across-the-board budget cuts evenly split between defense and non-defense spending. The defense budget would be cut 7.3% off current levels. Medicare would absorb a 2% cut, and the rest of the federal budget would be cut 5.3%.
In dollar terms, we're talking about $55 billion a year in defense cuts through 2021 or whenever a new spending scheme is put in place beforehand.
This would probably not have much effect in March. But Daco says the sequester could cut economic growth by 0.4% if allowed to run through the end of the year. Indirect effects would result in an additional 0.1% cut.
It is enough of an issue that the U.S. Navy is delaying sending the aircraft carrier Harry S Truman to the Persian Gulf and will keep it moored in Norfolk, Va. Since 2010, the Navy has kept two carriers on duty in the gulf at all times.
It is also enough of an issue that some 800,000 Pentagon employees would be put on four-day work weeks, the Economist says. Every Pentagon contract will need some renegotiation for at least the next six months. It would probably mean reduced hours or layoffs at virtually all defense contractors.
Reduced paychecks would mean reduced consumer spending, particularly in communities with large defense installations such as San Diego, San Antonio Seattle, Honolulu and Norfolk. So a prolonged sequestration would slowly eat away at whatever economic progress these markets have seen in, say, the last 18 months.
It's not entirely clear how non-defense spending would be affected if the sequestration persists. There are hints, however.
The University of Michigan expects that sequestration would mean substantially less research money available. Its success rate at winning grants from the National Science Foundation would fall from 22% to 16% and from 19% to 14% for grants from the National Institutes for Health.
Education funding would be cut or eliminated. Aid to states and local communities would be reduced as well. You would see reductions in services in national parks and the like.
If Congress failed to raise the debt ceiling, the result, says IHS economist Daco, would be "a very very big direct impact on the economy."
While the stock market overall was down only slightly for the week after Thursday, investors in defense stocks are more worried.
The
SPDR Aerospace and Defense
(
XAR
) peaked on Jan. 25 and is off 4.5% since then. Lockheed Martin (
LMT
) was off nearly 9% as of Thursday from its peak on Jan. 24.
General Dynamics
(
GD
) is off 6.6%.
Raytheon
(
RTN
) has fallen 7% while
Northrop Grumman
(
NOC
) had fallen 4.4%.
DATA PROVIDERS
Copyright © 2014 Microsoft. All rights reserved.
Fundamental company data and historical chart data provided by Morningstar Inc. Real-time index quotes and delayed quotes supplied by Morningstar Inc. Quotes delayed by up to 15 minutes, except where indicated otherwise. Fund summary, fund performance and dividend data provided by Morningstar Inc. Analyst recommendations provided by Zacks Investment Research. StockScouter data provided by Verus Analytics. IPO data provided by Hoover's Inc. Index membership data provided by Morningstar Inc.
ABOUT
Top Stocks provides analysis about the most noteworthy stocks in the market each day, combining some of the best content from around the MSN Money site and the rest of the Web.
Contributors include professional investors and journalists affiliated with MSN Money.
Follow us on Twitter @topstocksmsn.