Should Hewlett-Packard's Meg Whitman be fired?
HP's CEO says the big write-down the company took on its $10 billion Autonomy acquisition was the fault of prior management. But investors are chafing at the company's weakening performance and lousy stock price.
A question that may get larger after
Hewlett-Packard
(
HPQ
) wrote off $8.8 billion of its 2011 acquisition of British software company Autonomy is this: Should Hewlett-Packard start looking for a new chief executive?
The idea may sound loopy. Meg Whitman, the current CEO, has only been in the job for 14 months. But in her tenure, the stock price has fallen some 48% overall. It's worse for the year, down 53% and down about 60% since peaking at about $30 on Feb. 16. Moreover, half the traders in an online poll want Whitman gone and maybe the board of directors, too.
Article continues below.
The stock closed Wednesday at $11.94, up 23 cents. So far this week, the stock is down 7.1%.
This year alone, HP has written off the bulk of two major investments -- Autonomy and the $13.9 billion acquisition of
Electronic Data Systems
from
General Motors
(
GM
) in 2008. Autonomy is the uglier. HP says Autonomy "used accounting improprieties, misrepresentations and disclosure failures to inflate the underlying financial metrics of the company prior to its acquisition by HP."
In other words, HP was the victim of fraud and has referred the case to U.S. and British authorities.
Meanwhile, HP's performance has been nothing to write home about. Revenue in the fiscal fourth quarter fell 7% to $30 billion, partly due to a rising dollar. Adjusted net income (taking out the write-downs) was off 3% to $2.3 billion. For the fiscal year, revenue was down 5% to $120.4 billion. Adjusted net income was down 23% to $8 billion.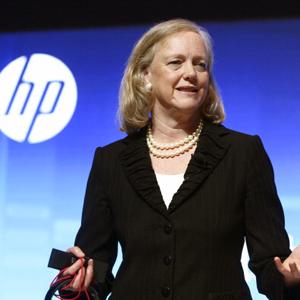 In the fourth quarter, HP saw weakness in its computer business, its printer business, its server business and its services business. The only growth was in its software business, which, ironically, includes what was Autonomy.
It's in the process of reducing its staffing by some 29,000, about 8% of the total, by the end of 2013.
And the company hopes new personal computer, tablets and the like, based on
Microsoft's
(
MSFT
) Windows 8 program, will start to win share from
Apple
(
AAPL
) and
Samsung
. (Microsoft is the publisher of MSN Money.)
So is all this Whitman's fault? Well, she was brought onto the HP board by former CEO Leo Apotheker and did vote to approve the Autonomy deal. But, in fairness, the deal was brought to the board by Apotheker and strategy chief Shane Robison. And the accountants who were supposed to do due diligence didn't come close to the issues that HP says are there.
Most of the directors who voted for the deal are still on the board. Whitman says the problem was that the accountants didn't do a good enough job in their exams of Autonomy's books.
But one management consultant thinks Whitman and the HP board should be fired anyway. They aren't running Hewlett-Packard to become a pre-eminent technology company, says Adam Hartung, who runs Spark Partners outside Chicago.
Whitman, he added, was only writing off assets. "She's not doing anything to fix HP."
At best, HP is playing catch-up on smartphones, tablet devices and personal computers, Hartung said in an interview. It doesn't appear to be scoping out where technology is headed. As a result, he added, "Every month that this goes on is accelerating HP's demise."
Those are rough words for a company that has more than 300,000 employees worldwide. Hartung doesn't care. HP needs to have a courageous CEO and board of directors.
Hartung, who worked in strategic planning at
DuPont
(
DD
)
PepsiCo
(
PEP
) and
Computer Sciences
(
CSC
), sees two areas of opportunity that a company with its professional expertise could seize on:
Small mini-cloud networks. These would let a homeowner or business operator grab onto a network with a PC, smart phone and tablet and collaborate immediately with others.
Televisions that offer true two-way network connectivity. There's lots of talk about an Apple television or a Google television. But the hardware and software are not yet being imbedded in televisions. And there's a chance that the first company that makes this happen could transform technology.
Microsoft's Kinect technology, used mostly with the Xbox game player, offers that kind of potential.
To seize these opportunities means moving research and development away from HP's core product areas: PCs, servers and the like.
Apple faced the same dilemma in the late 1990s when it became apparent that its successful Macintosh line of computers showed clear signs of peaking growth, Hartung said.
Steve Jobs saw that the company needed something new so Apple could grow and thought a music player would work. That led to the iPod and then to the iPhone and iPad. The iPhone and iPad are now Apple's biggest revenue and profit drivers.
DATA PROVIDERS
Copyright © 2014 Microsoft. All rights reserved.
Fundamental company data and historical chart data provided by Morningstar Inc. Real-time index quotes and delayed quotes supplied by Morningstar Inc. Quotes delayed by up to 15 minutes, except where indicated otherwise. Fund summary, fund performance and dividend data provided by Morningstar Inc. Analyst recommendations provided by Zacks Investment Research. StockScouter data provided by Verus Analytics. IPO data provided by Hoover's Inc. Index membership data provided by Morningstar Inc.
ABOUT
Top Stocks provides analysis about the most noteworthy stocks in the market each day, combining some of the best content from around the MSN Money site and the rest of the Web.
Contributors include professional investors and journalists affiliated with MSN Money.
Follow us on Twitter @topstocksmsn.