Presidential politics and the stock market
Assessing how various election scenarios might impact profits.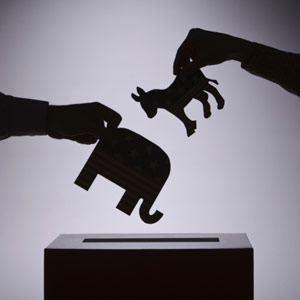 By Jim Stack, InvesTech Market Analyst

Even discussing the election, we risk the political wrath of some of our readers. Yet the topic is too important and timely to ignore. And there's a great deal that history can tell us about the four-year election cycle and the stock market.

Few would argue that there are not major differences between the two presidential candidates, or that the outcome won't have an effect on Wall Street and the economy over the next four years. However, there is significant disagreement or even confusion about what that potential impact might be.

What is the market outlook based on where we are in the 4-year presidential election cycle?

One of the first facts that is important to recognize is that stock market returns are not evenly distributed through the four-year election cycle. 

The best market gains historically come in the third year of a presidential cycle, which is the year before a presidential election.

In the past 50 years there has been only one recession that has started in a presidential election year (our condolences to President Jimmy Carter).

More important to us today, is the fact that bear markets are 1.5 to 2 times more likely to start between this quarter and the third quarter of next year. So this is the time to be more watchful for warning flags or divergences.

Does a candidate's victory margins impact market performance? In short, the answer is "maybe." 

While it would seem that landslide victories might lead to strong market performance, and a marginal or close victory could signal weakness, there is little apparent correlation between the two. 

The three biggest first-year gains (1932, 1944, 1996) all followed strong victories (electoral vote  was greater than 70%). However, the largest first-year loss (1936) followed the biggest victory of all in both popular votes (62.5%) and electoral votes (98.5%!). 

Will a "close" presidential election affect the market outlook negatively?

Looking at the six closest elections, the market gain or loss was almost evenly divided at two weeks, three months and one year out.

Is the stock market likely to perform better under a Democratic or Republican president?

This is always a fun question! The reason is because it defies normal investor perception, but also because the answer can be -- and often is -- manipulated.

When we started InvesTech Research in 1980, it was widely recognized that the market performed much better under a Democratic president.

In fact, the average return of the previous 52 years was four times greater under Democratic presidents than under Republican presidents: 12.0% vs. 2.6%. 

Of course, in 1992, after 12 great years of stock market performance under President Reagan and the senior George Bush, the tables had shifted. 

In fact, if one chose the correct starting part (i.e., 1952) it could even be shown that the stock market took a slight preference to Republican presidents.

However, in the aftermath of two valuation bubbles (the stock market in 2000 and housing in 2007) under President Bush, the performance pendulum had swung back in favor of Democrats. 

When President Obama stepped into the White House in January 2009, with the stock market near its most oversold level in over 75 years, the stage was set for even stronger gains under whoever was president.

The resulting total performance from 1928 until today shows stock market returns being over twice as good under Democratic presidents than under Republican presidents. 

However, the more that one knows about history and coincidence (i.e., the stock market valuation bubble was created before President Bush took office), the less importance one places on this statistic.

Will Congressional gridlock "doom" the stock market outlook?

Historically, the answer is "probably not."  And that certainly turned out to be the case over the past two years in which the S&P 500 has gained 22.4% in spite of Congressional gridlock.

We should also point out that while historical data show Congressional gridlock is negative for the stock market (average 12 months and 24 months return = -7.7% and -8.5%, respectively), that includes only five data points! 

And if not for 1930 nearing the depths of the Great Depression, then average performance during Congressional gridlock would actually be positive.

Far more common is presidential gridlock when one party controls the White House and the other controls both houses of Congress. Ironically, market performance appears much better across all time frames than the overall averages.

Will a Romney victory trigger a post-election rally, or an Obama victory cause a sudden market sell-off?

The two largest two-week gains followed the election of a Republican president, while the two largest two-week losses followed the election of a Democratic president.

Yet, if each presidential term is viewed on an annualized return basis, it becomes obvious that the stock market can do well regardless of which party occupies the White House. 

The best annualized gains occurred predominantly under Republican presidents, which appears to give Republicans the edge. 

But wait a minute! The worst annualized gains have also occurred when a Republican was at the political helm under Hoover, Nixon and Bush (Jr.). 

In the final analysis, it becomes evident that market gains (or losses) are less dependent on which political party wins the White House, and more reflective of economic conditions, trends and risks that are already in place prior to election day.

So personally, I feel there might be a knee-jerk market reaction to the election outcome -- meaning a short-term sell-off if Obama wins, and a short-term rally if Romney wins. 

But rather than a Democrat versus Republican issue, it's not political, it's psychological. So before second guessing the election outcome and making a big portfolio bet, let me emphasize that our strategy should be based on solid evidence instead of a possible short-term reaction. 

And there are some dramatic changes underway. So far, changes are in favorable support of our firm technical indicators in breadth, bellwethers and leadership.

The first of these positive changes has been in a strong surge of consumer confidence -- particularly in the critical "expectations" component. These are no longer threatening recession.

And instead of acting as a drag on the U.S. economy, the housing sector (15% of GDP) is actually improving the outlook for the U.S. economy.

Bottom line, our strategy will be driven by upcoming changes in leading macro-economic evidence and in our technical models rather than the outcome of the election.

More from TheStockAdvisors.com​
Are you sure you want to delete this comment?
DATA PROVIDERS
Copyright © 2014 Microsoft. All rights reserved.
Fundamental company data and historical chart data provided by Morningstar Inc. Real-time index quotes and delayed quotes supplied by Morningstar Inc. Quotes delayed by up to 15 minutes, except where indicated otherwise. Fund summary, fund performance and dividend data provided by Morningstar Inc. Analyst recommendations provided by Zacks Investment Research. StockScouter data provided by Verus Analytics. IPO data provided by Hoover's Inc. Index membership data provided by Morningstar Inc.
ABOUT
Top Stocks provides analysis about the most noteworthy stocks in the market each day, combining some of the best content from around the MSN Money site and the rest of the Web.
Contributors include professional investors and journalists affiliated with MSN Money.
Follow us on Twitter @topstocksmsn.