Fight cancer with these stocks
With so many lives at stake, this billion-dollar industry has plenty of room to grow as companies compete to eliminate some of the most deadly strains.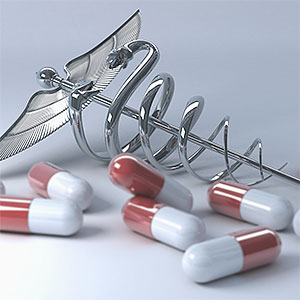 By David Sterman
I recently
heard from an old friend. He
told me of his battle with colon cancer.
His doctors had given him a 30% chance of surviving, but thanks to a new generation of powerful anti-cancer drugs, his cancer has been in remission for nearly five years now. You probably know someone like that, too.
Simply put, a cancer diagnosis is no longer a death sentence. In fact, so much groundbreaking research is being done that doctors are starting to envision a future in which cancer is merely a setback.
In this two-part look at the war on cancer, we'll focus on the progress made, the breakthroughs yet to come and some of the most promising young companies leading the fight.
The War Is Still On
Although oncologists are making rapid gains, cancer remains a formidable foe. Some 575,000 Americans died from cancer in 2011, making it the second-leading killer behind heart disease, according to the Centers for Disease Control and Prevention. More people died from cancer than from strokes, accidents, Alzheimer's, diabetes, liver failure, and influenza/pneumonia -- combined.
Prostate cancer is the most common type of cancer for men (accounting for 29% of all men's cancers in 2011, according to the American Cancer Society), while breast cancer (also 29%) is the leading type of cancer in women. Yet those aren't the most lethal cancers.

Lung cancer remains the most virulent and hard-to-treat form of cancer, accounting for more than a quarter of all cancer-related deaths. (That's a good argument to quit smoking.)
Here's the bad news: Men have a 45% chance of being diagnosed with cancer at some point in their lives, and that figure is 38% for women. But there is a pair of countervailing factors to consider with those numbers.
First, those numbers are rising slightly simply because people are living longer than they did even several decades ago. Second, the number of smokers continues to drop, which is starting to produce fewer incidences of lung cancer. But even though cancer diagnoses are rising, cancer deaths are falling, thanks to a slew of effective drugs that have come on the market in recent years.
Americans spent nearly $14 billion on the 10 best-selling cancer drugs in 2011, and that figure is steadily rising.
                Top-Selling Cancer Drugs of 2011
Only one company,
Roche Holding
(
RHHBY
), can be seen as a major player in the war on cancer, with five different drugs accounting for roughly $8.5 billion in annual sales. (The credit really goes to biotech pioneer Genentech, which Roche acquired in 2009 for $47 billion.) Roche's drugs have considerable life left on their patents, and consensus forecasts predict Roche's Avastin, Rituxan and Herceptin will have $8.9 billion, $7.4 billion and $6.4 billion, respectively, in sales by 2014.
Yet there's a good chance that some of these 10 drugs will not be among the top sellers in five years. That's because doctors appear to making significant headway in clinical testing of new drugs, and some of them are shaping up to be potential blockbusters.
Over the course of 2012, a variety of new cancer-fighting drugs were approved by the Food and Drug Administration (FDA), including:
Xtandi, a prostate cancer drug jointly launched by
Medivation
(
MDVN
) and
Astellas Pharma
(
ALPMY
), which racked up $71 million in sales in less than half a year on the market in 2012. Analysts at
Citigroup
(
C
) project first-quarter sales of at least as much, highlighting an impressive sales ramp for this drug. Sales of Xtandi may reach $1 billion by 2015, according to Citigroup, which has a $70 target price on the stock, 35% above current levels.
Inlyta, a renal cancer drug sold by
Pfizer
(
PFE
), which racked up $70 million in sales last year. Kyprolis, a blood cancer (multiple myeloma) drug launched by
Onyx Pharmaceuticals
(
ONXX
) in the middle of 2012, still managed to rack up $64 million in sales last year. It's heading toward $250 million in sales this year, according to Merrill Lynch. The market for multiple myeloma drugs is dominated by
Takeda Pharmaceutical's
(
TKPYY
) Velcade, though analysts think both Velcade and Kyprolis could generate several billion dollars in annual sales within a few years as hematologists become more comfortable with the efficacy and safety profile of these drugs.
If you are looking to focus on stable yet growing biotech firms focusing on cancer, but want to aim outside the realm of Big Pharma, here are a couple of names to check out:
Onyx Pharmaceuticals
I've mentioned Onyx's promising Kyprolis drug already, but Onyx also launched Stivarga, which targets colorectal cancer, last year in conjunction with Bayer Healthcare. Analysts expect Onyx's total sales to rise at least 40% annually through 2015 (to around $1.2 billion).
That figure could rise higher in subsequent years if the company's Nexavar (kidney and liver cancer) drug successfully completes late-stage clinical trials and arrives on the market by mid-decade.
Ariad Pharmaceuticals
(
ARIA
) 
Ariad launched its first cancer drug (Iclusig, which treats blood cancer) late last year -- and is on track for more than $50 million in sales this year.
That revenue base could grow as Iclusig begins to be prescribed at earlier stages in cancer development. Iclusig is currently used only when other remedies fail to arrest the cancer's development. Sales should exceed $500 million by 2015, according to Goldman Sachs' forecasts.
Another cancer drug for Ariad, AP26113, which targets lung cancer, has shown clear promise in early stages of clinical testing.
In the next part of this profile of oncology breakthroughs, we'll look at the novel ways some scientists are tackling cancer -- as well as at the young biotech firms that may be best positioned to do battle in the next phases of the war on cancer.
Risks to Consider: As with any top-selling drug, you need to keep an eye on competitive industry developments. A promising drug in clinical trials could eventually create real sales challenges for existing market leaders.
Action to Take: Progress in the war on cancer is still in its early stages. After all, the rate of deaths from cancer has been falling less than 1% annually as these new top-selling drugs hit the market. More progress will need to be made. The current focus of cancer research, as I'll discuss in my next column, aims to make faster progress in this battle.
David Sterman does not personally hold positions in any securities mentioned in this article. 
More from StreetAuthority
DATA PROVIDERS
Copyright © 2014 Microsoft. All rights reserved.
Fundamental company data and historical chart data provided by Morningstar Inc. Real-time index quotes and delayed quotes supplied by Morningstar Inc. Quotes delayed by up to 15 minutes, except where indicated otherwise. Fund summary, fund performance and dividend data provided by Morningstar Inc. Analyst recommendations provided by Zacks Investment Research. StockScouter data provided by Verus Analytics. IPO data provided by Hoover's Inc. Index membership data provided by Morningstar Inc.
ABOUT
Top Stocks provides analysis about the most noteworthy stocks in the market each day, combining some of the best content from around the MSN Money site and the rest of the Web.
Contributors include professional investors and journalists affiliated with MSN Money.
Follow us on Twitter @topstocksmsn.