Auto sales strong in September
The industry is on pace for annualized sales of around 14.7 million this year, experts say.
The auto industry had another great month of sales in September. Sales have been so strong for so long, in fact, that we've simply come to expect it now.
"There's a feeling among dealers and automakers that car sales are easing into cruise control, and that's a good feeling for an industry that's felt more than its share of bumps in the last few years," said Edmunds.com analyst Jessica Caldwell in her forecast last week.
Sales have seemed to stabilize at high levels, and some executives estimated the industry was on pace for seasonally adjusted annualized sales of 14.7 million this year. The rate for September actually came in at 14.94 million units -- more than the 14.5 million analysts were expecting -- according to research from Autodata. That's the highest recorded rate since March 2008.
Once again, smaller and more fuel-efficient vehicles were the stars of the showrooms as gas prices notched higher. The national average for gas topped $3.80 a gallon in September, and it was an easy decision for some buyers to trade in their guzzlers for fuel-efficient models.
"Passenger cars have been the launch point for a broad and deep GM product offensive," said Kurt McNeil, who heads up GM's U.S. sales, in a
statement
. "Auto sales will continue to be a bright spot for the U.S. economy."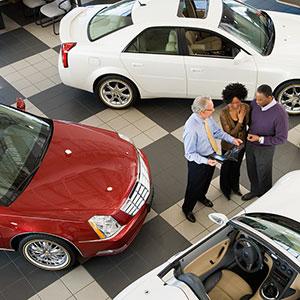 General Motors
(
GM
) and
Ford
(
F
) said sales of small cars were a major factor in September's results. GM reported a 1.5% increase in overall sales to 210,245 and Ford's sales were flat at 174,976. If those gains don't blow you away, keep in mind that September 2011 was a
very solid month
as automakers were finally starting to recover from last year's earthquake and tsunami in Japan.
Chrysler had some better increases to report. Sales for the automaker rose 12%, giving the company its best September since 2007. And
Toyota
(
TM
), whose inventory suffered greatly in last year's earthquake, said sales soared nearly 42% to 171,910 -- beating most analyst expectations.
Volkswagen
(
VLKAY
) also notched some impressive gains, reporting its best September since 1972.
Here's how the individual automakers fared in September:
GM
Units sold: 210,245
Change from a year earlier: +1.5%
Of note: Sales of mini, small and compacts alone rose a combined 97%.
Ford
Units sold:174,976
Change from a year earlier: Flat
Of note: Best month for small car sales since 2002
Toyota
Units sold: 171,910
Change from a year earlier: +41.5%
Of note: Getting close to overtaking Ford in monthly sales.
Chrysler
Units sold: 142,041
Change from a year earlier: +12%
Of note: Strong sales of new Dodge Dart compact.
Honda
Units sold: 117,211
Change from a year earlier: +30.9%
Of note: Accord led all Honda vehicles, with 29,182 sold. CR-V sets a new September record with 22,268 sold.
Nissan
Units sold: 91,907
Change from a year earlier: -1.1%
Of note: Rogue crossover saw sales rise 12.7% to 12,106.
Hyundai
Units sold: 60,025
Change from a year earlier: +15%
Of note: Sales up 10% for the first nine months of the year.
Volkswagen
Units sold: 36,339
Change from a year earlier: +34.4%
Of note: The company has seen a 37.2% increase year to date.
Mercedes-Benz
Units sold: 23,156
Change from a year earlier: +7%
Of note: On pace for a record year.
BMW
Units sold: 19,175
Change from a year earlier: +3.6%
Of note: Mini brand sales rose 9.7%
More from Top Stocks
LATEST POSTS
S&P 500 forecast to hit 2,100 by 2015
As the stock market reaches new highs, Goldman Sachs sees more gains ahead. Fueling the market: An improving economy, growing dividends and low interest rates.
ABOUT
Top Stocks provides analysis about the most noteworthy stocks in the market each day, combining some of the best content from around the MSN Money site and the rest of the Web.
Contributors include professional investors and journalists affiliated with MSN Money.
Follow us on Twitter @topstocksmsn.