Superman finally quits his day job
Alter ego Clark Kent is leaving his newspaper gig to start his own media venture.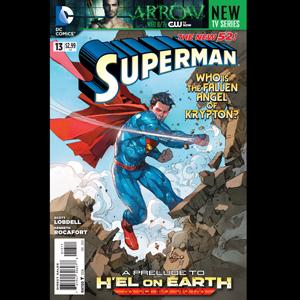 Clark Kent, who can leap tall buildings in a single bound, has finally mustered enough courage to tell off his boss and quit his day job
as a reporter at the Daily Planet
.
Superman's alter ego apparently plans to start his own media venture in what may be the biggest test yet of his superpowers.
"This is not the first time in DC Comics history that Clark Kent has left the Planet, and this time the resignation reflects present-day issues -- the balance of journalism vs. entertainment, the role of new media, the rise of the citizen journalist, etc.," according to a statement from DC Comics, which is part of
Time Warner
(
TWX
).
Many journalists working for the
New York Times
(
NYT
) and Time Warner's Time Inc. magazine division, whose union is
feuding with management
, would probably like to follow in Kent's footsteps. But for every Matt Drudge (Drudge Report), Glenn Beck (the Blaze), Dan Abrams (Mediate) and Arianna Huffington (Huffington Post), there are countless other entrepreneurs who have been unable to get their sites off the ground. Raising millions of dollars from strangers is harder than it looks.
Huffington managed to sell her business last year to
AOL
(
AOL
) for $513 million, but whether that would be a viable exit strategy for Kent or any real-life entrepreneurs is unclear, given the slowdown expected this year in advertising spending. Further, there isn't exactly a huge barrier to entry in the business, which I achieved from my house with a MacBook, phone service and a broadband connection.
As a freelance writer since 2006, I can speak with some authority about the challenges that would face Kent if he were a real person. Superheroes probably don't need to worry about such mundane matters as health insurance, which is outrageously expensive for independent contractors. Kent's superpowers, though, are no match for the IRS or trial attorneys.   
Indeed, Kent better make sure that he saves enough money to pay quarterly taxes, because Uncle Sam will want Kent's share and won't hesitate to garnish his wages if he doesn't pay what he owes.
Let's not forget liability insurance, as Superman has a tendency to break lots of stuff, which would make him a magnet for lawsuits.  
On the bright side, Superman will be able write off business expenses, such as dry cleaning capes. There are plenty of apps he can use to track his mileage, which I imagine would be deductible even if he flies from place to place. Perhaps Superman's "Fortress of Solitude" would qualify for the home office deduction.
The story of Superman's new venture will unfold in the next few issues of the comic book. DC Comics could take the opportunity to introduce new characters to help the Man of Steel run his enterprise. Maybe Aqua Man could get his CPA license and become the CFO. Wonder Woman could be a general counsel, which would be a good use of her "lasso of truth." And then the superhero will need an accounts receivable manager to make sure that he gets paid.

The superpowers required to run a business may not be glamorous, but they are important.

Jonathan Berr does not have super powers. He does not own shares of the listed stocks. Follow him on Twitter@jdberr.

 



don't think he owns the mineral rights anywhere but maybe his farm in Kansas
He would have to go into the asteriod belt and find some gold there and then the process of going thru customs here on the earth and the quanritine the rock would have to go thru before they figured the asteriod was safe ... well
even Superman might die before all the red tape cleared.
better that he makes diamonds and then since he is not permitted to make diamonds no one would buy them.
I say for an undocumented illegal alien he would have a hard time making money any legal way
Are you sure you want to delete this comment?
DATA PROVIDERS
Copyright © 2014 Microsoft. All rights reserved.
Fundamental company data and historical chart data provided by Morningstar Inc. Real-time index quotes and delayed quotes supplied by Morningstar Inc. Quotes delayed by up to 15 minutes, except where indicated otherwise. Fund summary, fund performance and dividend data provided by Morningstar Inc. Analyst recommendations provided by Zacks Investment Research. StockScouter data provided by Verus Analytics. IPO data provided by Hoover's Inc. Index membership data provided by Morningstar Inc.
LATEST POSTS
Up next: The biggest bank IPO ever
The expected $3.36 billion offering from Citizens Financial Group won't come close to Alibaba's, but it will be an important one for the market.
ABOUT
Top Stocks provides analysis about the most noteworthy stocks in the market each day, combining some of the best content from around the MSN Money site and the rest of the Web.
Contributors include professional investors and journalists affiliated with MSN Money.
Follow us on Twitter @topstocksmsn.