Stocks should thrive on Obama's words
With last night's bullish, business-friendly speech about innovation and global competitiveness, the president paved the way for market growth.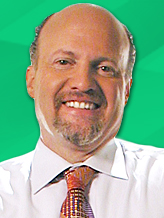 "And in conclusion, I think the Dow ($INDU) should blow right through 12,000 on its way to 14,000, the S&P 500 ($INX) is meaningfully undervalued, and I would take advantage of the decline in materials stocks to pick up some terrific values, values so great that I am sure people on both sides of the aisle would embrace them."
There. Is that how you want President Barack Obama to be? Is that what you think he should have said last night?
I watched the State of the Union speech with one eye on Twitter, seeking instant reaction from people about what they thought. The comments ranged from being humorous, or actually un-humorous, to wiseacre skepticism or even deeper cynicism.
That's not how I felt. Strictly using the prism that people have come to expect from me -- the stock prism -- I thought it was terrific, just terrific, compared with (1) what I expected and (2) what I would have expected a year or two ago.
It would have been inconceivable to expect the previous iteration of this president to mention the stock market's resurgence as a sign of economic health as he did right at the top. I thought it might be a throwaway line, but it was anything but. This was a speech about the need to harness business to be more competitive so we can have, in the words ofFord's (F) Alan Mulally, profitable growth for all.
Post continues after video:
Innovation. Engineering. Education. Competitiveness. These were the words you heard in various guises over and over. It was a speech about how we beat the Russians in the Cold War and how we are going to beat the Chinese in the business war, out-innovating them, outgrowing them.
I found it remarkable. This was not about how the Chinese violate civil rights. It was not about social justice here or anywhere for that matter, save a mention of Tunisia. It was not about income redistribution. He said he supported the tax cuts as his own but recognized that they can't stay permanent. No one, including President Bush, thought they would ever be permanent. He seemed to recognize, more intuitively than I thought, that the average American doesn't want to get by but wants to make money and do well, and that's a relief from the redistributionist president I was afraid I was going to see.
Finally, he accepted that his own health care plan needs modification. No ideologue. A practical-logue.
Not a social Democrat but a capitalist Democrat. So capitalist that had a Republican president given this speech, I think there would have been outraged left-wing Democrats clamoring for help for the downtrodden or for bailing out city and state workers' pensions while hurting the municipal bondholders.
I'm not kidding.
When I entered some of these thoughts on Twitter, I was kind of blown away by the cynicism I received from some, though not the majority of, quarters. The critics simply think the guy is irredeemable or that I drank some sort of Kool-Aid, a reference I always love because I actually covered the original Jim Jones death-by-Kool-Aid franchise as a homicide reporter back in the 1970s (Kool-Aid street cred!).
You have to remember, though, where my observations come from. Two years ago, I chastised this president for not focusing enough on creating jobs and working with business and instead attacking business and making it the bad guy. I was critical that the economy wasn't addressed first in a comprehensive way through putting money directly into the hands of the people, the way China did it, rather than recklessly expensive and non-shovel-ready stimulus. And I said if you were going to do stimulus, let it be big commercial construction projects that can generate multiplier effects, not payments to municipal and state cronies.
I called his plan "the greatest wealth destruction of our lifetime" and predicted a sharp fall in stocks.
Well, we got that.
Now that he is doing what I thought he should have done in the first place, I could say one of two things. One, forget about it, now you come in at Dow 12,000 with this, now? No, thanks. Or two, these words, this speech, are exactly what we need for the stock market to go higher. It was a bullish speech, and it should help the overall tone of what we are going to pay for stocks -- a so-called P/E expander rather than the contractor angle that predominated when Nancy Pelosi sat behind the president a year ago.
What a difference a seating chart makes!
Oh, and as to the people who say that I have no right to opine on this, that I should stick with stocks, I come back and ask, "What do you think makes people buy a stock for more than it is worth right now?"
Simple answer: the future. After this speech, the future for almost all stocks is brighter, not dimmer.
That's why, as someone who writes from the point of view of how to help you make money, I liked it very, very much.
At the time of publication, Cramer had no positions in the stocks mentioned.
Jim Cramer is co-founder and chairman of TheStreet. He contributes daily market commentary for TheStreet's sites and serves as an adviser to the company's CEO.
Follow Cramer's trades for his Charitable Trust.
Related Articles
DATA PROVIDERS
Copyright © 2014 Microsoft. All rights reserved.
Fundamental company data and historical chart data provided by Morningstar Inc. Real-time index quotes and delayed quotes supplied by Morningstar Inc. Quotes delayed by up to 15 minutes, except where indicated otherwise. Fund summary, fund performance and dividend data provided by Morningstar Inc. Analyst recommendations provided by Zacks Investment Research. StockScouter data provided by Verus Analytics. IPO data provided by Hoover's Inc. Index membership data provided by Morningstar Inc.
ABOUT
Top Stocks provides analysis about the most noteworthy stocks in the market each day, combining some of the best content from around the MSN Money site and the rest of the Web.
Contributors include professional investors and journalists affiliated with MSN Money.
Follow us on Twitter @topstocksmsn.