Netflix, Hulu have a rerun advantage
Some would-be cord cutters are just complacent couch potatoes, a survey says.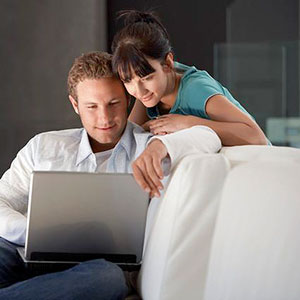 The next time you hear someone crow about a show they've discovered on Netflix's (NFLX) streaming library, all the episodes they've uncovered on Hulu Plus or how much of a workout their Roku is going to get once their Amazon (AMZN) Prime membership kicks in this holiday season, resist labeling them an effete cord-cutter.
They're just watching reruns, like every other TBS and Nickelodeon-viewing cable and satellite customer.
A new survey released at at an Advertising Age conference on Wednesday found that 42% of TV viewers reported watching more streamed content this year than last year. While 8% did so because they were cutting back on cable and 10% had canceled cable and satellite altogether, a whopping 73% said they were streaming just to catch up on episodes of their favorite shows.
That may sound like good news to cable and satellite companies looking to keep potential cord cutters with more on-demand offerings, but but even a sunny survey conducted by television-centric TVGuide.com couldn't hide encroaching threats to service providers. Of folks in the survey who pay for digital content on Netflix, Hulu Plus, Apple (AAPL) iTunes and Amazon Instant Video, 30% reported that they're watching more of it now than they did in 2011. A whopping 68% are watching between one and five hours of video per week on tablets and mobile phones.
"That's not to say everyone is cord cutting, or that cord cutting is the dominant factor, but it's a factor," TVGuide executive Christy Tanner told Ad Age.
Cord cutting exists, but its pace is more glacial than a commercial-addled midday movie on AMC. Analysts are predicting that nearly 420,000 video subscribers will do away with pay TV this quarter, a jump from the 400,000 subscribers Sanford C. Bernstein says cable and satellite providers lost in the second quarter and the 348,000 IHS Screen Digest says they lost during the same quarter a year ago. Those figures are still far overshadowed by the millions who'll stick around.

Though the price difference between $8-a-month subscriptions of Hulu Plus and Netflix or $80-a-year Amazon Prime memberships and their cable and satellite competitors can be substantial, Variety's Andrew Wallenstein Thursday used a Price Cooper Waterhouse consumer satisfaction survey to explain why streaming services are more of a supplement than a scourge to cable companies. Wallenstein posits that "cord cuddlers" cling to cable and satellite because once they have said service, it's easy to stay they course if it's already bundled with the Internet.
Wallenstein noted that nearly three quarters of those polled the Price Cooper Waterhouse survey had no plans to change providers in the next year, while 59% hadn't bothered switching providers within the past year. The survey credit that latter stat to consumer complacency. Basically, doing stuff is a lot harder than not doing anything.
This doesn't mean cable and satellite providers don't have reason to be concerned. According to Nielsen, the number of households subscribing to pay-TV services dropped 1.5% (or roughly 1.5 million) in 2011. That same industry hadn't posted a subscriber decline until 2010.
Verizon's (VZ) FiOS video service, for example, added 119,000 new subscribers last quarter and increased revenue, according to its Thursday earnings report. However, just last month, FiOS TV head Maitreyi Krishnaswamy told the Tampa Bay Tribune that cord cutting is still a growing concern.
"No, that trend is not stopping. It's growing," he told the Tribune. "The question is: Is it growing enough for us?"
Verizon is teaming up with Coinstar's RedBox to launch a Netflix competitor later this year and is already looking at how consumer preference for the a la carte format embraced by Netflix, Hulu and others will affect its contracts with TV studios and other media entities.
The streaming world may be stuck in reruns now, Netflix and others are producing more original programming like Netflix's planned revival of former Fox series Arrested Development. While some viewers will see that as a reason to snip the cable cord, savvy service providers may just work those offerings into an expanding, on-demand, multi-platform viewing schedule.

More from Top Stocks

DATA PROVIDERS
Copyright © 2014 Microsoft. All rights reserved.
Fundamental company data and historical chart data provided by Morningstar Inc. Real-time index quotes and delayed quotes supplied by Morningstar Inc. Quotes delayed by up to 15 minutes, except where indicated otherwise. Fund summary, fund performance and dividend data provided by Morningstar Inc. Analyst recommendations provided by Zacks Investment Research. StockScouter data provided by Verus Analytics. IPO data provided by Hoover's Inc. Index membership data provided by Morningstar Inc.
ABOUT
Top Stocks provides analysis about the most noteworthy stocks in the market each day, combining some of the best content from around the MSN Money site and the rest of the Web.
Contributors include professional investors and journalists affiliated with MSN Money.
Follow us on Twitter @topstocksmsn.