Greece waits on pins and needles
European finance officials don't look ready to approve a new rescue fund payment to the beleaguered country.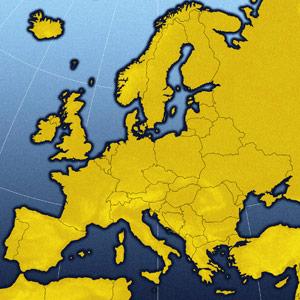 It's sounding more and more like another round of kick the can in the eurozone. And financial markets aren't exactly happy. Thursday, after Wednesday's big drop, the German DAX index is down another 0.4%, the French CAC 40 index is off 0.1%, and the Spanish IBEX 35 is down 0.5%.
What's behind the continued drift lower?
More statements, still from unnamed officials, saying that European finance ministers won't be ready at their Monday meeting to vote on approving the release of the next 31.5 billion euro rescue fund payment to Greece. The final report from the troika -- the European Commission, the International Monetary Fund, and the European Central Bank -- won't be ready by the meeting date and the ministers, the unnamed source said, won't approve the payout from the preliminary version of the report. 
Unnamed sources continue to insist that Greece will be able to find the cash to fund the government and banks through the end of November and maybe even through the first week of December. These sources also say that the next date that finance ministers could approve the payout for Greece would be Nov. 26.
To me, that seems like cutting it awfully close.
Meanwhile, the Greek economy continues its not-so-jolly trip to hell. Unemployment was reported at 25.4% Thursday and is still climbing.
Financial markets were also mildly disappointed that Thursday's meeting of the European Central Bank didn't produce any action to lower interest rates. The bank kept its benchmark rate at 0.75%. The next chance that bank will have to lower rates comes in December but the likelihood, in my opinion, is that the bank will wait until early 2013 to move. European economies do continue to slow, but the bank doesn't have a whole lot of room left for cutting rates. Reduce them to 0.5% or 0.25% too quickly and the central bank will leave itself without any interest rate ammunition if economic growth slows even more than current dismal projections.
If you've got a couple of European stocks on your potential buy list, this whole delay and more delay thing might be setting up a good entry point not too much further down the road. If, of course, you think European markets will rally for a few weeks on news that Greece will actually get the cash before the country is unable to function.

At the time of this writing, Jim Jubak didn't own shares of any companies mentioned in this post in personal portfolios. The mutual fund he manages, Jubak Global Equity Fund (JUBAX), may or may not own positions in any stock mentioned. For a full list of the stocks in the fund as of the end of the most recent quarter, 
see the fund's portfolio here
. 
Obviously Jim, none of the Central Bank scams have worked. Greece just played them for the fools they are. Lots of scare tactics and threats but in the end, no amount of administrative buffoonery did much of anything. Sounds like bankers and Karl Rove have everything in common... tons of cash to work with, deployed poorly and for bad purpose... unable to coerce anyone over. Greece goes down and it takes banks and bank investors down worldwide. Based on the comments on the other blogs here on MSN, We the People and commonsense are in for Olympic level whining from greedy losers and deadbeats. When we actually DO have that crash, where do you go? The common person has the sub-economy. Do you really think you have the guts to start shopping Wal-Mart? Could you ever bring yourself to buying things you will eventually put in your mouth that has that mysterious white powder on it? The Elite will die in the streets... victims of their own misconceptions of Reality.
BTW... Hear anything about Iceland lately? They threw their bankers out and shifted to an economy of self-sufficiency. Whatever currency they resorted to, is recognized and global exchange occurs. Greece Italy Portugal Spain and Ireland should try it. Throw the bankers out, call the Euro bogus and just-- live. Use whatever currency they choose. Bankers have no backbones, if they can use it they will recognize it. How much is trapped in Europe? TRILLIONS? Sounds like the only ones who get hurt, are jerks.

pretty much Greece will not get the bail out and leave the EU next year.
The same for Ireland and Spain by mid year
Ireland will look at Iceland's recovery and wake and realize that Iceland is fully recovered now and Ireland is still on a downward trend.
Then by the end of 2013 the EU and euro are gone and the US is in pretty deep trouble as the Mexican stand off between the Republicans and Democrats blows up the economy and the Federal Reserve under new leadership tightens the screws on the economy to bring it back in line. Which of course only makes things horrible for the USA as millions once again lose their jobs and homes and this time round there is no unemployment insurance money to go around.
Welcome back the Greatest Depression. Obama merely says we have to sacrifice. No pay check is too small for the IRS to steal as tax rates are increased by 10 percent and there is no income deductions allowed not even the personal deductions.
Also a VAT tax of 20 percent is passed with internet sales having a 25 percent VAT tax.
Yep things are looking down
Are you sure you want to delete this comment?
DATA PROVIDERS
Copyright © 2014 Microsoft. All rights reserved.
Fundamental company data and historical chart data provided by Morningstar Inc. Real-time index quotes and delayed quotes supplied by Morningstar Inc. Quotes delayed by up to 15 minutes, except where indicated otherwise. Fund summary, fund performance and dividend data provided by Morningstar Inc. Analyst recommendations provided by Zacks Investment Research. StockScouter data provided by Verus Analytics. IPO data provided by Hoover's Inc. Index membership data provided by Morningstar Inc.
ABOUT
Top Stocks provides analysis about the most noteworthy stocks in the market each day, combining some of the best content from around the MSN Money site and the rest of the Web.
Contributors include professional investors and journalists affiliated with MSN Money.
Follow us on Twitter @topstocksmsn.