Why Tyson Foods is a buy
This stock has little downside risk and a large upside potential.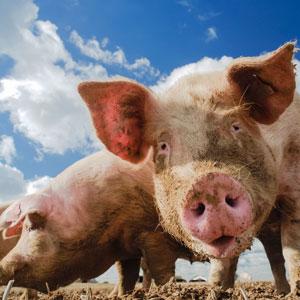 By Ron Thomas, Minyanville


Tyson Foods
(
TSN
) is a stock with little downside risk and a large upside potential. I believe that the stock is 30% undervalued and that, all things being equal, the stock price could grow into its value by summer of 2013, perhaps June or July. Tyson stock fell from near $21 in May to $15 in July as the market over-discounted the effect of the drought in the U.S. corn belt, in my opinion.
Of course, it could rise sooner on a variety of catalysts (including earnings momentum or winter rain/snow that positions the spring to be wet, but not too wet for planting). Another factor to watch is if the stock price falls much more, causing bargain hunters to pile in. One thing that could push it lower would be higher feed pricing, which could not completely be passed on to consumers since many would then eat less beef, pork, and chicken, resulting in a decline in unit sales and volume.
Meanwhile, the biggest risk is that money in the stock not gain as much as the overall market since the market can rally on catalysts that have no effect on Tyson.
In investment analysis (as well as in agri-business), the assumption is that there will be a return to normal. Therefore, Tyson should be bought based on normalized earnings potential and on the assumption that normality will return.
Regarding earnings per share, I used the low end of Tyson's estimate ranges of the normalizable operating income to sales ratios for beef (2.5% or 42% of total revenue), chicken (5%, 33% of revenue ) and pork (6%, 18% of revenue) which gave me a conservative estimate of $1.93 per share. (The high end would be $2.75, but that is pie in the sky for me.)
To value Tyson, I use a 3.8% risk free rate (present 30-year Treasury bond plus 1% to adjust for QE whatever) and a 7% risk discount (not for real risks to the business enterprise's long term cash flows, but only for year-to-year earnings volatility, as other consumer staples are assigned nearer 4%). I believe that earnings can grow at a 4% five-year growth rate for five years after that, based on more protein consumption worldwide by developing countries. So the stock -- rounded for the sake of argument to $16 now -- should then be worth $22, for 35% appreciation.  
Also, the current 7% risk discount assigned to the stock makes no sense, considering that other branded consumer staples companies are assigned a risk discount of around 4%. I believe that the increasing inroads being made by profitable private labels on their branded competitors, combined with Tyson's growth in the developing world, will ultimately lead to a 6% discount for Tyson (worth $24.50 vs. $22) over maybe a five-year time horizon. That could help long-term holders, but I have not, and would not, predict that it will happen in the holding period required for this recommendation to work. But readers should note that the top four U.S. beef producers have 75% market share; the top four in pork have 57% market share; and the top five in chicken have 63% market share. So there is at least some mild pricing power to be developed in the next few years instead of a totally competitive market model.
Getting to my valuation is all about what could be a longer period of no earnings momentum to catalyze the stock, even with a very cheap valuation.
One of the first things I learned as a young analyst is that the U.S. corn crop comes in well five out of six times -- do not bet against it. However, there have been three bad corn crops in a row now. Rain has not been great since July; unless there is a lot of snow this winter, there will be low soil moisture, even when the corn crop is planted in May. We are now on our third consecutive year of drought, a statistical outlier given the norm of five out of every six years being good for crops.
It would be extremely unlikely there would be a fourth year, akin to the Dust Bowl years of the 1930s, but with global warming, El Niño, and La Niña, it can't be discounted. So a good corn crop is not likely to be discounted in the stock until there is better weather news. The situation for corn is somewhat the same for U.S. soybeans and dryness in U.S. pasture land. A bumper crop in the southern hemisphere would be unlikely to change things much.
Also working against the stock in the shorter term is the fear that the economically stressed U.S. consumer will not be able to pay for higher-end "center of plate proteins," such as meat, poultry, and seafood. Chicken prices were already at historically high levels before the towel was thrown in on the US corn crop. Pork and beef will both get more expensive. Now I have seen many consumer analysts say that this or that product will not have much demand elasticity because consumers are so attached to it, only to find out otherwise. But it is a safe bet that U.S. consumers are not turning into vegans anytime soon, and that chicken demand will not be particularly elastic. (Pork demand is also not expected to be elastic.)
Another thing working against the stock is the tendency of the chicken industry to overproduce and not adjust production to rising costs fast enough. Egg sets may not decrease fast enough, and Tyson said that it is not cutting them now. This may be a problem when it comes to achieving normal earnings. Maybe producers are betting too heavily on the lack of demand elasticity noted earlier. Heifers are being slaughtered so the beef profitability will be pushed out with normal profitability here possibly not coming until 2015.
So analysts' average earnings-per-share estimate for the fiscal year ending September 2013 is $1.55 (down from $1.77 the previous year), which looks very optimistic. I would not be surprised to see something below $1 for FY13 (the lowest sell-side estimate is $1.20).
If you're trying to outperform the market, big upside that remains unrealized your relative performance looks bad. So the main risk is an extended period of "dead money" waiting for a catalyst which will raise the stock price. But dead money is my favorite risk, and it is relatively lower than ever versus the alternatives these days.

More from Minyanville
DATA PROVIDERS
Copyright © 2014 Microsoft. All rights reserved.
Fundamental company data and historical chart data provided by Morningstar Inc. Real-time index quotes and delayed quotes supplied by Morningstar Inc. Quotes delayed by up to 15 minutes, except where indicated otherwise. Fund summary, fund performance and dividend data provided by Morningstar Inc. Analyst recommendations provided by Zacks Investment Research. StockScouter data provided by Verus Analytics. IPO data provided by Hoover's Inc. Index membership data provided by Morningstar Inc.
ABOUT
Top Stocks provides analysis about the most noteworthy stocks in the market each day, combining some of the best content from around the MSN Money site and the rest of the Web.
Contributors include professional investors and journalists affiliated with MSN Money.
Follow us on Twitter @topstocksmsn.