You'll have to lose money to make it
Unless we have a severe recession, many of the stocks you see in free fall will be higher a year from now.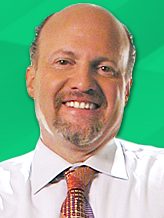 In the past 24 hours in stock futures we have had a 2% rally and a 2% decline all within the time it takes to drink a can of Coca-Cola.
The speed is breathtaking. No human can keep up.
While we were able to rally, the rally seemed like a terrific opportunity to sell if only because you can buy it back at the conclusion of the last gulp -- if you would like to, that is.
Markets all seem to want to be down 20% for the year, and anything less seems, at this time, to be a gift.

As our Dow is down only 6% and is about the best-performing market in the world, you can figure that if it keeps pace with the others, it is a straight shot to 9,200. That's no support for anything, but it is a reasonable target if you think we are part of this wave flowing over the world.
My disaster target has been about 8,500, so 9,200 could be reasonable if we just keep pace -- and there is no particular reason that should not happen. So many are pinning their hopes on the Fed that it is a little unsettling. Last I looked, the Fed doesn't set stock prices.
So let's play it out.
Can you sell right here and then buy it back at 9,200? Not at this pace. I think only the most nimble can execute that trade.
Can you protect yourself?
Believe it or not, I still think that if you are choosing an undiversified portfolio, you still can sell banks, techs, government-paying health care and defense stocks.
Related Articles
It was obviously a great trade to sell industrials and oils. I did not participate in that. I just felt that the other sectors were very vulnerable and that oil could go down to the mid-$80s if the margin buying -- not demand destruction but margin buying -- got crushed.
Investors who think it is demand destruction do not understand that unless the world stands still, you can't have oil go down from $96 to $75 in a couple of days, especially when Chinese inflation is heating up, as we learned last night, perhaps the worst new bit of data out there.
Doesn't matter. Some moron will espouse it Tuesday. We will have to listen.  
Anyway, this is a serious assault on the integrity of how markets work.
It is 1987-like in its breathtaking breakage of the pricing structure. In some ways it is a combination of the flash crash of 2009, the Great Recession crash of 2008-09 and the market crash of 1987 all rolled up into a couple of days.
I am presuming that, because I do not see a severe recession coming, the extremes should not play out. Do I think we will drop 42% peak to trough intraday Tuesday to Tuesday in 1987? No. Do I think we can plummet 22% in a day? No.
Do I think that most of the banks are insolvent in this country and the equivalent of Lehman/AIG (AIG)/Fannie Mae/Freddie Mac/Washington Mutual/Wachovia/Merrill Lynch awaits us? No.
Do I think that the machines have taken over like in 2010 with the flash crash? Totally.
Do I think that precipitates margin calls and dysfunctional, unpredictable markets? Absolutely.
Do I think that anything makes sense? Not in the next 24 to 48 hours.
But in the next year? Unless we have a severe recession, many of the stocks you see on your screen in free fall will be higher a year from now. Unfortunately, you have to be willing to lose it to make it, as you did in 1987, 2008-09 and in the flash crash.
That's why deep-in-the-money calls might be the way to go for almost all but low-dollar stocks. That's the only game plan that might work right now.

At the time of publication, Cramer was long Bank of America, the parent company of Merrill Lynch.

Jim Cramer is a co-founder of TheStreet and contributes daily market commentary to the financial news network's sites.
Follow Cramer's trades for his Charitable Trust.
DATA PROVIDERS
Copyright © 2014 Microsoft. All rights reserved.
Fundamental company data and historical chart data provided by Morningstar Inc. Real-time index quotes and delayed quotes supplied by Morningstar Inc. Quotes delayed by up to 15 minutes, except where indicated otherwise. Fund summary, fund performance and dividend data provided by Morningstar Inc. Analyst recommendations provided by Zacks Investment Research. StockScouter data provided by Verus Analytics. IPO data provided by Hoover's Inc. Index membership data provided by Morningstar Inc.
LATEST POSTS
Up next: The biggest bank IPO ever
The expected $3.36 billion offering from Citizens Financial Group won't come close to Alibaba's, but it will be an important one for the market.
ABOUT
Top Stocks provides analysis about the most noteworthy stocks in the market each day, combining some of the best content from around the MSN Money site and the rest of the Web.
Contributors include professional investors and journalists affiliated with MSN Money.
Follow us on Twitter @topstocksmsn.