SEC's Schapiro will move on
Supporters says she kept the Securities and Exchange Commission alive and rebuilt its image as tough cop. Critics say the SEC still isn't aggressive enough.
Updated: 4:25 p.m. ET

There are two schools of thought about Mary Schapiro's tenure as chairman of the Securities and Exchange Commission. Schapiro announced she will leave the job on Dec. 14, and President Obama named Elisse Walter to succeed her.  He may name a permanent chairman later.
Schapiro did much to restore the SEC's credibility after what is said to be eight wasted years in during the George W. Bush administration.

She was a pansy for Wall Street.
There doesn't seem to be any in-between, as comments you can find on many sites will attest.
There's no question the SEC had an image problem when Schapiro came on board in early 2009.
The commission regulated with the lightest of hands during the Bush years. A result was the forced merger of Bear Stearns into JPMorgan Chase (JPM) in March 2008 and the  Lehman Brothers collapse six months later, key contributors to the 2008-09 financial crash.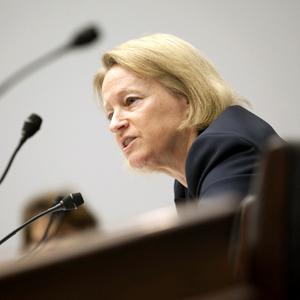 The commission also totally missed the signs that Bernard Madoff was bilking investors of millions of dollars.
Schapiro did beef up the SEC's enforcement efforts. The SEC filed dozens of enforcement actions related to the financial crisis. The SEC sued
Goldman Sachs
(
GS
) in 2010, accusing it of fraud when it sold investors a mortgage security without disclosing that hedge fund Paulson & Co. helped pick the loans and bet against them. Goldman paid a record $550 million fine.
It did force the prosecution and conviction of hedge-fund manager Raj Rajaratnam on inside-trading charges. Former
Countrywide Financial
CEO Angelo Mozilo was penalized $22.5 million to settle SEC charges that he and two other former Countrywide executives misled investors as the subprime mortgage crisis emerged. Mozilo also agreed to disgorge $45 million in stock profits. Countrywide is now part of
Bank of America
(
BAC
).
There was talk after the financial crisis about abolishing the SEC. No more.
And yet critics say Schapiro didn't make the most of the bully pulpit of the agency. The SEC extracted large settlements from the likes of Bank of America, Goldman and Citigroup, but the commission chose not to -- or was unable to -- obtain admissions of wrongdoing from top executives personally.
Bank of America also agreed in 2010 to a $150 million settlement of charges it lied to shareholders about its financial condition and its prospects after agreeing to buy
Merrill Lynch
.
But federal Judge Jed Rakoff refused to approve the first suggestion of a $33 million penalty and thought the $150 million settlement too small. In his opinion, Rakoff wrote, "While better than nothing, this is half-baked justice at best."
At the same time, the SEC struggled to show it has a grasp on an increasingly fragmented market dominated by electronic and high-speed trading. Schapiro supervised adjustments of trading practices and set the stage for a future computer surveillance system after a computer program employed by one firm sparked a 20-minute plunge in stock prices, temporarily erasing $862 billion of market value.
Schapiro was also unable to get a majority of the five-member SEC to back tightened rules for money-market funds. The $2.6 trillion piece of the mutual-fund industry is believed by many to pose a large risk to the nation's financial system.
While Walter is the chairman for the foreseeable future, there is apparently talk that Obama will name a permanent chairman. It could be Walter.
Names also being floated include Mary Miller, a senior Treasury Department official; Financial Industry Regulatory Authority Chairman Richard Ketchum; former SEC commissioner Harvey Goldschmid and William Brodsky, chairman and CEO of the
CBOE Holdings
(
CBOE
), operator of the Chicago Board Options Exchange.
The New York Times said that Sallie Krawcheck, the former head of global wealth management at Merrill Lynch and a top executive at
Citigroup
(
C
) is in the running as well.
One last note: After Schapiro leaves, the commission will have four members. Two will be Democrats and two Republicans. Yes, that means gridlock is a real possibility.
DATA PROVIDERS
Copyright © 2014 Microsoft. All rights reserved.
Fundamental company data and historical chart data provided by Morningstar Inc. Real-time index quotes and delayed quotes supplied by Morningstar Inc. Quotes delayed by up to 15 minutes, except where indicated otherwise. Fund summary, fund performance and dividend data provided by Morningstar Inc. Analyst recommendations provided by Zacks Investment Research. StockScouter data provided by Verus Analytics. IPO data provided by Hoover's Inc. Index membership data provided by Morningstar Inc.
ABOUT
Top Stocks provides analysis about the most noteworthy stocks in the market each day, combining some of the best content from around the MSN Money site and the rest of the Web.
Contributors include professional investors and journalists affiliated with MSN Money.
Follow us on Twitter @topstocksmsn.