Should the government limit salt intake?
A report commissioned by Congress recommends that restaurants cut back on sodium -- a move that could hurt profits.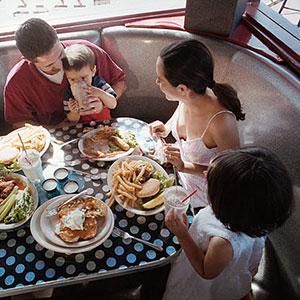 Health advocates want Congress to limit the salt on American tables, but so far lawmakers have been reluctant to make restrictions. The move could affect the profits of restaurant chains and their investors.

A report ordered by Congress concluded in 2010 that the Food and Drug Administration should limit the amount of salt in restaurants and packaged foods to lower the risk of heart disease.

The report, by the nonprofit Institute of Medicine, found that the average American consumes about 50% more salt than the 2,300 milligrams recommended daily by the FDA. Limiting that intake could prevent 100,000 deaths a year from heart disease and strokes, the institute said.

In the two years since, salt use has barely changed. The report came into the spotlight again this year when the nonprofit Center for Science in the Public Interest scolded the FDA for basically ignoring the Institute of Medicine's recommendations and allowing restaurants and packaged-food makers to drown Americans in salt as if they were garden slugs. U.S. eaters, meanwhile, are more than happy to absorb it all. Chain restaurant fare is built on brackishness, and cutting back on salt would affect many popular dishes as well as profits.
The FDA's inaction only broadens a debate about the government's role in American eating habits that has led to school lunch discussions, trans-fat targeting and New York Mayor Michael Bloomberg's recent ban on large soda sizes in his city. Should salt be next on the hit list? A Canadian Medical Association study released earlier this year says American fast food is the saltiest in the world.

To get an idea of how a salt restriction could affect restaurant chains, consider the following dishes, which were included in a Men's Health list of the saltiest foods in America.

Ruby Tuesday (RT) Mediterranean Shrimp Pasta
1,102 calories
3,737 mg of sodium
At Ruby Tuesday, the Mediterranean diet apparently involves setting up a salt lick at the table and curing yourself like a pound of pastrami. You could wolf down nine large orders of fries from McDonald's (MCD) and still not consume as much salt as this plate of pasta contains. If you're jonesing for Ruby Tuesday's pasta, though, get ready for a salt fix. Of the seven pasta dishes on the menu, only one has fewer than 2,000 mg of salt. A whopping four have 3,000 mg of salt or more. Keep that free water coming.
Applebee's (DIN) Chili Cheese Nachos
1,680 calories
4,720 mg sodium
The good news is that this is an appetizer, so there's a chance your splitting the damage with a table full of folks. The bad news? Even if four people go in on this plate, each is getting roughly half their day's allowance of sodium before their entree arrives. Diners can argue that nachos are a salty dish to begin with, but even 18 orders of Taco Bell (YUM) Cheesy Nachos wouldn't saturate eaters with this much salt.
Chili's (EAT) Jalapeno Smokehouse Bacon Burger with ranch dressing
2,210 calories
6,600 mg sodium
Bellying up to a nice, sit-down burger seemed like a better idea than hitting the drive-thru, screaming into a squawk box and getting ketchup and pickles lodged in your cupholders, didn't it? It only cost you a full day's worth of calories, nearly three times your salt quota and the equivalent of six and a half Big Macs. Sure, Chili's booths may be more comfortable than your driver's seat, but all that retained water will provide you with plenty of cushioning soon enough.
PF Chang's Double Pan-Fried Noodles
1,652 calories
7,900 mg sodium
This single dish is more than three times an American's recommended sodium intake and is the equivalent of five full-size bags of Frito-Lay's (PEP) Ruffles potato chips. Eating a plate of these noodles for dinner on Sunday leaves you set on salt until about lunchtime on Thursday, and that's just the way P.F. Chang's likes it. The chain has some of the saltiest menu items in the country and would have been a salt-regulation nightmare for investors if it didn't go private earlier this year.
More from Top Stocks

DATA PROVIDERS
Copyright © 2014 Microsoft. All rights reserved.
Fundamental company data and historical chart data provided by Morningstar Inc. Real-time index quotes and delayed quotes supplied by Morningstar Inc. Quotes delayed by up to 15 minutes, except where indicated otherwise. Fund summary, fund performance and dividend data provided by Morningstar Inc. Analyst recommendations provided by Zacks Investment Research. StockScouter data provided by Verus Analytics. IPO data provided by Hoover's Inc. Index membership data provided by Morningstar Inc.
ABOUT
Top Stocks provides analysis about the most noteworthy stocks in the market each day, combining some of the best content from around the MSN Money site and the rest of the Web.
Contributors include professional investors and journalists affiliated with MSN Money.
Follow us on Twitter @topstocksmsn.