Sears opens stores to gyms, groceries
The company may have better luck subleasing real estate at its locations than it does selling its wares.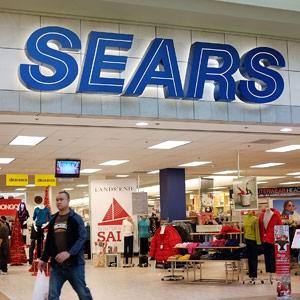 When someone is dying, it's universally considered bad form to go into their home with a measuring tape and plot out how you'd use their soon-to-be vacant space.
Unless that "someone" is Sears or Kmart, at which point Sears Holdings (SHLD) will invite you in and offer you a spare room until they're gone. 
Sears Holdings is subdividing existing, active and very much functional store space in an effort to sublease it. Grocery stores and health clubs have taken up extra Sears square footage, as has the apparel store Forever 21 -- which must be a real shot of confidence for the folks behind Sears' Land's End clothing line.
Sears Holdings isn't particularly ashamed of moonlighting as a real estate firm and gleefully lists its square footage on the company's "realty" site. In fact, property may be the most popular item either Sears or Kmart have offered in years.

The company kicked off 2012 by announcing plans to close 120 Sears and Kmart stores. In February, it decided to spin off Sears Hometown and Outlet stores and sell another 11 of its underperforming flagship stores to General Growth Properties (GGP). In May, it opted to partially spin off its Sears Canada shops.
Sears Holdings' revenue has fallen in each of the last four quarters and for the last five years overall. It posted its largest quarterly loss in a decade back in February and lost more than $130 million in the third quarter alone. The S&P 500 just gave it the boot, while the Dow Jones Industrial Average showed its ticker the door all the way back in 1999. Amazon (AMZN) has beaten Sears at its own catalog-style game, while Target (TGT), Wal-Mart (WMT) and even Kohl's (KSS) have helped drop Kmart store numbers by more than a third.
When Sears Holdings isn't subdividing, selling or outright closing its stores, it's maintaining them as retail mausoleums. When Americans walk into the same Kmart and Sears store they shopped at 20 to 30 years ago (assuming Sears Holdings hasn't disposed of it), they'll find it eerily unchanged. Martha Stewart's gone, but Kmart still sells Jaclyn Smith's clothing line despite the fact that the actress ended her run on Charlie's Angels more than 30 years ago. Even Smith's cameo in the last Lucy Liu/Cameron Diaz/Drew Barrymore Charlie's Angels film was nearly a decade ago.
Even the buildings have a certain bygone aesthetic, as Sears Holdings has been loathe to change so much as a doorknob on its facilities. Competitors like Target and Wal-Mart spend up to $8 per square foot painting, updating registers and replacing tiles, according to the International Strategy and investment Group. By comparison, Sears and K-Mart spend $1 to $2 per square foot updating facilities. If the roof's not leaking through the '80s drop ceiling, Sears and Kmart likely aren't fixing it.
If Sears Holdings isn't building stores, isn't sprucing up the ones it has and isn't updating its trademark stock, it must at least be protecting the value of its trademark brands, right? Not really. Just last year, it allowed Sears' coveted Craftsman line of tools to be sold at Costco and Ace Hardware. It's a cash grab, but then again so is just about every move Sears Holdings has made recently. Considering what hedge fund owner and Sears Holdings chief executive Eddie Lampert been telling his shareholders lately, that may be the point.
"Despite what some believed, increased marketing spend and increased inventory dollars do not automatically generate higher sales or higher profit," he wrote in February. "More marketing and inventory dollars are not required to generate higher sales or profits, especially in a company that already spends over $1.5 billion in marketing and has over $8 billion invested in inventory on a consolidated basis."
Basically, he and his shareholders aren't putting another dime into Sears or Kmart. If anything, they're wringing them out. Analysts and consultants keep throwing around the word "liquidation"  when describing Sears and Kmart's current state of affairs, and Sears Holdings has done little to disprove them.
Consumers who want to pay their last respects to Sears and Kmart -- even if they don't want to pay their increasingly uncompetitive prices -- may want to consider stopping by sooner rather than later. Just throw a quick nod to their live-in roommates at 24 Hour Fitness or Forever 21 on the way in.
More from Top Stocks
DATA PROVIDERS
Copyright © 2014 Microsoft. All rights reserved.
Fundamental company data and historical chart data provided by Morningstar Inc. Real-time index quotes and delayed quotes supplied by Morningstar Inc. Quotes delayed by up to 15 minutes, except where indicated otherwise. Fund summary, fund performance and dividend data provided by Morningstar Inc. Analyst recommendations provided by Zacks Investment Research. StockScouter data provided by Verus Analytics. IPO data provided by Hoover's Inc. Index membership data provided by Morningstar Inc.
ABOUT
Top Stocks provides analysis about the most noteworthy stocks in the market each day, combining some of the best content from around the MSN Money site and the rest of the Web.
Contributors include professional investors and journalists affiliated with MSN Money.
Follow us on Twitter @topstocksmsn.