Buffett to Tim Cook: Ignore Einhorn
The legendary investor says Apple should avoid listening to Greenlight Capital's founder, and work to create value for the long term.

By Chris Ciaccia
When Warren Buffett speaks, the markets listen. Perhaps it's time for Apple (AAPL) to listen as well.
Appearing on CNBC Tuesday morning, Berkshire Hathaway's (BRK.A) Buffett had some advice for Apple on managing the company.
The Cupertino, Calif., company has come under attack from David Einhorn in recent weeks with regard to Apple's $137 billion cash hoard and what to do with it. "I would ignore him," Buffett told Becky Quick, talking about Greenlight Capital's Einhorn. "I would run the business in such a manner as to create the most value over the next five to 10 years. You can't run a business to push the stock price up on a daily basis. Berkshire has gone down 50% four times in its history. When that happens, if you've got money you buy it. You just keep working on building the value."
In order to boost Apple's share price, Einhorn has suggested Apple issue preferred stock, dubbed "iPrefs," to unlock the value of the company's foreign cash, which he believes the market is not giving credit to. Apple would offer perpetual preferred stock at a dividend rate of 4% to 6%, and not use any of its existing cash. Apple has responded to this, saying it would "thoroughly evaluate Greenlight Capital's current proposal to issue some form of preferred stock" (see TheStreet).
Speaking at a Goldman Sachs conference last month, Apple CEO Tim Cook echoed Buffett's thoughts. "We're managing Apple for the long-term," he said, when asked about Apple's direction. "I know people care about quarters and so forth and we care, but the decisions we make, the profound decisions we make, are for Apple's long-term health. Not for the short-term 90-day clock."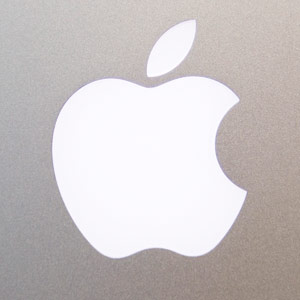 Apple has discussed returning cash to shareholders in recent weeks, and Buffett suggested that perhaps buying back stock would be the best course of action. He gave Steve Jobs this advice when he was running the company and asked what to do with Apple's growing cash hoard. "When Steve called me, I said, 'Is your stock cheap?' He said, 'yes.' I said, 'Do you have more cash than you need?' He said, 'a little.' [laughs] I said, 'then buy back your stock.' He didn't ... But if you could buy dollar bills for 80 cents, it's a very good thing to do."
At its recent shareholder meeting, Cook said he and the board are not happy with Apple's share price compared to a few months ago (see TheStreet). He reiterated, however, that the iPhone maker is focused on the long term. Cook mentioned that Apple's actively thinking about returning cash to shareholders. Apple's $137 billion cash hoard has attracted a lot of attention and Cook said Apple is in "very, very active" discussions on what to do with it.
On Monday Buffett revealed that Real Money's Doug Kass has been appointed to represent the bearish view of Berkshire Hathaway at the company's shareholder meeting scheduled for May 4 (see TheStreet).
More from TheStreet.com
OUR PRESIDENT IS PURPOSELY DESTROYING OUR ECONOMY. EVERYBODY TALKS ABOUT SPENDING CUTS, HAH. IS IS VERY SIMPLE TO FIX OUR ECONOMY. ONE DON'T PRINT ANY MORE MONEY. THE GOV'T DOESN'T MAKE MONEY IT TAKES MONEY. FIRST OF ALL ELIMINATE THE I.R.S. PUT A 10% SALES TAX ON ITEMS BOUGHT. SECOND TAKE ALL THE LIBERALS THAT ARE E.P.A. MINDED AND DON'T WANT US TO DRILL OUR OWN OIL AND PUT THEM IN MILITARY UNIFORMS AND SEND THEM TO THE MIDDLE EAST. SECOND MAKE DRUGS LEGAL ELIMINATING THE D.E.A.THEN SECURE OUR BORDERS. BY LEGALIZING DRUGS & DRILLING OUR OWN OIL WE WOULD REDUCE PRISON POPULATION (AVERAGE INMATE IN US PRISONS COST $53,000 PER YEAR], ALSO THE DRUG CARTELS WOULD GO BROKE, AND THE MIDDLE EAST OIL COUNTRIES WOULD ALSO GO BROKE. FINALLY ANY ELECTED OFFICIAL OF CONGRESS IF THE DON'T BALANCE THE BUDGET THE DON'T GET PAID. ON LAST THING THE PRESIDENT NEEDS TO PAY FOR HIS OWN GOLFING!
EVERYBODIES ALL EXCITED ABOUTH THE DOW. IST OF ALL, THE DOW REACTS MOST FROM THE EUROPEAN ECONOMY. ALSO US CORPERATIONS ARE HOARDING CASH BECAUSE THEY CANT AFFORD UNION LABOR & US TAXES, SO THE OPEN UP OVERSEAS COMPANIES TO EVADE THESE PROBLEMS! LOOK AT A PAIR OF LEVI JEANS & READ THE LABEL INSIDE. YOU'LL BE SUPRISE TO SEE MAN IN INDONISHA, TIALAND OR PERU. AND HAVE YOU NOTICED THAT THE JEANS WEAR OUT WAY FASTER. DO THE MATH!
Are you sure you want to delete this comment?
DATA PROVIDERS
Copyright © 2014 Microsoft. All rights reserved.
Fundamental company data and historical chart data provided by Morningstar Inc. Real-time index quotes and delayed quotes supplied by Morningstar Inc. Quotes delayed by up to 15 minutes, except where indicated otherwise. Fund summary, fund performance and dividend data provided by Morningstar Inc. Analyst recommendations provided by Zacks Investment Research. StockScouter data provided by Verus Analytics. IPO data provided by Hoover's Inc. Index membership data provided by Morningstar Inc.
ABOUT
Top Stocks provides analysis about the most noteworthy stocks in the market each day, combining some of the best content from around the MSN Money site and the rest of the Web.
Contributors include professional investors and journalists affiliated with MSN Money.
Follow us on Twitter @topstocksmsn.