Don't bet on the dollar
Despite the ongoing turmoil in the eurozone and a dramatic drop in the euro, there are signs the greenback's recent uptrend is about to end.
The market's grinding volatility continues as the euro plunges to levels not seen since the initial panic over the first Greek bailout back in 2010. There has been no shortage of market-moving headlines, including news of another Spanish credit downgrade, word that Chinese lenders are cutting their exposure to Europe, rumors of European Central Bank resistance to Spain's bank recapitalization plans (later denied) and a plan by the European Commission to use eurozone bailout funds to directly recapitalize troubled euro banks.
A lot of moving parts here, obviously. And while the U.S. dollar has strung together an impressive rally -- up 19 of the last 21 days, crushing dollar-sensitive commodities like gold, silver, crude oil and copper -- there is evidence the Wall Street heavy hitters are using the chaos to build short-dollar, long-commodities positions at low cost. Here's how to participate.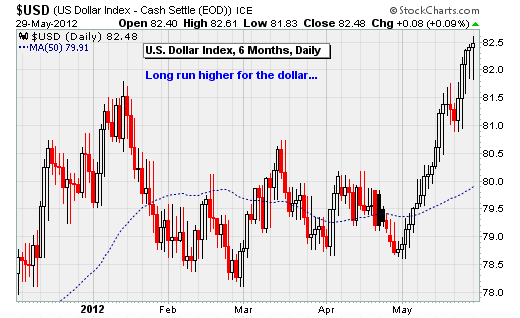 Based on the latest futures data, commercial traders have increased their bets against the dollar to the highest level since at least 1999. In other words, they don't see the dollar's rise (and the euro's fall) as sustainable. For one, the United States is on a collision course with the "fiscal cliff" I recently warned about as the debt-deficit problem remains unresolved amid a nasty presidential election.
Also, the situation in Europe has reached a stage where the European Central Bank and/or AAA-rated core members like Germany will be compelled to soften their stances against pro-growth measures that move the eurozone closer to a true fiscal union. Ideas on the table include liability sharing (issuing bonds backed by the entire eurozone), a eurozone-wide deposit insurance scheme and the use of eurozone bailout funds to recapitalize troubled banks in Spain.
At the same time, public opinion toward the dollar has reached a historic high based on data from places like Ned Davis Research, Bloomberg and Larry Williams compiled by the folks at Sundial Capital (as shown below). Current levels were associated with dramatic dollar peaks in late 2008 and early 2010 (the first Greek bailout).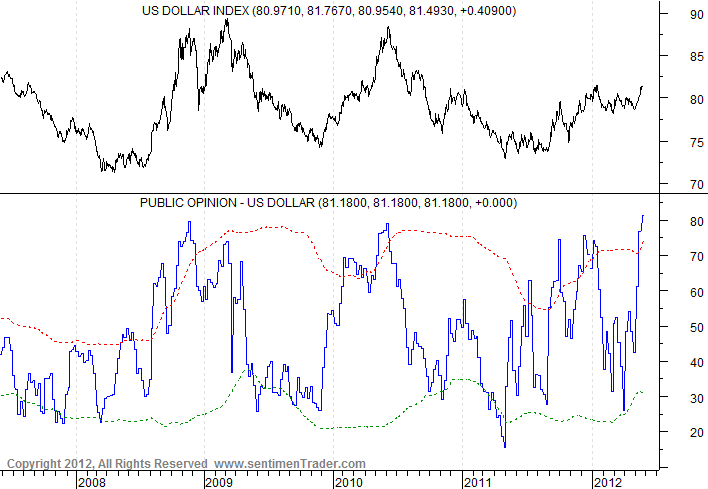 This might seem odd: The eurozone situation is clearly worsening, yet Wall Street is growing increasingly bullish on the euro while Main Street is loving on the dollar. Spanish 10-year bond yields are fast approaching their November highs as the euro crashes. So what gives?
Again, I think the key here is to interpret the situation like this: Much of the bad news is already discounted (just look at bombed-out European bank stocks) and sentiment has been shattered. Both the European Central Bank and Germany are under extreme pressure to do something, anything, maybe just a wink and a smile, to indicate they are considering or even willing to consider additional measures to stabilize the situation -- at least until the Greek people vote again on June 17.
Indeed, the polling suggests the situation in Athens is beginning to go the pro-EU bureaucrats' way. New polling puts the pro-bailout right-of-center New Democracy party at 23.4% of the vote vs. 22% for the radical left Syriza party.
The need for action by Europe is growing more intense with reports that the Chinese government is not considering rolling out another massive stimulus -- on the scale of what was seen back in 2008 -- to counter this year's economic slowdown. No doubt this is due to still lingering inflationary pressures.
Options include another offering of liquidity to the financial system by the European Central Bank, granting the eurozone bailout fund a banking license so it can borrow form the ECB, or Germany's embrace of liability sharing mechanisms, such as the European Redemption Pact idea gaining traction in Berlin.
ECB support will almost certainly factor into any plan of action -- since it's the "easier" political solution in the sense that it doesn't require explicit taxpayer funding. It will also be seen as a dollar-negative, euro-positive and add further support to long-term inflation dynamics. All of this boosts the fortunes of precious metals, an area of the market many investors have left for dead after months of underperformance.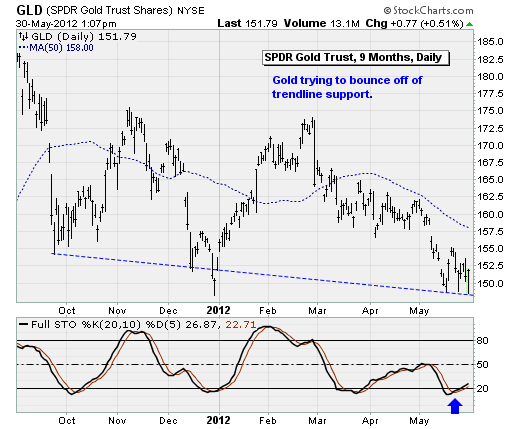 Gold is down 13% from its February high and is down 1% from its September peak of $1,923.70 an ounce.
Wednesday's market action shows a growing number of participants are coming to this conclusion. While stocks and the euro remain depressed, traders are actively bidding up precious metals and related mining stocks. I think the reversal point is upon us. And that means rather than flock to the safety of the dollar, investors should seek gold and silver as refuges from what comes next.
Be sure to check out my forthcoming article later that provides a few more reasons precious metals are worth a look right now. 
 
Trading update
In the Edge Letter Sample Portfolio, I've already established positions in the VelocityShares 3x Long Gold ETN (UGLD) and the Junior Gold Miners ETF (GDXJ). Today, I'm going to double down by adding silver exposure via the VelocityShares 3x Silver (USLV) and the Global X Silver Miners (SIL).
For the less aggressive, there are a number of unleveraged options, including the Gold Trust (GLD) and the iShares Silver (SLV).
Disclosure: Anthony has recommended SIL to his newsletter subscribers.

Check out Anthony's investment advisory service The Edge. A two-week free trial has been extended to MSN Money readers. Click here to sign up. Contact Anthony at anthony@edgeletter.c​​om and follow him on Twitter at @EdgeLetter. You can view his current stock picks here. Feel free to comment below.


DATA PROVIDERS
Copyright © 2014 Microsoft. All rights reserved.
Fundamental company data and historical chart data provided by Morningstar Inc. Real-time index quotes and delayed quotes supplied by Morningstar Inc. Quotes delayed by up to 15 minutes, except where indicated otherwise. Fund summary, fund performance and dividend data provided by Morningstar Inc. Analyst recommendations provided by Zacks Investment Research. StockScouter data provided by Verus Analytics. IPO data provided by Hoover's Inc. Index membership data provided by Morningstar Inc.
ABOUT
Top Stocks provides analysis about the most noteworthy stocks in the market each day, combining some of the best content from around the MSN Money site and the rest of the Web.
Contributors include professional investors and journalists affiliated with MSN Money.
Follow us on Twitter @topstocksmsn.