BlackBerry maker courts app developers
Knowing that a plethora of good apps is key to drawing new smartphone users, the company makes an appeal to app creators.
Research In Motion
(
RIMM
) is showing a renewed interest in reaching out to application developers since
naming Thorsten Heins
as its new CEO.
At a recent developer's conference, executives
mentioned
that, contrary to popular belief, users of the BlackBerry platform have actually shown great interest in embracing smartphone apps. This is an encouraging statement from the company at a time when it's facing challenges in competing with 
Apple
(
AAPL
) and
Google
(
GOOG
) in the smartphone and tablet market.(See why we have
a $16.50 price estimate for RIM
.)
Apps business picking up
During the conference, RIM mentioned that about 174 million apps are downloaded from BlackBerry's App World every month. The executives also mentioned that the apps are quite profitable for developers, with BlackBerry apps generating 40% more revenue than their Android counterparts.

Additionally, about 13% BlackBerry developers have received more than $100,000 in revenue, which is a higher percentage than iOS or Android. However, Apple is well ahead of its competitors in terms of number of apps downloaded. We estimate that about 12 billion apps were downloaded from the Apple App Store in 2011 alone.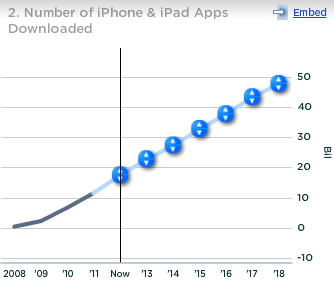 Halo effect from apps

Apps help create a halo effect around other valuable businesses for a smartphone vendor. The abundance of apps, along with a seamless user interface, is an important factor for a user while choosing a smartphone. RIM's strategy to attract developers by showing them the profitability angle of apps business is the correct one, as developers play an important role in the development of the apps ecosystem and the success of a smartphone. The success of these efforts, however, remains to be seen.

I don't like being tied to Windows and/or Eclipse to write mobile apps.  If any mobile company gives me a development kit where I can easily write code under 64 bit Linux with my editor of choice (for me, that's Netbeans and/or vim), and good easy tutorials on how to do so, I'll write plenty of apps.  If you really want to court developers, don't just give us statistics, give us better tools.  I don't want to learn "objective-C" or use apple's tools to write iphone apps.  I'm happy with Java, but both Android and Blackberry development environments are frustrating.
I also don't really understand this need to use J2ME for phones.  J2ME makes sense for limited-resources embedded devices like watches, traffic lights, and controllers in factories...  but modern phones have dual core CPU's and a gig of RAM.  Sure I could implement HashMap on my own, but should I really have to?  and what about all the libraries I've already written for desktop apps that I can't use in J2ME because of dependence on J2SE classes?  Isn't Java supposed to be about portability?  I understand that my phone isn't going to support AWT, but can someone come up with some kind of extended J2ME that at least gives me core classes like HashMap, for the sake of library portability to my phone?
I like the plain-old blackberry.  Forget the battery-sucking touch-screen nonsense.  You're not going to win when trying to compete head-to-head with Apple and Google.  You won't.  Please.  Stop trying.  It's a waste of money.  Every time you try, you destroy shareholder value.  Your stock will continue to be a massive short until you compete on battery life, keyboard quality, reliability, and ease of communication.  They will never be able to compete with you on these metrics.  Market these metrics, instead of letting Apple dictate the market to you.  Steve isn't even alive anymore, what are you afraid of?  What other phone on the market can last from morning until evening?  Seriously, how do iphones and android phones even sell at all?  You guys are asleep at the wheel, just put out one commercial about practical real-usage battery life.  iPhones and Androids aren't phones, they're toys.  I use my android phone to play angry birds or surf the web (until the battery dies), but the notification menu is too screwed up to use it to communicate with anyone.  When I use my blackberry phone, I type away in whatsapp, google-talk, msn messenger, or I actually type in a phone number and call someone.
Apple thinks they've improved the notification menu, but they still don't compare to blackberry.  I message someone from my blackberry phone, to their iphone, and don't get a reply.  An hour later I message again, and the response is "oh! there you are!  I saw your message, but then I couldn't find it again to reply!" .... and yet *RIMM* has a PE of 3.44 and Apple is soon to be a half a trillion dollar company.  Educate your consumers.
Blackberry already makes a good phone.  Just periodically update the hardware, fix the (numerous) bugs, reduce costs, lure developers with better tools, continue to court enterprise clients and core markets like Indonesia.  Stop pissing away money trying to be apple.
Are you sure you want to delete this comment?
DATA PROVIDERS
Copyright © 2014 Microsoft. All rights reserved.
Fundamental company data and historical chart data provided by Morningstar Inc. Real-time index quotes and delayed quotes supplied by Morningstar Inc. Quotes delayed by up to 15 minutes, except where indicated otherwise. Fund summary, fund performance and dividend data provided by Morningstar Inc. Analyst recommendations provided by Zacks Investment Research. StockScouter data provided by Verus Analytics. IPO data provided by Hoover's Inc. Index membership data provided by Morningstar Inc.
ABOUT
Top Stocks provides analysis about the most noteworthy stocks in the market each day, combining some of the best content from around the MSN Money site and the rest of the Web.
Contributors include professional investors and journalists affiliated with MSN Money.
Follow us on Twitter @topstocksmsn.