Top gay-marriage supporters in business
These high-profile players are proud to support same-sex unions.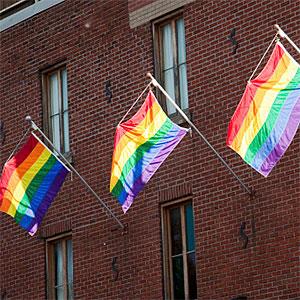 By
Alex Biles
This week, the Supreme Court is hearing two landmark cases on the issue of same-sex marriage -- and the court's rulings may change the current government definition of marriage as we know it.
The heavy-hitters who have financed the battle to legalize same-sex marriage are a politically diverse and in some cases unexpected group of business people.
Democratic and Republican donors are equally represented on Benzinga's list of top financiers for the cause, with many Republicans displaying a libertarian streak by joining progressives in endorsing same-sex marriage proposals in states across the country, with millions of dollars in support.
Here are the big names you need to know:

Cliff Asness
A quantitative financial theorist who founded a systematic trading hedge fund in his time at Goldman Sachs (GS), Asness currently runs his hedge fund in AQR Capital Management.
Asness joined forces with four other wealthy Republicans, providing a pivotal $1.5 million donation to the "Win More States Fund" of the New York-based Freedom to Marry. The five wealthy libertarian Republicans are considered to be the major financiers of the successful effort to legalize same-sex marriage in New York state.
Jeff Bezos
As Benzinga reported in our list of Top Libertarian CEOs in Business Today, the Amazon (AMZN) CEO made his biggest splash in activism to-date with a record $2.5 million contribution to defend Washington state's same-sex marriage law in 2012.
Steven Cohen
A billionaire Republican and former federal prosecutor who served as New York governor Andrew Cuomo's right-hand man, The New York Times credits Cohen with "direct[ing] the administration's effort to legalize same-sex marriage."


Bill Gates and Steve Ballmer
In 2012, the diehard progressive Gates and his fellow Microsoft (MSFT) co-founder Steve Ballmer joined forces to defend same-sex marriage in Washington, contributing $100,000 each. (Microsoft owns and publishes MoneyNOW, an MSN Money site.)
David Geffen
The openly gay media mogul and billionaire David Geffen has contributed $1.5 million to support gay marriage efforts in California. Outside of several record companies, Geffen was one of three founders of DreamWorks Studios, now owned by Viacom (VIAB).
Tim Gill
Colorado software millionaire Tim Gill founded Quark Inc., in 2004. An extremely dedicated activist, Gill committed $10 million in support of LGBT issues in 2006 alone, and in 2010, raised $800,000 for a pro-LGBT organization he founded. More recently, Gill put down $25,000 to defeat local Colorado candidates who opposed same-sex marriage.
Peter Lewis
The chairman of insurance giant Progressive (PGR) is a diehard liberal donor who also happens to have a gay son. For years, he's donated millions to support the same-sex marriage cause.
Daniel Loeb
Loeb is a Yahoo! (YHOO) investor who now runs Third Point LLC, a New York-based hedge fund with $11.6 billion in assets. Loeb joined Asness, Cohen and two other billionaire Republicans with liberal social views, posting a $1.5 million donation that helped fuel New York's same-sex marriage victory in 2012.
John Morgridge
The billionaire chairman of Cisco Systems (CSCO) -- once CEO of the company -- has been an active financier of gay marriage campaigns. In 2008, he helped back the movement against Proposition 8 in California.
Michael Moritz
Moritz is a big-time venture capitalist at Sequoia Capital, whose investments have included Apple (AAPL), Oracle (ORCL), Electronic Arts (EA), LinkedIn (LNKD) and many others. In 2008, he was included in a petition favoring marriage equality in California.


Pierre Omidyar
The founder of eBay (EBAY), Omidyar has become a dedicated philanthropist, backing the "No on 8" movement and attaching his name to the petition urging California voters to support marriage equality.

Larry Page and Sergey Brin
The Google (GOOG) co-founders have been active supporters of same-sex marriage. In 2008, Bern and Page donated $100,000 and $40,000, respectively, to defeat Proposition 8.
Steven Roth
Conservative billionaire Steven Roth is a real estate developer and has a son who is homosexual. Together with his wife, the Roth family has donated a total of $33,600, supporting Republican New York state senators who backed same-sex marriage.


Eric Schmidt
Schmidt is the Executive Chairman at Google, serving as the tech giant's CEO from 2001 to 2011. A major Obama supporter, Schmidt attached his name to the "No on 8" petition featuring tech giants like eBay founder Pierre Omidyar and venture capitalist Michael Moritz.

Howard Schultz
The Starbucks (SBUX) CEO made major headlines in the last few days for taking on a company shareholder who didn't like Schultz's public endorsement of same-sex marriage. The company, in an effort spearheaded by Schultz, defended Washington state's same-sex marriage provisions in 2012.

Paul Singer
Like Roth, Singer has a gay son. Despite his support of Mitt Romney in 2012, the head of Elliott Management Corporation -- a hedge fund -- joined four other Republican donors including Cliff Asness, contributing $1.5 million toward legalizing gay marriage in New York state.

Jeffrey Skoll
Skoll was once the president at eBay. He was also one of the bigger names who opposed Proposition 8 in California, which would have outlawed same-sex marriage.
Jon Stryker
The heir of Kalamazoo, Michigan-based Stryker Corporation (SYK) founder Homer, Jon and his sister committed a combined $1.85 million in efforts to legalize same-sex marriage back in 2006. In 2010, Styker contributed $602,000 in support of LGBT rights and two years later, he gave $325,000 to defeat a Minnesota measure which would have made same-sex marriage illegal.


Peter Thiel
The founder of PayPal is an openly gay libertarian who has been active in causes to legalize same-sex marriage. Thiel also helped found GOProud, an organization representing conservative/liberta​rian gays, lesbians and their allies.

Jeffrey Yang and David Filo
Yahoo's co-founders, Yang and Filo, joined Pierre Omidyar, Eric Schmidt and others in their backing of the "No on 8" movement that opposed California's Proposition 8 back in 2008.
More from Benzinga: 

it;s another demonstration that we live in a Plutocracy.(a government by the rich and for the rich). The owner of the media never make shows about "Bail outs" (really kidnapping America for extortion) or 10 years of suspension of Constitutional warranties or the collapse of the middle class.
There is not even one T.V show about the life of american workers or mention or interviews of union leaders. The T.V owners know that life it's short, time very limited and if you keep talking about things that only few people cares(gay people love to work for the rich and no family, no kids. THey always do the extra mille and they don't complain because their goals are different)), So The T.V owners will avoid extremely important issues like Goldman and Sachs and why we have to pay to support them instead (like FDR did it) kick them out.. With rich like that, we are going at full speed to meet Rome.
1% takes all, the rest goes to war and the morality .It doesn't matter, because I'm rich..

TRUTH : Gay has always been in existence . From ancient Greece to the uncles my beloved grandmother referred to as "that way" . It's just that as of late , the reality is coming out of the "closets". Politicians, religious leaders and others have been "outed". IT EXISTS , WE EXIST, WE WANT EQUALITY !

Are you sure you want to delete this comment?
DATA PROVIDERS
Copyright © 2014 Microsoft. All rights reserved.
Fundamental company data and historical chart data provided by Morningstar Inc. Real-time index quotes and delayed quotes supplied by Morningstar Inc. Quotes delayed by up to 15 minutes, except where indicated otherwise. Fund summary, fund performance and dividend data provided by Morningstar Inc. Analyst recommendations provided by Zacks Investment Research. StockScouter data provided by Verus Analytics. IPO data provided by Hoover's Inc. Index membership data provided by Morningstar Inc.
ABOUT
Top Stocks provides analysis about the most noteworthy stocks in the market each day, combining some of the best content from around the MSN Money site and the rest of the Web.
Contributors include professional investors and journalists affiliated with MSN Money.
Follow us on Twitter @topstocksmsn.