Market volatility returning
The tranquility has been broken as turmoil in the bond market and another batch of weak economic reports rattle complacent investors.
Over the past week, the long low-volatility, no-fundamentals grind higher in the stock market has fizzled out, replaced by wide intraday swings as investors' addiction to cheap-money morphine is laid bare. It started last Wednesday after Federal Reserve Chairman Ben Bernanke's congressional testimony suggested his $85 billion-a-month bond purchase program could end sooner than many people had anticipated.
The latest phase is challenging another tenant of the bull thesis: that lower bond prices (and higher yields) would merely send more cash into stocks. But they forgot to consider the impact higher interest rates would have on the real economy, which despite the stock market's rip higher, is barely keeping a pulse.
Intense selling pressure is being seen in key areas as the market forms a potential double-top "shooting star" pattern -- a pattern chartists recognize as a classic reversal pattern.  
You can see this in the way the intra-day TICK indicator -- which measures how many issues moved higher on their last tick -- has plunged below -1,000 multiple times over the past week. That's a sign of intense distribution swamping buyers in a way that hasn't been seen in months as the Dow Jones Industrial Average repeatedly tested the 15,500 level.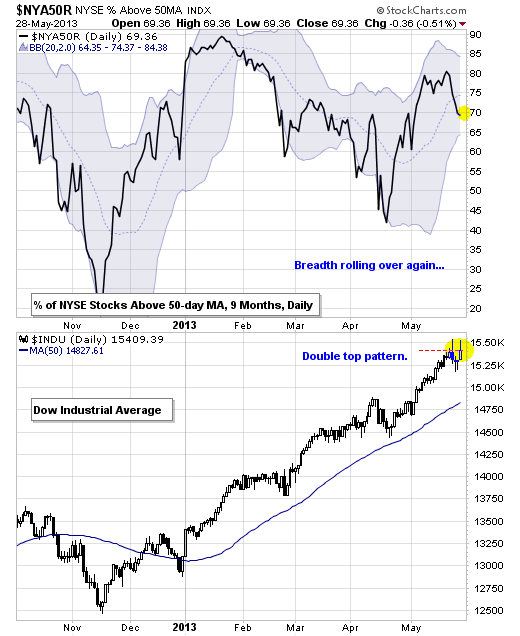 Technical indicators are also quite weak. Traders are scrambling into put option protection against further market losses in a way not seen since last September. Breadth is weakening, with less than 70% of NYSE stocks above their 50-day moving averages (down from 80%+ last week). Another measure, the cum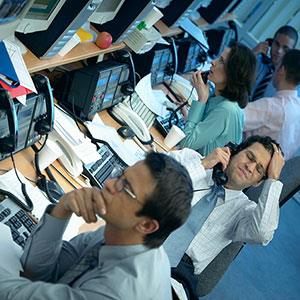 ulative NYSE net advancing issues line, has moved below its 20-day moving average in a big way for the first time since December.
So change is afoot.
What've been the catalysts?
For one, the hard economic data keeps disappointing with German unemployment weaker than expected and two soft regional Fed manufacturing surveys on Tuesday.
But more importantly, for a variety of reasons, the bond market is being shaken.
Here at home, investors started to price in the withdrawal of the Fed's QE3 program from both the Treasury and mortgage-backed security markets. Mortgage REIT stocks have just been hammered as a result, on fears of a bump in mortgage rates. And 10-year Treasury yields zoomed to 2.2% Tuesday, which reminded everyone that the economy just isn't ready for higher interest rates yet.
In Japan, the Bank of Japan's wild effort to double its money supply over the next two years to create 2% annual inflation has shaken the Japanese government bond (JGB) market -- which is the lynchpin of Japan's economy given its government's extreme indebtedness, the relative size of the market vs. the Japanese stock market, and the fact that Japan's banking system has gorged itself on ultra-low yield JGB bonds for years.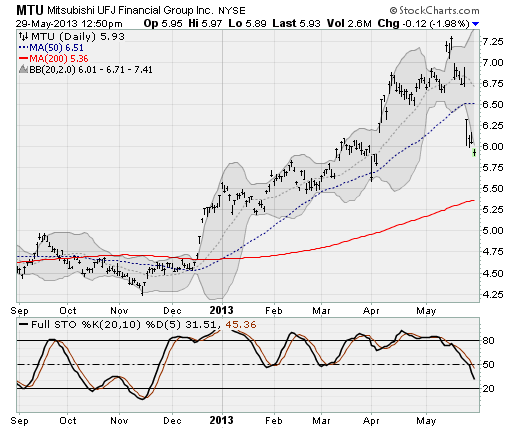 Any increase in JGB yields risks pushing the government's fiscal situation into insolvency and rattling the banking system. Thus, the big hits being taken by major Japanese banks, such as Mitsubishi UFJ Financial Group (MTU).
And finally, sentiment had just simply gotten out of control.
Trading update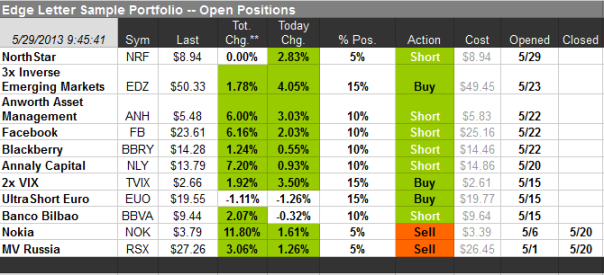 For conservative investors, now's the time for profit taking and raising cash -- especially if you've piled into yield plays like utilities and mortgage REITs. Just look at the way the Utilities SPDR (XLU) and the iShares Real Estate (IYR) are getting clubbed over the head.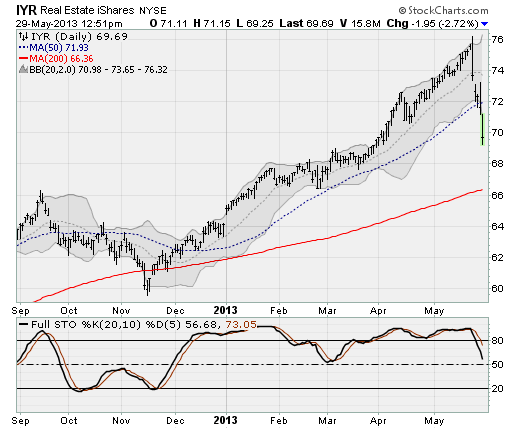 For more aggressive trades, there are new short side opportunities especially against emerging market stocks. Inverse ETF plays include the UltraShort China (FXP) and the risky Direxion 3x Inverse Emerging Markets (EDZ). The EDZ is already in my Edge Letter Sample Portfolio
For individual short ideas, mortgage REITs are still looking good. Existing plays Annaly Capital (NLY) and Anworth Asset Management (ANH) are up 7.3% and 6% respectively since I recommended them short on May 22. Today I'm adding NorthStar Realty Finance (NRF).
And for a trader looking for a little less volatility in their short exposure, consider betting against McDonalds (MCD), one of the weakest looking Dow components right now.

Check out Anthony's new investment newsletter, the Edge, and his money management service, Mirhaydari Capital Management. A two-week free trial has been extended to MSN Money readers. Click the link above to sign up. Mirhaydari can be contacted at anthony@edgeletter.c​​​​​​​​​​​​​​​​om and followed on Twitter at @EdgeLetter. You can view his current stock picks here. Feel free to comment below.
MSN Money on Twitter and Facebook
Like us on Facebook: MSN Money and Top Stocks
Follow us on Twitter: @msn_money and @topstocksmsn
Not dizzy at all. Bernanke puts money our great great great great great grandkids will still owe, into a totally useless bunch of banks who put it in the markets consisting of administrative business platform companies that have no factories, machinery, labor personnel, aged operations-oriented management who spend their time online doing financiering and arranging imported goods to be drop-shipped. The fact REMAINS... no job recoveries, no family-sustaining job creation- the crux of any economy. We're totally stagnant now... the money goes in, overhead gets paid, when banksters whine, Ben puts more fiat money in and markets climb. WE HAVE NO ECONOMY.
REIT: Real Estate Investment Trust: Essentially nothing more than a bookkeeping company managing real estate holdings. When the reliance is predicated on accounting... in today's busines culture... you get cooked investing in that junk. Consider the practical imbalance between new enterprise trying to establish in a market-manipulated environment and giant business platforms that do no business, just finance and administration, and contemplate the future of real estate holdings. While you're at it, think carefully about the posts of Regal Man500. He's young, active in the markets via a "club" and has no actual enterprise experience. THAT character will attempt to lease after the downturn. Can you really imagine the success rate? No offense R M500... but paychecks and salaries have dominated too long for enterprise to outrun what the fiat markets have done to America.

I like commercial real estate REITs.   Generally, when they collect enough money from the buildings they own, they go buy another building.  Love SLG.  They are on a mission to own New York City.  Also like Biomed Realty Trust, Tanger Factory.
Make no mistake, residential real estate gives me the creeps (even my own house).

Not exactly true Regal....Prices in REITS were appreciating over the years, but they have been swooning recently...
Somewhat true is when FEDS announced new or different QEs...REITS were doing just fine..
And of course most interst is based on their returns andd stability, when they had it.
There have also been dozens of REITS, IPO'd in the last 2-5 years.
Same with LPs and MLPs and ETFs...
Are you sure you want to delete this comment?
DATA PROVIDERS
Copyright © 2014 Microsoft. All rights reserved.
Fundamental company data and historical chart data provided by Morningstar Inc. Real-time index quotes and delayed quotes supplied by Morningstar Inc. Quotes delayed by up to 15 minutes, except where indicated otherwise. Fund summary, fund performance and dividend data provided by Morningstar Inc. Analyst recommendations provided by Zacks Investment Research. StockScouter data provided by Verus Analytics. IPO data provided by Hoover's Inc. Index membership data provided by Morningstar Inc.
ABOUT
Top Stocks provides analysis about the most noteworthy stocks in the market each day, combining some of the best content from around the MSN Money site and the rest of the Web.
Contributors include professional investors and journalists affiliated with MSN Money.
Follow us on Twitter @topstocksmsn.