Is Wal-Mart's new card a banking threat?
With a reloadable, low-cost card, the retailing giant and American Express offer an alternative for customers fed up with bank fees.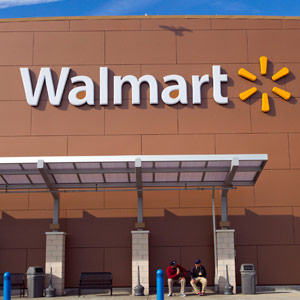 Wal-Mart (WMT) and American Express (AXP) are teaming up on a new prepaid debit card aiming to lure away customers fed up with rising fees at big banks.

The "Bluebird" card has no minimum balance and no maintenance or activation fee, and customers will be able to use it to access their money for free at any of the 22,000 American Express MoneyPass ATMs. (There's a $2 fee for using a machine on someone else's network.) The card first became available in a pilot project last year, and the two companies announced Monday that they're rolling them out in 4,000 Wal-Mart stores across the country, starting next week.

"Our customers tell us that they're tired of navigating a complex maze of do's and don'ts to avoid the ever-growing list of fees found on checking products," says Daniel Eckert, vice president of financial services for Wal-Mart U.S. "Bluebird solves this problem." 
Should Bank of America (BAC), Citigroup (C), and other financial behemoths be scared?

No, say some
"If Occupy Wall Street couldn't get people who hate big banks to switch to smaller ones -- even sympathetic people like me -- why should Wal-Mart or American Express be any different?" asks Dan Freed at TheStreet.com. "The power of inertia is far too great, and it is aided by the fact that all the automatic deposit and billpay customers set up through their banks are extremely costly and time-consuming to undo."
Prepaid cards target "lower-income families without traditional bank accounts," says The Associated Press, so the big banks don't have to worry about losing customers. It's other prepaid debit card companies, such as NetSpend and Green Dot, that should be "running scared." Executives at Wal-Mart didn't say whether the retail giant "would stop carrying Green Dot's Wal-Mart Money Card," but the Wal-Mart-Amex partnership will be hard to beat.

Yes, say others
"Actually, Bluebird is "exactly as momentous as they make it out to be,"says Anisha Sekar at Nerd Wallet. "Whereas traditional prepaid debit cards were characterized by a-la-carte pricing that could easily cost more than a checking account's monthly fees, the Bluebird offers a way to deposit and access cash without bleeding fees."
"Prepaid cards have been trying to establish themselves as a smart alternative to increasingly expensive bank accounts," credit-card expert Gerri Detweiler of Credit.com tells ABC News, "and this program may help them do that." The median bank overdraft fee rose to $29 from $28 last year. Relatively speaking, Bluebird fees are "very low," which is going to look pretty good to people who are sick of bank overdraft fees or simply want an easier, cheaper way to manage their household budget.
More from The Week

You missed a very important fact about why people didn't switch to other banks during the occupy movement that could tip this away from the bigger banks. Big banks have branches everywhere making them plentiful and convenient... like Wal Mart and - unlike many smaller banks. If I were the big banks finding all kinds of devious ways to get my customers money from them I would be scared.... very scared. 

In a previous article about Walmart banking people complained about another commercial environment that Walmart will drive out. However the few people who have bank accounts where they avoid fees by "walking on water"  are growing smaller in this economy.  Some folks in the poor urban areas have to rely upon check cashing business who take a portion of their check for the service. Usually they are connected to a high priced liquor store. I was in a bank and a customer was complaining about a fee that he was charged. He asked why the h*ll did he even have an account there if they were just going to hit them him up with fees. Walmart is stepping in where credit unions all were many years ago when they were financially able to compete successfully with banks. Now they are struggling. Banks can no  longer make money by lending money and getting back interest. With the number of defaults on loans the banks are also at a loss. The low Bernake interest rates no longer allow the banks to give money to their savers and allow them to maintain their buildings and pay their employees. Banks are not money makers to their account holders but fee based money managers. They have to collect fees from the customers who do not know so that they can earn a profit and continue to stay afloat. 
I don't think that Walmart may drive banks out BUT it may sadly hurt credit unions.
Are you sure you want to delete this comment?
DATA PROVIDERS
Copyright © 2014 Microsoft. All rights reserved.
Fundamental company data and historical chart data provided by Morningstar Inc. Real-time index quotes and delayed quotes supplied by Morningstar Inc. Quotes delayed by up to 15 minutes, except where indicated otherwise. Fund summary, fund performance and dividend data provided by Morningstar Inc. Analyst recommendations provided by Zacks Investment Research. StockScouter data provided by Verus Analytics. IPO data provided by Hoover's Inc. Index membership data provided by Morningstar Inc.
ABOUT
Top Stocks provides analysis about the most noteworthy stocks in the market each day, combining some of the best content from around the MSN Money site and the rest of the Web.
Contributors include professional investors and journalists affiliated with MSN Money.
Follow us on Twitter @topstocksmsn.