Justice Dept. makes cheap beer a top priority
Thank goodness Big Brother is there to protect us from evil monopolies.
By Jonathan Heller

In 1997, the Federal Trade Commission blocked the merger of Office Depot (ODP) and Staples (SPLS), a move that was rather shocking and somewhat comical to me at the time. Thank goodness Big Brother stepped in to stop the formation of this evil monopoly, which, if had been allowed to move forward, surely would have driven the prices of office supplies through the roof, giving the public no recourse.
At the time, the director of the FTC's Bureau of Competition, William J. Baer said this: "The FTC's decision to ask a court to block the merger is about lower prices for consumers. If the merger is allowed to proceed, consumers will pay millions of dollars more for their copy paper, envelopes, pens and file folders."
You can't make this stuff up; that is a quote taken directly from the FTC Web site. Sounds more like it came from a "Saturday Night Live" skit.
Big Brother is at it again, this time attempting to protect us from a beer monopoly, as the Justice Department filed an anti-trust lawsuit Thursday seeking to prevent Anheuser-Busch InBev (BUD) from acquiring the 50% of Grupo Modelo (GPMCY), maker of Corona, that it does not already own.
Evidently, if allowed to proceed, Anheuser-Busch will corner the U.S. beer market, and charge whatever it wants to, which would be severely damaging to US consumers. After all, beer is one of the things, besides air, food and water needed to sustain life.
Said William J. Baer, head of the Justice Department's Antitrust Division: "This is the sort of product that matters to consumers. If you have a very slight price increase that happens because of this deal, it could mean that consumers will pay billions of dollars more."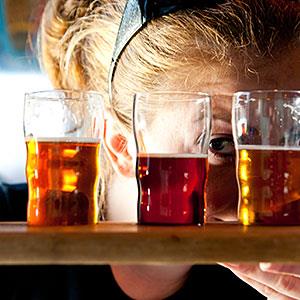 In case you are wondering, that is indeed the same William J. Baer that saved us from paying through the nose for pencils by blocking the Office Depot and Staples merger back in 1997. Haven't they got better things to do with our money?
Our economy continues to struggle mightily, unemployment and underemployment are still at alarming levels, the national debt continues to explode, yet at least we'll still have cheap beer. Is that just a ploy to promote drinking in order to further dull our senses and take our attention off the real problems we face as a nation? Or, are they out of things to do at the Justice Department?
Again, this is another clear indicator of the lack of understanding about economics by many in Washington. Suppose the merger went through after all, and AB InBev increased beer prices 20%, not because of rising input prices, but rather because they think they can get away with it. Consumers still have choices in the beer market. They can still switch brands, give up drinking beer, or perhaps even make their own.
This is not life or death; but perhaps reflective of a Justice Department that's had its share of controversy over the past few years and is trying to remain relevant.
There was indeed fallout from Thursday's filing: AB Inbev fell nearly 6%, while Mexico's Grupo Modelo fell 6.5%. There was also some collateral damage, as Constellation Brands (STZ) fell 17%, the result of fear that the Department of Justice suit could hurt Constellation's efforts to acquire Modelo's stake in Crown Imports LLC, which is the U.S. importer for Corona.
Meanwhile, Boston Beer (SAM), a great success story, and one of the only survivors from the publicly traded micro brewery craze of the 1990's, had a relatively quiet day. Boston Beer is a testament to the fact that the small guy can still make it in the beer industry.
At the time of publication, the author held no positions in any of the stocks mentioned.
More from TheStreet.com
DATA PROVIDERS
Copyright © 2014 Microsoft. All rights reserved.
Fundamental company data and historical chart data provided by Morningstar Inc. Real-time index quotes and delayed quotes supplied by Morningstar Inc. Quotes delayed by up to 15 minutes, except where indicated otherwise. Fund summary, fund performance and dividend data provided by Morningstar Inc. Analyst recommendations provided by Zacks Investment Research. StockScouter data provided by Verus Analytics. IPO data provided by Hoover's Inc. Index membership data provided by Morningstar Inc.
ABOUT
Top Stocks provides analysis about the most noteworthy stocks in the market each day, combining some of the best content from around the MSN Money site and the rest of the Web.
Contributors include professional investors and journalists affiliated with MSN Money.
Follow us on Twitter @topstocksmsn.