Is the airline pilot shortage real?
Some industry groups and observers question recent reports of an impending crisis.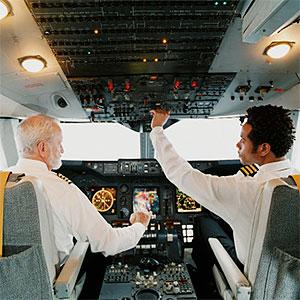 Is the U.S. airline industry facing an impending shortage of qualified pilots? That story has been creating headlines and controversy across the aviation sector this week.
According to Monday's report in the Wall Street Journal, domestic U.S. carriers are facing "what threatens to be their most serious pilot shortage since the 1960s." That shortage is reportedly due to a variety of factors. Starting next summer, the Federal Aviation Administration will require newly-hired airline pilots to have 1,500 hours of flight time, compared with the current requirement of 250 hours.

The FAA would also require those pilots to have additional training and testing customized for the airplanes they will fly.
At the same time, more than half of all U.S. airline pilots are in their 50s, and thousands of those senior airline pilots are quickly approaching the mandatory retirement age of 65. In addition, new regulations for more pilot rest time are also coming online in 2014.
All these changes are adding up to what some are seeing as a major crisis for the airlines. "We are about four years from a solution," industry analyst Kit Darby told the Journal, "but we are only about six months away from a problem."
Indeed, this year's Boeing (BA) Pilot & Technician Outlook report projects a need for about 460,000 new commercial airline pilots worldwide by 2031 -- with demand for 69,000 in North America alone. The report notes the airline pilot shortage is a global phenomenon; as growing demand in emerging markets prompts many airlines to expand their fleets and flight schedules.
Some industry observers believe the issue will, at worst, create some short-term financial problems -- as the airlines adjust to the new rules.

"If it means that they're going to have to bring on more pilots or otherwise change schedules around so that they don't have as many planes up in the air as a result of this, then it is going to affect the bottom line," says Andrew Goetz, professor and faculty member in the University of Denver's Intermodal Transportation Institute and the Urban Studies Program.
Goetz believes the great impact of any pilot shortage will be felt among the nation's regional carriers; airlines like Great Lakes (GLUX), United Express -- which partners with United Airlines (UAL) -- and Delta Airlines' (DAL) Delta Connection service.
"The regional carriers are where the pilots do get their training; that's where they can build up their number of hours," he says. "And so it's likely that the larger carriers are going to be going after the most experienced pilots from the regional carriers quite aggressively. And that's a natural progression that always has happened and it will probably be accelerated now, if there really is this shortage." 

Some industry groups and observers, meanwhile, are wondering if there truly is a pilot shortage.

"This strikes me as a cynical effort on the part of some in the industry to cry wolf and use scare tactics in an intent to influence the (FAA) when they write the final rule on pilot experience to weaken it," CBS News aviation and safety expert Captain Chesley "Sully" Sullenberger said during an interview on Monday. 

Sullenberger became a hero in 2009 after safely landing his crippled US Airways (LCC) jet in the Hudson River. He says experienced pilots in the cockpit can save lives and that the new regulations will "solve problems in the regional airline industry that have been the result of a dozen years of crashes taking needless lives."
At the same time, the Air Line Pilots Association, the world's largest pilot union, is also expressing doubts about a pilot shortage.

"In fact, many airline pilots have been furloughed and would like to return to flying," said ALPA in a statement issued last month. "In addition, many qualified pilots have chosen to fly for airlines in other parts of the world because of the industry instability here in North America."
The solution, according to ALPA, is for government, labor and the air carriers to work together to create stronger and more globally competitive airlines.

"With consistently profitable and stable airlines, our industry can offer the salary, benefits, and job security that will retain and attract the most qualified pilots, now and in the future."
More from Top Stocks

If they would treat pilots like professionals from the start this wouldn't be a problem.  Paying a pilot 14k-24k as an FO at a regional is what the airlines have relied on for years because would-be pilots were willing to sacrifice a sustainable wage to do what they love.  Many don't understand the monumental task and sequence of events required to become a pilot.  1) Pay at least 60K in flight training alone. (120-160K if you go to a school like Embry-Riddle....I did, made it 2.5 years before I maxed out my borrowing limit; 100K at the time).  2) So now you have a nice pretty commercial license with 250 flight hours and need to get competitive 'hireable' flight times.  Flight instructing is the norm  at about $12 - 25 an hour; do that 1-2 years.  3)  Get on with a regional carrier as an FO making the aforementioned crap salary for a few years.  4)  Pray you haven't been furloughed, laid off, or the co. gone bankrupt, no more 911 attacks or economic crisis where the whole industry takes a dump.......and become a Captain at the regional....for more years.  5)  If you've survived the B.S. unions and all the aforementioned while living out of a suitcase, single and miserable....you hope a flag carrier will pick you up as an FO...then start the whole process again.   I can honestly say, my dream of becoming a pilot RUINED my life for about 10 years while I struggled with multiple, full time, minimum wage jobs until I could get my CFI's, instruct at a small FBO, then become an aerial applicator.  I would rather burn my licenses then have to go work for the airlines.  Enjoy your cheap airfare while it lasts.  The fix in my opinion is increasing wages to at least 40K starting at the regional level.  Why?  Because they need a professional salary to survive you idiots.  It's a self made crisis created by the pitiful decision makers of the industry.


Well, with the major airlines clamoring for all airline workers to take steep cuts in pay and also increase workloads, it's not such a rosy career path anymore.  Here's a concept, how about less pay for the top dogs, and spread the wealth for all airline workers?  Then, it is a incentive for men and women to take to the skies to become pilots. But, since here in the USA, it's all about huge salary for CEO's and their chosen execs, the airline industry will continue to falter. People will not invest to learn to fly, as learning to fly and getting the hours continues to skyrocket in price. With airlines slashing payroll costs, it's not a bright future for many, after initial costs are included.

  Why would I invest in becoming a pilot, when the airlines continue to slash salaries and furlough?  Hmm,  not a promising future in my mind.



I'm a professional pilot.
We've been hearing about the "looming pilot shortage" for FOUR DECADES!!!  And yet it never seems to materialize. 
American Airlines still has 1685 pilots on their furlough list, (that's airline talk for "layoff").  United Airlines has 1537 pilots on their furlough list.  US Air still has 44 pilots on their furlough list.  And these men and women have been furloughed since just after 9/11/2001. 
There is no pilot shortage.  There will be no pilot shortage.  There WILL BE a shortage of pilots who are willing to work for $17,000 a year, (as is the case with the airline listed in this article: Great Lakes Airlines - a United Airline regional partner).   
Are you sure you want to delete this comment?
DATA PROVIDERS
Copyright © 2014 Microsoft. All rights reserved.
Fundamental company data and historical chart data provided by Morningstar Inc. Real-time index quotes and delayed quotes supplied by Morningstar Inc. Quotes delayed by up to 15 minutes, except where indicated otherwise. Fund summary, fund performance and dividend data provided by Morningstar Inc. Analyst recommendations provided by Zacks Investment Research. StockScouter data provided by Verus Analytics. IPO data provided by Hoover's Inc. Index membership data provided by Morningstar Inc.
ABOUT
Top Stocks provides analysis about the most noteworthy stocks in the market each day, combining some of the best content from around the MSN Money site and the rest of the Web.
Contributors include professional investors and journalists affiliated with MSN Money.
Follow us on Twitter @topstocksmsn.