If Norfolk had only kept its mouth shut
Rails could have been a nice card to play in the easing game if not for Norfolk's hard dose of truth.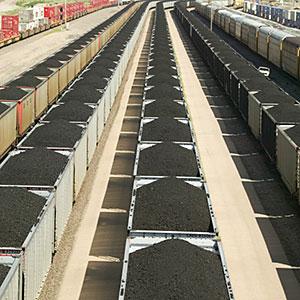 The biggest problem with investing with the central banks is this: You very much want to own the stocks of the companies their easing is meant to help, except on days when those companies speak.
Wednesday was a terrific day for this kind of remonstration and analysis. You had to feel a little emboldened during the session. After all, here's 3M (MMM) saying its regular goals had just become stretch goals -- a big-cap name basically saying, "Look, we aren't going to make the numbers." Yet the stock didn't even get hit. You saw the users of energy getting a boost after the third straight day of oil price declines. You saw airlines all flying higher off it, and when those dogs move, they move like greyhounds at the track.
Best of all, UPS (UPS) rose $1 -- up a buck right after FedEx (FDX) said all of those nasty things!
So I said to myself that we should take a look at those other transports -- railroads -- especially knowing that Union Pacific (UNP) just said coal has bottomed in pricing. Mike Sutherlin from Joy Global (JOY), the mining-machinery company, reiterated that point last week on Mad Money.
Sure enough, I spied Norfolk Southern (NSC), the great rail -- some say the best run of all -- sliding a full $1 on a day when the transports reversed their decline and were moving up.
That had to be a bargain. It's a quintessential global easing stock. It carries everything -- autos, wood, chemicals, all of the stuff that's about the improving ends of the economy, autos and homes.
Oh, yeah, but it has way too much coal. Even if Union Pacific says coal is bottoming, I imagine people are still slamming this darned thing because it has so much coal exposure.
So then the mental exercise becomes this: First, does the decline have anything to do with what the company is actually saying? Or is it all speculation that the quarter isn't any good?

Second, will the analysts be out defending it tomorrow if nothing is said by Norfolk doing its usual "It's fine, don't worry about it, global easing helps all" routine? Does that mean you could catch it on a bounce?
Now, over at Action Alerts Plus, we run a charitable trust that can't trade, so this is all a moot discussion. I am much more of a fan of Union Pacific than I am of Norfolk, because Union Pacific is still re-pricing old contracts and has less coal as a percentage of its cargo than do Norfolk and CSX (CSX).
Plus, I am not a believer in the cyclical decline story about coal in the U.S. I am a secular-decline theorist, as I believe President Barack Obama will win reelection and that, as a result, there will never, ever be another coal plant built in this country. Given that we are burning off more natural gas these days than we often use in utilities, I have little faith that coal can regain its pricing supremacy.
That means I don't want anything leveraged to domestic coal. China is the linchpin of international coal, and few people think China can come back anytime soon, even as I think it is trying to bottom. So I don't want to make that side of the coal bet, either.
All that said, though, you could see why a cockeyed optimist looking for a depressed stock in an otherwise decent tape might say, "I have my new central-bank-easing chit, and it is Norfolk Southern."
That is, until the company opens its mouth -- until it admits that the estimates are nowhere near the reality, that it is so disparate with what's happening that it has to issue a release.
For those who thought they could ride the central-bank levitation trade with rails, this will be a nasty day, and we'll see downgrades galore, starting with one from Wells Fargo. But if Norfolk had just kept its mouth shut for 24 hours, I bet it would have worked!
That's the tightrope traders are walking on right now. You just don't want to be on the frayed one, the one that speaks about how bad business really is, when all you wanted was a card to play in the easing game.
Now, there are some saving graces here. Analysts will say, "Now we know the downside, so you can buy it." Don't laugh. That worked with FedEx on the first earnings warning. I can also make the case that, ex-coal, things don't sound all that bad.
The problem is that, ex-coal, Norfolk Southern is not a great railroad. To me it's always been a coal-based railroad that also ships other goods. That means it might never be right during this period when people realize coal is in secular and not cyclical decline.
Ah, but Union Pacific?
That will be the hope that springs eternal.
Just you watch it.

Jim Cramer is a co-founder of TheStreet and contributes daily market commentary to the financial news network's sites. Follow his trades for Action Alerts PLUS, which Cramer co-manages as a charitable trust and is long  
More from TheStreet.com

I bought CSX because of coal and other commodites like Wheat and Corn going overseas when our dollar is devalued to the point of us buying a loaf of bread with a wheelbarrow full of the stuff.  Everyone will want to purchase us at the biggest yard sale since Mrs. Flanigan kicked out Mr. Flanigan.   Talk about redistribution of wealth, we are in the middle of it, all thanks to Ben Obama.
Are you sure you want to delete this comment?
DATA PROVIDERS
Copyright © 2014 Microsoft. All rights reserved.
Fundamental company data and historical chart data provided by Morningstar Inc. Real-time index quotes and delayed quotes supplied by Morningstar Inc. Quotes delayed by up to 15 minutes, except where indicated otherwise. Fund summary, fund performance and dividend data provided by Morningstar Inc. Analyst recommendations provided by Zacks Investment Research. StockScouter data provided by Verus Analytics. IPO data provided by Hoover's Inc. Index membership data provided by Morningstar Inc.
ABOUT
Top Stocks provides analysis about the most noteworthy stocks in the market each day, combining some of the best content from around the MSN Money site and the rest of the Web.
Contributors include professional investors and journalists affiliated with MSN Money.
Follow us on Twitter @topstocksmsn.