AMR Chapter 11 filing puts equity value in doubt
We expect American Airlines to emerge from bankruptcy as a stronger company, but the stock is still way too risky to buy now.
After holding off from filing bankruptcy much longer than its peers, AMR Corp (AMR), the parent company of American Airlines, finally decided to file for Chapter 11 last Tuesday in a Manhattan court.
Alhough American's loss in the near term translates into its competitors' gains, we believe the company is using bankruptcy as a way to improve its cost structure and renegotiate contracts with labor unions.  In bankruptcy, we expect American to continue operations while cutting capacity, improving its operating costs and upgrading its fleet. But that doesn't mean you should buy the stock now.
AMR lost most of its stock value following the announcement while the shares of Delta (DAL) and United (UAL) gained over 5% the same day despite a flat broader market. We look at some of the factors leading up to this bankruptcy below and the implications for its future valuation.


The Trefis analysis for American Airlines reflects a pre-bankruptcy equity valuation for the firm and should be used with caution as many items including the profitability of its operations and indirect costs could change substantially. The airline could very well emerge from bankruptcy stronger, which could lead to a higher value in the long run, but it's too soon to make this call.
See full Trefis analysis for American Airlines here
Bankruptcy will enable the carrier to restructure costs and labor contracts
American has been carrying an aging fleet of 737s that are less fuel efficient compared to newer models available today. Though it has placed record orders for ~$40 billion for more fuel efficient 737 MAX and A320 neo, it might be some time before the entire fleet is replaced.
To make matters worse, American has been unsuccessful at negotiating with labor unions, resulting in high running costs from wages and a highly inefficient legacy defined benefit plan while peers have largely switched to defined contribution plan years ago.
As a result, American now sits on a pile of debt and an uncompetitive cost structure that needs to be addressed. Assuming that American is taking the right steps toward restructuring, Delta and United will surely take notice and presumably face a more formidable competitor in the long run.
The bankruptcy court for now has permitted AMR subsidiaries, American Airlines and American Eagle to continue normal business operations. We believe that by optimizing the networks and cutting down on unprofitable routes, American can save cash. Also, the $4.1 billion of unrestricted cash on the balance sheet should help the company run its operations without diluting its equity; but we refrain from making this call formally until more information comes to light.
Going forward, American will need to use bankruptcy to renegotiate with its workforce, mainly pilots, to optimize costs as well as pension liabilities. The company needs to replace its fleet to a more fuel efficient one and optimize networks quickly. We believe management has shown its intent by filing for chapter 11 and will take a series of strong steps to come out of bankruptcy over next 18 months. We will be watching very keenly.
Valuation implications: firm value vs. equity value
Prior to American's bankruptcy filing, we had an equity valuation for the company of $2.1 billion and a firm value of around $24.5 billion. The firm value is the equity value plus the net debt (defined as cash minus total debt). The large difference between the equity and firm value means that debt and other debt-like claims (pension obligations, capital leases) are so large for American that there isn't much of the firm's value left over for equity holders. Since filing for bankruptcy, American's equity value (market cap) has collapsed to $130 million based on the uncertainty surrounding how existing equity holders will be diluted as a result of the bankruptcy reorganization.
Below we highlight our pre-bankruptcy forecast for the operating expenses of American. You can see how modifying our forecast up even a few percentage points wipes out the pre-bankruptcy valuation for American. The high level of valuation sensitivity to small changes in operating forecasts is attributable to the company's high leverage (large debt relative to equity). It's this sensitivity that bankruptcy re-organization can help alleviate.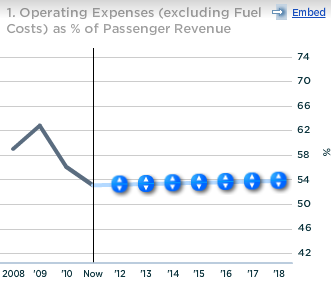 Furthermore, if the bankruptcy re-organization can help improve American's operating cost structure then there could be a high amount of upside sensitivity as well (you can see this by modifying the forecast down slightly).
Approach with caution
It's too early in the process to make assumptions on American's equity value exiting bankruptcy as the carrier will renegotiate items like its legacy defined benefit plans, future labor contracts and debt structure. These steps should make the airline more competitive going forward and could improve the long term outlook for the airline. Given the currently uncertainty and limited information at this point, we caution investors from relying on the presented data and analysis as an accurate value of the airline going forward.
DATA PROVIDERS
Copyright © 2014 Microsoft. All rights reserved.
Fundamental company data and historical chart data provided by Morningstar Inc. Real-time index quotes and delayed quotes supplied by Morningstar Inc. Quotes delayed by up to 15 minutes, except where indicated otherwise. Fund summary, fund performance and dividend data provided by Morningstar Inc. Analyst recommendations provided by Zacks Investment Research. StockScouter data provided by Verus Analytics. IPO data provided by Hoover's Inc. Index membership data provided by Morningstar Inc.
ABOUT
Top Stocks provides analysis about the most noteworthy stocks in the market each day, combining some of the best content from around the MSN Money site and the rest of the Web.
Contributors include professional investors and journalists affiliated with MSN Money.
Follow us on Twitter @topstocksmsn.