J.C. Penney's agony continues
Shares fall nearly 13% as investors continue to be skeptical about CEO Ron Johnson's turnaround strategy. To entice shoppers during the holidays, Penney will give away buttons with codes that could lead to prizes such as a Disneyland trip.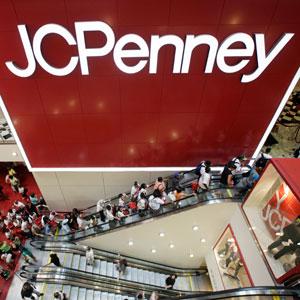 Updated: 5:56 p.m. ET
If you're Ron Johnson, touted as the wonder worker who would turn J.C. Penney (JCP) around, you can't be having much fun Monday.

The company's shares fell $2.67 to $17.97 today, their lowest price since March 2009. They're down 57% since February and nearly 15% since Thursday.

The problem Johnson faces is twofold. Right now, Wall Street is most definitely skeptical that Johnson's turnaround plan, which entails turning the department store chain into stores with a series of branded shops inside, will succeed before the company collapses. Credit Suisse downgraded the shares to "underperform" today and cut its price target 40% to $15, The Wall Street Journal noted.

And shoppers apparently are not any more excited about the business either. Fiscal-third-quarter​ sales, reported Friday, were down 26.1% from a year ago. The company reported a loss of $123 million, down from $143 million a year ago, but, well, big whoop.

Some 23% of third-quarter sales was clearance, up from 15% a year ago. The fourth quarter will be crucial to Penney's future and Johnson's.

The slump in Penney's stock price contrasts with the action in rivals Wal-Mart Stores (WMT), Target (TGT), Ross Stores (ROST) and TJX Companies (TJX). All are higher in a market that's modestly higher.

Johnson was hired away from Apple (AAPL), where he was in charge of the company's retail stores. But one problem he has is that he isn't selling iPhones or iMacs or iPads. He's selling jeans, socks, T-shirts, dresses, shoes and a host of other products that don't have the panache of Apple products.

One of Johnson's biggest goals was to break the culture of sales and coupons that its customers had gotten used to, but he's struggled to change the company's pricing structure.

USA Today reported Monday that Penney's employees will be handing out more than 80 million small, holiday-theme circular buttons to customers between Black Friday through Christmas Eve. Each has a code on the back that, when entered on J.C. Penney's website, reveals whether a customer has won a prize. Some of the possibilities include a trip to Disneyland, tickets to Ellen Degeneres' show or J.C. Penney merchandise or gift cards.

Moreover, Penney will be holding at least two sales this year: on Black Friday and Cyber Monday, Johnson told USA Today, promising "the lowest prices ever in the history of our company."

That comes despite promising a new store concept and a consistent pricing policy.

More from Top Stocks


JCP is on a slow agonizing death.  Always low prices except for the third Friday of the month when they have a clearance sale and on black friday and cyber monday.  lol   Who in their right mind would shop at JCP at any other time, but when they have their sales?  Here's a novel idea for JCP's Board of Directors, bring in a new CEO who actually has some retail merchandising experience.  Tough concept to understand I know, but might actually help.  lol  

Ha Ha ... another disguised coupon in the form of "buttons".  First the $10 "gift" (coupon), now a holiday "button" (coupon) with a 1 in 80 million chance at a trip to Disneyland.  Free haircuts to anyone brave enough to bring in their youngster and wait for their turn on "free Sunday" (and I'm sure the stylists love the tips that surely come from freebie-seekers).  And family portrait month for a free 8x10 in an age where digital prints aren't all that hard to come by anyway (since not all JCP stores have a studio anyway).  I cannot imagine anyone dumb enough to waste precious Black Friday time and/or money on JCP when there are so many better options.  Be prepared for the bloodbath that will be the Q4 report, although I'm sure Ron will spin it as "on track".  Investors are tired, and today is another nail in the impending coffin. 

Let's be honest, shopping is supposed to be full of gimmicks, coupons, and crazy stupid sales.  Admit your failure Johnson, your not an Apple employee anymore.  People like coupons, the sense that they are getting a deal, and a piece of paper that says 25% off that customers can walk into a store with almost guarantees that they will be looking to find something to use it on. 

Hope I win the trip to Disney!


Let's see, last time I went to JCP I walked around the store for at least 10 mins looking for someone to assist me take the ink tag off they left on my son's $42.00 pair of Levi's. It was not a good experience and their prices and deals stink! Not to mention, the store is different every time I go in there.
Are you sure you want to delete this comment?
DATA PROVIDERS
Copyright © 2014 Microsoft. All rights reserved.
Fundamental company data and historical chart data provided by Morningstar Inc. Real-time index quotes and delayed quotes supplied by Morningstar Inc. Quotes delayed by up to 15 minutes, except where indicated otherwise. Fund summary, fund performance and dividend data provided by Morningstar Inc. Analyst recommendations provided by Zacks Investment Research. StockScouter data provided by Verus Analytics. IPO data provided by Hoover's Inc. Index membership data provided by Morningstar Inc.
ABOUT
Top Stocks provides analysis about the most noteworthy stocks in the market each day, combining some of the best content from around the MSN Money site and the rest of the Web.
Contributors include professional investors and journalists affiliated with MSN Money.
Follow us on Twitter @topstocksmsn.