A dip to buy?
Stocks bounced on Friday in response to a not-too-hot, not-too-cold jobs report. Is this a buying opportunity, or a pause ahead of further declines?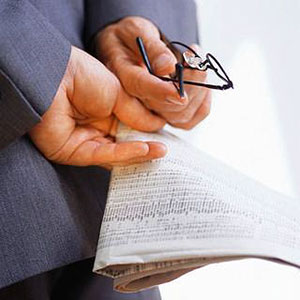 Just when it all looked lost for the bulls, as the Dow Jones Industrial Average sliced below its 50-day moving average last Wednesday for the first time since December, the stocks bounced and bounced hard -- pushing the index up into a typical 62% retracement of its 4.5% peak-to-trough decline from the late-May highs.
The catalyst for the move was questionable: Payrolls increased 175k and there was a slight increase in the unemployment rate. There were market oddities: A surge of futures market activity started roughly half-a-second before the payroll report was released. And someone or something hammered the S&P 500 futures market with more than 1.1 billion quotes -- most of which were subsequently canceled -- in an avalanche of quote stuffing.
But nonetheless, here we are. With stocks in a no-man's land between short-term oversold indicators, ongoing central bank stimulus, medium-term signs of ongoing investor overconfidence, and long-term decay in economic and earnings fundamentals, here are a few things to consider:
Commodities/emerging​ markets
Volatility has returned to the global financial markets after months of liquidity induced calm.
The tremors first started in the commodities markets and emerging market stocks, which peaked back in January and have been sliding lower ever since -- warning that cheap money from central banks was, in fact, not the answer to everything.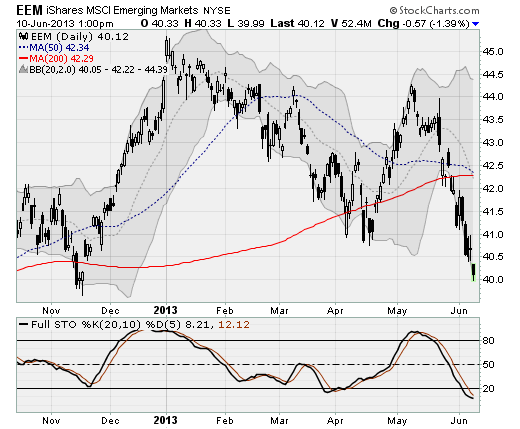 Today, both are resuming their downward slide. Copper is dropping out of a two-month trading range while the iShares Emerging Markets (EEM) has fallen below its April lows. Not exactly a sign that all's well in the markets. This could have something to do with the disappointing Chinese retail sales and industrial production data reported over the weekend.
Bonds/dividend stocks
After commodities and EM stocks, the fixed income market started to tremble. Both high-yield junk and investment-grade corporate bonds peaked in the early part of May, along with dividend equity plays including mortgage REITs and utility stocks. The justification at the time was that the Federal Reserve was preparing to back off on its open-ended $85 billion a month bond purchase stimulus, allowing long-term interest rates to drift higher.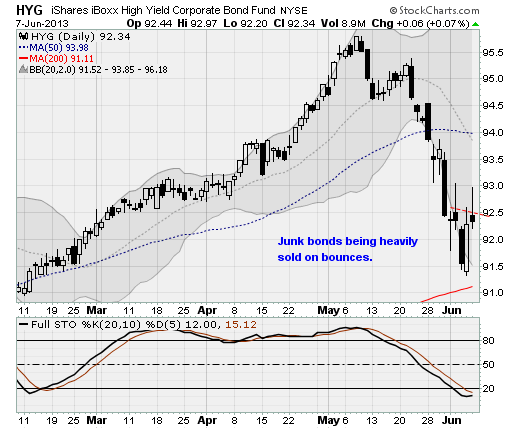 Many believed the shift would be uneventful as money would flow from bonds into stocks. The Dow would keep rising.
I'm not so sure. Interest rates have never been this low in recorded human history. We're in the midst of one of the weakest economic recoveries on record, with a full-times job deficit of 13 million and stagnant wages. And with bond yields so low, the bond market is extremely sensitive to any increase in interest rates, an underappreciated concept known as "duration."
Interest rates
And thus, as the yield on 10-year Treasury bonds went from 1.66% on early May to 2.18% on Friday -- an increase of 31.3% in one month -- the tremors have finally started to shake the precious U.S. equity market. This, of course, comes after the Japanese equity market collapsed and now flirted with outright bear market territory last week since Japan's deeply indebted government makes its economy much, much more sensitive to any increase in interest rates.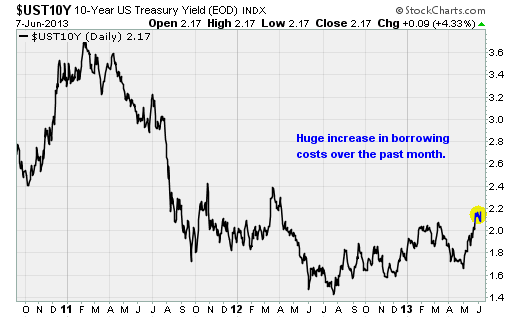 We've yet to see this story -- of a rapid increase in the price of money -- play out in the real economy. How will housing handle an increase in mortgage rates? Already, mortgage applications are falling.
The economy
And this increase in interest rates is coming at a time when the economy is already losing momentum.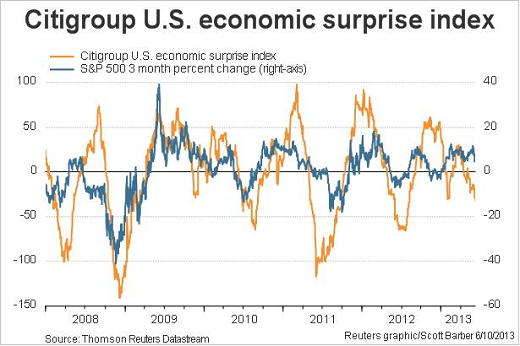 The chart above shows that the Citigroup Economic Surprise Index breaking down through a pattern of higher lows going back to 2011 (shown above, yellow line). Recent economic data, including the U.S. ISM Manufacturing Activity Report, has disappointed to the downside. And history suggests that as this Citigroup measures weakens, stock prices tend to follow (blue line).
Corporate earnings
As for corporate profits, consider this peach from the folks at Reuters:
"In the S&P 500, there have been 91 negative EPS preannouncements issued by corporations for Q2 2013 compared to 13 positive EPS preannouncements. By dividing 91 by 13, one arrives at an N/P ratio of 7.0 for the S&P 500 Index. This 7.0 ratio is higher than the N/P ratio at the same point in time in Q2 12 (3.4), and is above the long-term aggregate (since 1995) N/P ratio for the S&P 500 (2.4)."
***
So, what to make of all this?
At this point, there just isn't enough evidence to justify new positions, long or short, just yet. The evidence is just too mixed. And the risks are too high.
I'm still maintaining shorts against emerging market stocks, looking for a bounce in gold and Treasury bonds, and believe market volatility is headed higher. But I've also raised some cash over the past week and am content to just sit on it until the signals strengthen one way or another.
I'm still keeping an eye on possible buy-the-dip picks Pengrowth Energy (PGH) and Logitech (LOGI) from my column last week. And on the short side, I'm watching stocks like RF Mico Devices (RFMD) and Caterpillar (CAT).

Check out Anthony's new investment newsletter, the Edge, and his money management service, Mirhaydari Capital Management. A two-week free trial has been extended to MSN Money readers. Click the link above to sign up. Mirhaydari can be contacted at anthony@edgeletter.c​​​​​​​​​​​​​​​​​​​​​om​​​ and followed on Twitter at @EdgeLetter. You can view his current stock picks here. Feel free to comment below.

MSN Money on Twitter and Facebook
Like us on Facebook: MSN Money and Top Stocks
Follow us on Twitter: @msn_money and @topstocksmsn
DATA PROVIDERS
Copyright © 2014 Microsoft. All rights reserved.
Fundamental company data and historical chart data provided by Morningstar Inc. Real-time index quotes and delayed quotes supplied by Morningstar Inc. Quotes delayed by up to 15 minutes, except where indicated otherwise. Fund summary, fund performance and dividend data provided by Morningstar Inc. Analyst recommendations provided by Zacks Investment Research. StockScouter data provided by Verus Analytics. IPO data provided by Hoover's Inc. Index membership data provided by Morningstar Inc.
ABOUT
Top Stocks provides analysis about the most noteworthy stocks in the market each day, combining some of the best content from around the MSN Money site and the rest of the Web.
Contributors include professional investors and journalists affiliated with MSN Money.
Follow us on Twitter @topstocksmsn.