Cruise stocks: All aboard or abandon ship?
After a series of disasters at sea, the industry leaders look cheap and their economic prospects look good.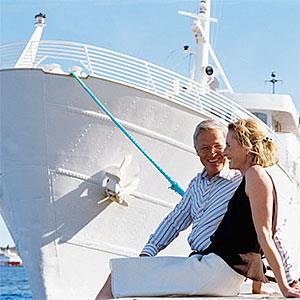 By Jolene Wee 
The cruise industry is a competitive industry, with Carnival Corporation (CCL) leading in terms of size and, more recently, at-sea troubles. Its safety issues seem to have started in January 2012 when Carnival's Costa Concordia shipwrecked off the island of Giglio, Italy, as the world watched in horror. Thirty-two people died and 80% of the passengers were injured in the shipwreck. The captain of the ship awaits trial for manslaughter on July 9. 
The shipwreck occurred while Carnival -- and the entire cruise industry -- were already struggling to profit amidst a global economic crisis. The company's stock had been on a consistent decline since 2011. At the end of January 2012, its stock price was $32, 33% less than a year ago. At $32.50 today, the company has yet to regain its stock price. Carnival is expected to report its second-quarter earnings on June 21. Since the company recently lowered its earnings forecast for the rest of 2013, its second-quarter results will most likely be bleak and indicative of a stagnant 2013.   
Since the shipwreck in Italy, other at-sea ship troubles have ensued, leaving many people wondering about the safety of cruise ships in general. Carnival's most recent mishap was a fire onboard its Triumph, which left the ship stranded in the Gulf of Mexico in February.
Carnival's ships aren't the only ones that appear to be plagued by safety issues. The world's second-largest publicly traded cruise company, Royal Caribbean Cruises (RCL), suffered a fire aboard its Grandeur of the Seas in May. Like Carnival, Royal Caribbean's stock price is now at an all-time low of $35, 30% less than its high of $50 in January of last year. It doesn't look like stock prices are climbing up anytime soon for these two companies.
There are only a few major players in the cruise industry. And when one ship sinks, the whole industry usually goes down with it. Since its recent initial public offering in January at $19 per share, Norwegian Cruise Line Holdings (NCLH), the third-largest publicly traded cruise company, isn't doing too poorly. Currently trading at $32, it is 68% higher than its IPO price.  However, most would agree that its stock could have performed better had it not been for its peers' bad publicity stunts.      
Despite industry-wide troubles and mounting litigation against Carnival, however, these issues will pass. While the companies are struggling now, calmer waters are on the horizon for the industry, and here's why:
1.       The cruise industry is not going away anytime soon. Despite safety concerns and lawsuits, people are still going on cruises, albeit at record discounted tickets. When enough time has passed, people will forget about the troubles and business will be as usual. 
2.       The industry has high barriers to entry. The average cost to build a cruise ship is $450 million to $1.5 billion. With such a high initial investment cost, it is difficult for newcomers to enter the industry and as such, protect these companies from new competitors.
3.       Maritime law and waivers signed by passengers generally protect cruise companies from most lawsuits. Carnival will most likely ward off them off or settle in its favor.
4.       U.S. consumer spending is up. As the global economy rebounds from the 2008 crisis, these companies will see better profits and stock prices will eventually pick up.
These three stocks are at a great discount thanks to the recent cruise mishaps. Of the three, Royal Caribbean is the greatest value, considering its projected growth versus size and stock price. The company projected a growth in profits this year and 4% annual growth through 2017.  Its projected capital expenditures is in the billions for the next few years as it ordered a third quantum ship, a luxurious mega-ship with bumper cars, a sky-diving simulator, and a look-out pod, with its first quantum ship to set sail in 2014. Carnival, a close second, has a lot to do to catch up and is taking great strides to remedy its bad publicity. A positive indicator of its restructuring efforts is the comeback of its retired CEO, Bob Dickinson, as a consultant.  Norwegian Cruise is also a good buy, but may be too highly leveraged for the likes of some investors.  
For specific trading details on these and other companies in the cruise industry, consult our real time trading reports.   

The cruise stocks are part of the entertainment industry and along with casinos and amusement parks are slowly cumming out of the doldrums of the post 2008 recession.  All have an upside potential if the economy ever returns to normal.  Both RCL and CCL are well off their 2011 highs which was a bubble that burst.  The 50% increase in RCL stock in late 2012 was a real bonus but unexpected.  By and large, I do not see any product differentiation to recommend any of these stocks above the general industry.  The one advantage of either RCL or CCL stock is the additional cash bonus every time you cruise.  For this reason, I have held small amounts these two stocks and any losses on the books are more than made up by the stockholders bonuses.  I didn't like NCL's management style the one time I did cruise with them and as a result will avoid their stock.  However,  Contrary to the article, there are many more small and foreign cruise lines operating which are not under the RCL and CCL umbrella and some true research into these venues may be much more rewarding to the savvy investor.
Are you sure you want to delete this comment?
DATA PROVIDERS
Copyright © 2014 Microsoft. All rights reserved.
Fundamental company data and historical chart data provided by Morningstar Inc. Real-time index quotes and delayed quotes supplied by Morningstar Inc. Quotes delayed by up to 15 minutes, except where indicated otherwise. Fund summary, fund performance and dividend data provided by Morningstar Inc. Analyst recommendations provided by Zacks Investment Research. StockScouter data provided by Verus Analytics. IPO data provided by Hoover's Inc. Index membership data provided by Morningstar Inc.
ABOUT
Top Stocks provides analysis about the most noteworthy stocks in the market each day, combining some of the best content from around the MSN Money site and the rest of the Web.
Contributors include professional investors and journalists affiliated with MSN Money.
Follow us on Twitter @topstocksmsn.