Dow Jones is uniquely vulnerable
Several headwinds are staring the industrial average straight in the face.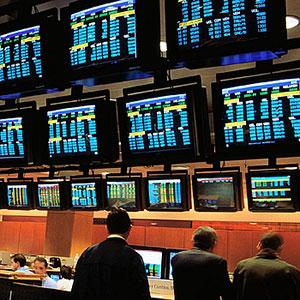 By James Brumley


OK, all you blue-chip fans, if your simple solution to holding the best (and presumably safest) names in the market is simply owning a basket of the Dow Jones Industrial Average's stocks, you might want to rethink things soon.
While the group remains one of the easiest ways to apply a long-term buy-and-hold strategy, the unique makeup of the index might be putting it face-first into its fair share of near-term headwinds.

Generally, a market index like the S&P 500 or Nasdaq-100 is designed to be a cross-section of the overall market, usually inclusive of all the stocks that meet certain size criteria. Therefore, that basket of stocks will largely mirror the broad market's sector and size stratification.
The Dow isn't your typical index, though. Its holdings are hand-picked, and more often than not, its represented sector allocation is considerably different from the overall equity market's sector allocation. It's also stock-price weighted rather than market-cap weighted, meaning even the sector groupings within the index aren't actually a snapshot of the broad market.
Nine times out of 10, it doesn't matter. Right now, though, is that one time out of 10.
None of the Dow's most heavily represented sectors are well-positioned for much -- if any -- upside in the foreseeable future.

Breaking It Down
The expandable table to the right sets up part of the pessimistic story. In no particular order . . .

Industrials: They might make up 20% of the Dow's total value, but they sure don't make up 20% of the U.S. market. Indeed, very few American companies actually "make" anything anymore.
That wouldn't be that big of a deal for the Dow Jones Industrial Average were it not for one thing: Its five components that are considered industrial stocks have been waving red flags for the bulk of third quarter's earnings season so far. Caterpillar (CAT), for instance, recently cut its full-year forecast for the second time this year, citing a measurable economic slowdown. 3M (MMM) also cut its full-year earnings forecast, hitting a big wall in Europe. Boeing (BA) is an encouraging exception, but the airplane maker can't carry all the weight.
Financials: The financial sector actually is a bit underweighted in the Dow. Perhaps more important right now, however, is that financials have been one of only two sectors doing the lion's share of the lifting for the Dow this year. That presents a problem, though, as many of these stocks have gotten a little ahead of the underlying companies, and have little room left to run higher. Add in the fact that Bank of America (BAC) is now facing a $1 billion lawsuit from -- and this isn't a typo -- the United States government for mortgage fraud. That's 3.3% of the Dow right there, represented by a company that wasn't doing all that well to begin with.
Health care: The only other sector that's actually helped the Dow this year is also now strained and/or overbought as a result of doing so. And as you can tell, none of those pharma names are expected to light it up next year in terms of earnings growth.
Technology: Did any of these names do well (so far) this quarter? Microsoft (MSFT) fell short of Q3 earnings estimates, Hewlett-Packard (HPQ) is battening down the hatches in an effort to survive the looming PC-sales implosion, and International Business Machines (IBM) -- the rock of rocks within the technology world -- fell short of revenue estimates in Q3. It's the fifth consecutive time IBM missed the projected top line. It wouldn't be a huge deal, since we're getting used to the revenue miss, were it not for one thing -- this was the first time sales actually fell on a year-over-year basis. That's a big red flag. (Microsoft owns and publishes Top Stocks, an MSN Money site.)
Telecom: From a distance, AT&T (T) and Verizon (VZ) look perfectly healthy. In fact, they've both been so red-hot this year that many Dow investors might be wishing for a bigger telecom allocation for the DJIA. But neither name has left itself any wiggle room. Both trailing price-to-earnings (P/E) measures are in the 40's, and the forward-looking P/E ratios are in the teens as both telecom players expect the iPhone 5 to crank up wireless revenue while the landline business is bolstered by newly forged partnerships with several cable television companies. If any part of that optimistic forecast isn't met, though, traders aren't apt to hold onto stocks that are so richly valued. (In fact, they already might be fairly valued at their maximum earnings capacity for 2013.)
You get the idea, and it's not like energy or basic materials or consumer services -- at least not the ones in the Dow -- are in any position to help.
But wait. It gets even worse.

Technically Speaking …
As if the Dow Jones Industrial Average's holdings weren't hitting a wall on their own, collectively, the index also is showing us a little too much technical weakness.
As of this week (and for the first time since July), the Dow Jones Industrial Average is trading beneath its 50-day moving average line (purple). As of Wednesday, the index is even putting some bearish pressure on the 100-day moving average line (gray). There's still a chance it could find support at the 100-day line and bounce out of this mess, but after falling under the key support line (black) that had been propping it up since July's bottom, why would the Dow find support here?
The last bastion of support/hope is the 200-day moving average line at 12,977 (green), which just happens to be intersected with the lower 50-day Bollinger band (orange) at this point in time. The bears have momentum, though, and if the 200-day line fails to act as support, it could be the beginning of a selling avalanche.
Add it to the list of things wrong with the DJIA right now.
Then again, considering a "normal" bull market correction is on the order of 9% -- and that we've only stumbled 4.2% thus far -- maybe it's just what the doctor ordered.
As of this writing, James Brumley did not hold a position in any of the aforementioned securities.
More from InvestorPlace
DATA PROVIDERS
Copyright © 2014 Microsoft. All rights reserved.
Fundamental company data and historical chart data provided by Morningstar Inc. Real-time index quotes and delayed quotes supplied by Morningstar Inc. Quotes delayed by up to 15 minutes, except where indicated otherwise. Fund summary, fund performance and dividend data provided by Morningstar Inc. Analyst recommendations provided by Zacks Investment Research. StockScouter data provided by Verus Analytics. IPO data provided by Hoover's Inc. Index membership data provided by Morningstar Inc.
ABOUT
Top Stocks provides analysis about the most noteworthy stocks in the market each day, combining some of the best content from around the MSN Money site and the rest of the Web.
Contributors include professional investors and journalists affiliated with MSN Money.
Follow us on Twitter @topstocksmsn.