The Fed's market farce
Tepid economic growth, political turmoil, budget cuts, stalled earnings growth, yet stocks are pushing to new highs? It's all about the Fed.
The market farce has reached new heights this week -- with the Dow Jones Industrial Average ($INDU) zooming to new post-recession highs -- as concerns surrounding the Italian election and the growing risks of the Federal Reserve's extreme monetary policy stimulus were salved by congressional testimony by Fed Chairman Ben Bernanke.
Bernanke told Congress he saw no reason to stop QE3/QE4 because the benefits are clear and the risks low (we know different, however). A better explanation is that the Federal Reserve's meddling has messed up the normal relationships between the business cycle and interest rates, and he is becoming increasingly desperate to justify his downright reckless efforts.
So while, on the surface, things appear to be just peachy, Wall Street insiders are beginning to worry as evidence builds they're already moving toward the exits.
The truth is, there are deep structural problems with the economy that cannot be solved by more cheap money. Wall Street knows this. Washington knows this. And above all, Bernanke knows this.
But he can't admit that. And he feels he can't stop flooding the financial system with cheap cash until higher inflation -- via energy and food prices -- forces him to. Thus, despite rising skepticism and nervousness amongst other Fed policymakers, Bernanke remains steadfast in his commitment that an open-ended commitment to pump $85 billion into the economy each month is a good idea.
His logic became so twisted that, in response to a question from California Representative Miller concerning the impact QE3/QE4 has had on mortgage rates (not much) and whether it was time to pull the plug, he deployed circular logic.
Bernanke replied, oddly, that the best way to get interest rates up is to have low interest rates.

In essence, he is saying that by holding rates low, economic growth will follow and interest rates will rise.
Of course, despite six-years of 0% interest rates and five distinct balance sheet stimulus efforts, 10-year Treasury yields are trading below their financial crisis low of 2.1% -- moving below 1.9% earlier this week. And this is despite the economy has been growing since 2009 and has already moved beyond its 2007 pre-recession high.
So while monetary policy had to a role to play back in late 2008 and early 2009, it's done all it can do. The Fed is just risking another asset bubble and other unknowable risks from its unprecedentedly aggressive actions.
Why continue? Washington is paralyzed by the fear of what would happen if A) we fall into a new recession with unemployment already near 8%; B) the stock market, one of the only bright spots of the current recovery, turns lower and drags down household wealth with it; and C) interest rates start pushing higher, forcing Democrats and Republicans to find a solution to the debt/deficit problem as the cost to finance our $16.6 trillion national debt explodes.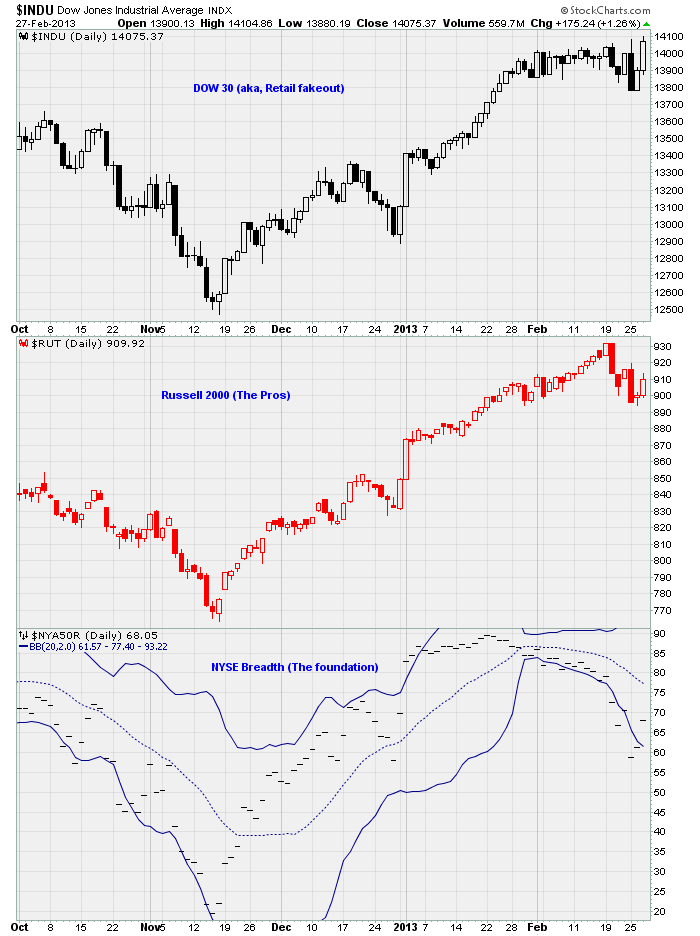 The Fed, for now, maintains direct control of C as it essentially monetizes the national deficit. It's losing control of B as insiders dump shares to excitable retail investors, who are focused on the Dow's rise to new highs while broader measures, such as the Russell 2000 and measures of NYSE breadth turn lower. And it's already lost A, with much of the rich world already falling into a new recession.
Back to B. The major indices are diverging in a big way, with the Dow closing at a new high but the S&P 500, the Nasdaq 100, and the Russell 2000 all at least 0.5% below their one-year highs. The last two times this happened was on May 1 and October 5. In both cases, the Dow topped immediately and lost more than -5% in the month that followed.
What would be the catalysts for a resumption of the downtrend?
We have a heavy economic release schedule over the next week, including a spate of manufacturing activity reports, more data out of Europe, and next Friday's payroll report. We have the budget sequester that will kick in on Friday, starting what will surely be tense budget negotiations in Washington throughout March. And we've yet to hear the end of the Italian political situation, nor how Spain and France intend to meet Eurozone deficit targets in the midst of economic stalling.
What would cause me to reverse direction and turn positive?
Better breadth, volume, and stronger participation by cyclical sectors. Over the last few weeks, as the Dow has zoomed to new highs, it's been led by consumer staples while basic material stocks have lagged. Until steelmakers outperform toilet paper makers again, I'll remain skeptical.
And finally, we would need to see stronger economic data.
With all the headwinds we face over the next few months -- Eurozone turmoil, Chinese monetary tightening, American political blood sport and fiscal austerity, and the consequences of higher energy prices -- an improvement isn't likely. Not with sentiment already so high.
So for now, I remain defensively positioned and continue to recommend positions like the Direxion 3x Treasury Bull (TMF).
Disclosure: Anthony has recommended TMF to his clients.

Be sure to check out Anthony's new investment newsletter, the Edge, and his money management service, Mirhaydari Capital Management. A two-week free trial has been extended to MSN Money readers. Click the link above to sign up. Mirhaydari can be contacted at anthony@edgeletter.c​​om and followed on Twitter at @EdgeLetter. You can view his current stock picks here. Feel free to comment below.
DATA PROVIDERS
Copyright © 2014 Microsoft. All rights reserved.
Fundamental company data and historical chart data provided by Morningstar Inc. Real-time index quotes and delayed quotes supplied by Morningstar Inc. Quotes delayed by up to 15 minutes, except where indicated otherwise. Fund summary, fund performance and dividend data provided by Morningstar Inc. Analyst recommendations provided by Zacks Investment Research. StockScouter data provided by Verus Analytics. IPO data provided by Hoover's Inc. Index membership data provided by Morningstar Inc.
ABOUT
Top Stocks provides analysis about the most noteworthy stocks in the market each day, combining some of the best content from around the MSN Money site and the rest of the Web.
Contributors include professional investors and journalists affiliated with MSN Money.
Follow us on Twitter @topstocksmsn.