Secret Santa for stock pickers
When the pros are on to a good thing but amateurs don't want to hear about it, that's called opportunity. Here are 4 to consider for Christmas buying.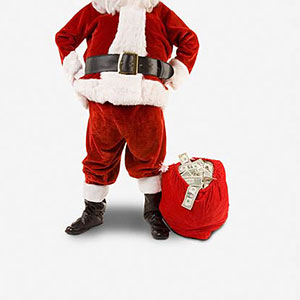 By Dana Blackenhorn   
One thing I've learned on this financial beat, which I failed to understand at my previous job withZDNet, is that heat is not always evidence of light.
A good, loud argument about software or stocks is not always a sign of progress. It may be evidence of resistance. I've written about this at Seeking Alpha, speculating that loud, active comment threads about a stock may indicate trouble for the stock in question. But it goes further than that.
Sometimes silence can be golden for investors. I'm going to offer some examples of stocks that have been rising in silence, that the crowd doesn't care about, stocks you might consider as presents under your virtual Christmas tree.
The first is News Corp. (NWSA). I'm a Democrat but I've been pounding the table for NWSA for a year now, as I explained on Seeking Alpha. The shares are up 43% so far this year, but when I write about them I feel like I'm writing to myself.
What's happening here is important. As Time noted recently, NWSA is going to become two companies. News Corp. will retain the newspapers, while a new Fox Corp. will take the entertainment assets. The papers, along with the book publishing and education businesses, will be under Robert Thomson, while Rupert Murdoch himself will lead Fox.
Newspapers are a dying industry, but media monopoly is alive and well in film. The other big studios -- Disney (DIS), Viacom (VIA.B) and Comcast (CMCSA), the last of which owns the bigger half of NBC Universal -- are all vertically integrated, just like in the Golden Age of Hollywood.
They control the outlets where the product is shown, they pay themselves for it and they keep all that money in their pockets. It's a gold mine, and the new Fox could make things better by taking BSkyB, a satellite broadcaster whose takeover was halted by the phone-hacking scandals.
Now, those "tainted" assets will be part of News Corp., another company, leaving Fox free to finish its deal with BSkyB. The separation is brilliant for shareholders, for creating value.
Second is Delta Airlines (DAL), up 35% since August. Airlines have been a horrible business, but the skies are clearing. Airlines can make money with long-haul routes, which keep planes in the air rather than on the ground.
Delta has gained cost visibility by buying a Philadelphia refinery to make its own jet fuel, and it's holding the line on prices while fuel costs drop. Just as important, it's making important moves to expand its international operations, which means more full planes going more long distances. But, again, no one wants to read that story.
My third present is Overstock.com (OSTK). This has long been a laggard in the e-commerce space, but founder Patrick Byrne, who is most-often blamed for its problems, is slowly stepping away. He's no longer OSTK's biggest shareholder.
More important, the company has figured out how to get value from "big data," using an open source program called Apache Mahout to deliver customized gift recommendations that actually make sense.
Since April, when an SEC investigation of the company's operations ended with no action, the stock is up about 170%. The company is now a prime takeover candidate for any brick-and-mortar operator, and its shareholders are in a receptive mood to hear the pitch.
Finally, we have First Solar (FSLR). First Solar is the first of the solar stocks to rise from the ashes. Its cadmium-telluride technology is unique, protected by patents, and uses what is said to be the waste from other mining operations.
The company has also learned how to sell its panels in bulk by building its own "power plants," and it's starting to make money -- about $2.27 per share over the last two quarters, as I noted on Seeking Alpha.
The smart money is on to this story -- the shares have doubled in price over the last six months. But if you just mention "solar power" to most individual investors they laugh at you. Then they turn away.
Fact is, however, that solar's best days are yet to come. Hawaii has reached "grid parity," the point at which solar power becomes cheaper than what you can buy from your electric company. California is passing that point, too.
More places will follow, as companies like First Solar continue to focus on cutting costs and increasing efficiency, and as new panel-making technologies emerge. Don't let cheap natural gas prices fool you, either. That's actually a benefit to solar because it eliminates the intermittency everyone complains about, what happens when the sun goes down.
So here we have four stocks on the rise, with great prospects, that most small investors don't want to hear about, or read about when I write about them. Consider me your Secret Santa. Merry Christmas.
At the time of publication the author had a position in NWSA.
More from TheStreet.com
Are you sure you want to delete this comment?
DATA PROVIDERS
Copyright © 2014 Microsoft. All rights reserved.
Fundamental company data and historical chart data provided by Morningstar Inc. Real-time index quotes and delayed quotes supplied by Morningstar Inc. Quotes delayed by up to 15 minutes, except where indicated otherwise. Fund summary, fund performance and dividend data provided by Morningstar Inc. Analyst recommendations provided by Zacks Investment Research. StockScouter data provided by Verus Analytics. IPO data provided by Hoover's Inc. Index membership data provided by Morningstar Inc.
ABOUT
Top Stocks provides analysis about the most noteworthy stocks in the market each day, combining some of the best content from around the MSN Money site and the rest of the Web.
Contributors include professional investors and journalists affiliated with MSN Money.
Follow us on Twitter @topstocksmsn.