Is Obama or Europe moving the market?
Stocks fell Wednesday. But was it reaction to the presidential election or to protests in Greece?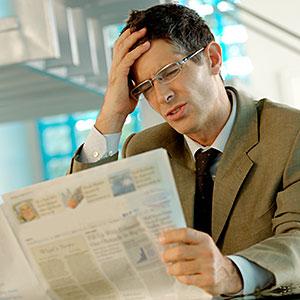 Deciding why the stock market did this or that on any particular day is demanded of journalists and analysts. But it's usually an exercise in "magical thinking." Yes, this or that occurred at the same time as the market moved this way or that. But was it the cause of the market's move or merely coincident in time?
Wednesday is one of those days when we've got a big stock market move in the United States -- the 
Dow Jones Industrial Average 
(
$INDU
) closed down 2.36% or more than 300 points -- and two big potentially market-moving events.
First, there's the possibility that Wall Street traders are selling because of Barack Obama won re-election Tuesday night as President. The logic here goes that the selling is a reaction to fears that an Obama victory raises the odds of partisan gridlock over the U.S. budget and the Bush tax cuts. Over the fiscal cliff we go in January. Tuesday the consensus Obama victory trade on Wall Street recommended buying Treasuries, hedging with gold, and selling stocks. For Wednesday, stocks are down and Treasuries are up. Gold, however, is down.
Second, there's the possibility that the U.S. market -- along with European stock exchanges --is selling off because 80,000 people are rallying in Syntagma Square in Athens to protest the latest Greek austerity package. A small number of protestors tried to storm Parliament. Police used water cannons, stun guns, and tear gas. Those protestors threw Molotov cocktails. 
All this as the Greek parliament prepared for the first of two votes on the austerity package. Wednesday's vote, on the labor market "reforms" in the package, is expected to be tougher than Sunday's vote on the budget itself. Government ministers are predicting that the austerity package will pass Wednesday night but by the thinnest of margins. 
If the measure fails, then there's no chance that Greece would win approval of the desperately needed next 31 billion euro payout at the Nov. 12 meeting of eurozone finance ministers. Without that cash, the Greek government will run out of money sometime in the next two to three weeks and the Greek banking system could stop functioning. All that makes traders and investors nervous. The German DAX stock in index is down 1.96%, the French CAC 40 is down 1.99%, and the Spanish IBEX 35 is down 2.26%.
So what is the explanation for Wednesday's market tumble?
It doesn't have to be one or the other, of course, and there's no doubt that the combination is pretty negative stuff.
But it is worth trying to tease apart the two explanations because they imply such different things about how long any retreat might last.
If this is mostly about Greece and Europe, the decline would be tempered by a successful parliamentary vote on the austerity package tonight in Athens and then could well turn into a rebound if European leaders do something reasonable (which could be short of actual approval) about new funding for Greece on Nov. 12. In other words, if the big problem right now is the Greek/Euro debt crisis, we'll know by watching the markets over the next few days.
If, on the other hand, this is mostly about a second term for President Obama and fear of the fiscal cliff, I wouldn't expect the market to reverse direction within the course of a few days. The buy Treasuries/sell stocks trade could well go on until we hear sufficiently positive and conciliatory talk out of Washington (which could take a while -- or forever) and prices for Treasuries and stocks move to levels that make reversing this trade attractive enough to overcome fear of the fiscal cliff (for the moment.)
I don't know of a reliable way to decide between these two potential causal explanations except to wait for events in the run up to Nov. 12 to show that today's drop is or isn't mostly a result of worries about Greece and the euro.
I'd save any big portfolio moves until then. Right now we simply don't know enough.

At the time of this writing, Jim Jubak didn't own shares of any companies mentioned in this post in personal portfolios. The mutual fund he manages, Jubak Global Equity Fund (JUBAX), may or may not own positions in any stock mentioned. For a full list of the stocks in the fund as of the end of the most recent quarter, 
see the fund's portfolio here
. 
DATA PROVIDERS
Copyright © 2014 Microsoft. All rights reserved.
Fundamental company data and historical chart data provided by Morningstar Inc. Real-time index quotes and delayed quotes supplied by Morningstar Inc. Quotes delayed by up to 15 minutes, except where indicated otherwise. Fund summary, fund performance and dividend data provided by Morningstar Inc. Analyst recommendations provided by Zacks Investment Research. StockScouter data provided by Verus Analytics. IPO data provided by Hoover's Inc. Index membership data provided by Morningstar Inc.
LATEST POSTS
Here's why hedge funds are getting creamed
Activists seem to be lurking everywhere, and boards of directors are listening to them. It's all part of an unexpected 2014 landscape that's making the market tough for negativists.
ABOUT
Top Stocks provides analysis about the most noteworthy stocks in the market each day, combining some of the best content from around the MSN Money site and the rest of the Web.
Contributors include professional investors and journalists affiliated with MSN Money.
Follow us on Twitter @topstocksmsn.