'Star Wars' finally heads to Toy Hall of Fame
Figurines from the popular series join dominoes among the prized playthings inducted into the rarefied group.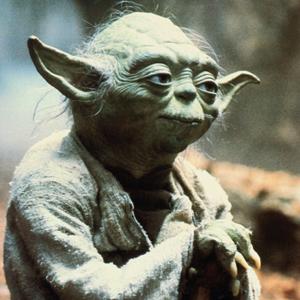 That Darth Vader action figure with the missing plastic cape and the well-chewed Chewbacca next to it in attics across the country aren't just dusty, cast-off childhood relics anymore. They're members of the National Toy Hall of Fame.
As benign and seemingly uncontroversial as the "Star Wars" figurines' induction was on Thursday, it raised more questions than it answered. First off, there's really a National Toy Hall of Fame? Apparently so. It opened in Salem, Ore., in 1998 but was shipped off to the Strong National Museum of Play in Rochester, N.Y., in 2002. It has inducted nearly 50 members, ranging from commercial successes like the Frisbee and Atari 2600 to childhood standbys like the stick and blanket.
Secondly, who gets the credit for Star Wars figurines' success? That's a much tougher question to answer and requires a little toy genealogy. The first figures were produced by General Mills (GIS)-owned Kenner Products from 1978 to 1985 and included characters, vehicles and playsets from the original trilogy of "Star Wars," "The Empire Strikes Back" and "Return of the Jedi" -- the trilogy non-geek America referred to without episode numbers for decades. Kenner, based in Cincinnati, was sold to Tonka in 1987 and Tonka was bought up by Hasbro (HAS) in 1991, just before Hasbro started making the latest line of Star Wars toys that continues to this day.
Unfortunately for Hasbro, Disney (DIS) may want to put its mouse-eared stamp on that Hall of Fame spot. Disney shelled out $4 billion last week to acquire Lucasfilm, giving it full control of the Star Wars universe and putting plans in motion for another Star Wars film in 2015. It just didn't get the toy rights, which Hasbro still holds and has shown no desire to relinquish.
Hasbro has a habit of denying Disney the toy tie-in profits associated with the mouse's big purchases. Disney found itself in the same predicament in 2009, when it paid $4.2 billion for Marvel Comics but couldn't pry the toy rights from Hasbro. Disney can make all the Iron Man, Hulk, X-Men, Captain America, Thor, Avengers and Spider-Man movies it desires, but Hasbro will reap all of the toy profits until its Marvel deal expires in 2017.
Disney could just take all the glory and profits by buying up Hasbro and its various licensed holdings, but Disney's current toy partnership with Mattel (MAT) and Hasbro's existing deals with Viacom (VIA.B) and Discovery (DISCA) would complicate that transaction a bit. For now, Hasbro gets sole credit for the Star Wars toys Hall of Fame officials singled out for inspiring other toy makers to tie their products to movies and appealing extends to adults who continue to collect them.
You know what toy doesn't have to deal with this kind sort of parent-company drama? Dominoes, the other childhood trinkets inducted by the Hall of Fame this year. Dominoes were more than 600 years old by the time George Lucas even began thinking about light sabers, Death Stars and Ewoks. You can play with them as a game, you can play with them by toppling them over in snaking lines and, most importantly, you can play with them without being beholden to some billionaire's ever-changing narrative that introduces a Jar-Jar domino just when everything was going well and updates dominoes mid-tumble to allow for technological advances.
Sure, dominoes may not have the multimillion-dollar Lucasfilm creative team behind them or feature intricate design details that vary with each generation's release, but they're considered equal to Star Wars toys in the Hall of Fame's eyes. This year, both Star Wars figures and dominoes beat out plastic green army men, the board game Clue, the Fisher-Price Corn Popper, Lite-Brite, the Magic 8 Ball, the pogo stick, sidewalk chalk, the electronic game Simon, the tea set and Twister for a spot in the hall.
More from Top Stocks

Are you sure you want to delete this comment?
DATA PROVIDERS
Copyright © 2014 Microsoft. All rights reserved.
Fundamental company data and historical chart data provided by Morningstar Inc. Real-time index quotes and delayed quotes supplied by Morningstar Inc. Quotes delayed by up to 15 minutes, except where indicated otherwise. Fund summary, fund performance and dividend data provided by Morningstar Inc. Analyst recommendations provided by Zacks Investment Research. StockScouter data provided by Verus Analytics. IPO data provided by Hoover's Inc. Index membership data provided by Morningstar Inc.
ABOUT
Top Stocks provides analysis about the most noteworthy stocks in the market each day, combining some of the best content from around the MSN Money site and the rest of the Web.
Contributors include professional investors and journalists affiliated with MSN Money.
Follow us on Twitter @topstocksmsn.