Nonunionized Wal-Mart still facing strikes
Workers are protesting labor conditions, and some are targeting a mass Black Friday walkout. The company responds by filing an unfair labor charge.
Updated 5:30 p.m. ET
Even though it has no employee unions,
Wal-Mart
(
WMT
) may get socked with worker strikes on Black Friday.
Workers want better pay, more health care coverage and permission to form unions without retaliation. If Wal-Mart doesn't offer them an olive branch, some of them appear ready to go on strike on one of the busiest shopping days of the year.
After days of downplaying the protests, Wal-Mart responded Friday by filing an unfair labor practice charge in the case. Wal-Mart shares closed Friday down 1% to $68.03.
The strikes seem to be coalescing around a group of current and former Wal-Mart workers called Organization United for Respect at Wal-Mart, or OUR Wal-Mart. The group is asking Wal-Mart employees to take the
Black Friday pledge
on its website and refuse to work on that day. The group is getting backing from the United Food and Commercial Workers union, known as UFCW.
Wal-Mart directly targeted UFCW Friday, asking the National Labor Relations Board to stop what it describes as illegal efforts to disrupt business, Reuters
reports
.
"We are taking this action now because we cannot allow the UFCW to continue to intentionally seek to create an environment that could directly and adversely impact our customers and associates," Wal-Mart spokesman David Tovar said in a statement. "If they do, they will be held accountable."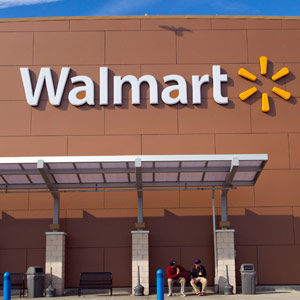 The union scoffed, and one spokeswoman described the company as "grasping at straws." OUR Wal-Mart says it has 1,000 protests lined up from now through Black Friday at Wal-Mart locations nationwide.
Many Wal-Mart employees earn less than $10 an hour, and the group is asking the company to bump up pay to at least $13 an hour,
according to
John Logan, a professor of labor and employment studies at San Francisco State University.
In addition, worker health care premiums are expected to rise as much as 36% next year, Reuters
reports
. Wal-Mart told Reuters that the average health care premium will only rise about 4.4% for employees, however, as some high-premium plans get removed. Wal-Mart pays for routine checkups, but employees need to meet a deductible of at least $1,750 before Wal-Mart begins paying 80% of the cost of doctor visits, tests and other services, Reuters reports.
More from Top Stocks

Some people want to be paid for breathing. It is time for people to realize an employer pays what is required for a particular skill level. If you want more pay improve your value to your employer by increasing your skill level. I have a family member that started to work with Wal Mart 6 years ago. His pay has continued to increase during his time with Wal Mart. He started with a high school education and next month he will graduate with a bachelors' degree in Business Management.

Today I ran across two LEECHES in the parking lot.
I picked up one and held it close to my ear. It said "I'm injured and can't work.....please feed me"
I placed it back on the pavement and then picked up the other LEECH... This one was fat and much larger than the first. I held it close to my ear and it said "You and the other LEECH must feed me because I'm a job creator"
I placed that one back on the pavement and stomped it with my foot and fed the little one with the big ones body.

If I were Walmart, I would terminate any employee who does not show up for work on Black Friday.  As a Shareholder I DEMAND they be fired.   We don't need bad employees.  If they are unhappy with the pay they should quit.  If they are not cheerful and helpful to customers they should be fired.
I am sure Walmart pays competitive wages for all it's employees.  These are unskilled jobs.  And the competition pay the same or less.  
I never shop anywhere there is a union.  That is the pits.  I never buy any product made with union labor.  I want quality, not shoddy crap.  To be honest, I'd buy Chinese over any union made product.
Unions make garbage and treat customers like garbage.
Are you sure you want to delete this comment?
DATA PROVIDERS
Copyright © 2014 Microsoft. All rights reserved.
Fundamental company data and historical chart data provided by Morningstar Inc. Real-time index quotes and delayed quotes supplied by Morningstar Inc. Quotes delayed by up to 15 minutes, except where indicated otherwise. Fund summary, fund performance and dividend data provided by Morningstar Inc. Analyst recommendations provided by Zacks Investment Research. StockScouter data provided by Verus Analytics. IPO data provided by Hoover's Inc. Index membership data provided by Morningstar Inc.
ABOUT
Top Stocks provides analysis about the most noteworthy stocks in the market each day, combining some of the best content from around the MSN Money site and the rest of the Web.
Contributors include professional investors and journalists affiliated with MSN Money.
Follow us on Twitter @topstocksmsn.