Europe's endgame threatens us all
The final act of the eurozone debt crisis will force the United States down a painful path.
On Friday the 13th, the eurozone's existential nightmare plunged to new depths: Credit analysts at Standard & Poor's who cut America's AAA rating in August made good on their threats and cut France's AAA rating by one notch. They also handed two notch downgrades to Italy and Spain, according to widespread media reports.
This was done in response to a disappointing European Union summit back on Dec. 9 where, instead of addressing the structural issues at the heart of the crisis there -- namely, inadequate banking regulation and lack of true fiscal union -- or measures that could stem the crisis, the focus was on stricter budget discipline and austerity measures. That's the same mistake we made in 1937. And that same mistake was why the Great Depression lasted so long.
The team at S&P wasn't impressed and took action as Europe plunges headlong into a new recession. This, combined with the collapsing Greek bailout, has markets reeling and Wall Street analysts cutting their economic growth estimates. It couldn't come at a worse time.
The reason the downgrades are so significant is that Europe's bailout fund -- the one that's supplying rescue funding to the likes of Greece, Portugal, and Ireland -- operates by taking seed capital provided by the likes of Germany and France and using it to attract outside, private capital. But now, with the creditworthiness of France and Italy being called into question, the bailout fund's credit rating will come under pressure. As it stands now, Germany will be the only AAA-rated country standing behind the bailout fund. Not good.
All of this will make it harder for Europe to raise the cash it needs to keep Greece going.
The other issue is that as part of the new €130 billion Greek bailout hammered out in October, Athens was supposed to negotiate a 50% reduction in its debt load with private creditors. This would alleviate the budgetary pressures and was the crucial first step in unlocking its new rescue funding.
Friday, we learned that the talks have fallen apart. I'll spare you the details, but essentially eurozone banks and eurozone politicians have been played by hedge fund managers who are now positioned to profit even if Greece defaults on its debt in March -- which now looks increasingly likely.
So, what does this mean for you and me?
The rapid deterioration of the situation across the Atlantic, after a brief holiday reprieve, threatens to pull the U.S. economy down into recession in 2012 via financial market turbulence and a slowdown in global trade. Asia is already catching cold with Singapore, rest stop between Asia and Europe, suffering a 4.9% annualized drop in its economy in the fourth quarter as manufacturing activity plunged 22%. 
Friday's developments, along with Thursday's terrible retail sales report, has Wall Street analysts falling all over themselves to cut their GDP growth projections. JPMorgan economist Michael Feroli cut his first quarter estimate to just 2% and expect policy uncertainty near the election to weigh on growth later this year too.
Expect more of this as the two temporary tailwinds that supported the American economy recently -- savings withdrawals and cheaper gas prices -- both reverse.
Now, with Europe's woes pulling down growth and Washington embroiled in bitter divisions, Federal Reserve officials are out in force trying to talk up the potential for another round of money printing, or "quantitative easing."
But as I illustrated in my last post, this is a terrible idea since instead of supporting growth, it is likely to merely encourage Wall Street to push up commodity prices, inflate gas prices, and cause more economic damage just as the $600 billion "QE2" initiative did in late 2010 and early 2011. 
Not only that, but Republicans are not going to be happy if the Fed chairman Ben Bernanke is seen as toying with the dollar to boost President Obama's reelection chances. Not with anti-Fed presidential candidate Ron Paul still in the running.
It's like this: Europe's debt crisis has reached its final stages where the like of Greece have no choice but to consider debt defaults and possible exits from the eurozone, something that will increase the pressure on Europe's banks and the countries that must stand behind them. This, in turn, will increase the pressure on "core" Europe creditors like Germany and France, weakening their ability to save troubled-but-not-yet​-doomed countries like Italy and Spain.
All the while, America faces a stark choice between a new recession that will weaken its own debt problems or having another go at dollar devaluation, commodity price inflation, and having its central bank become a political punching bag. Pick your poison.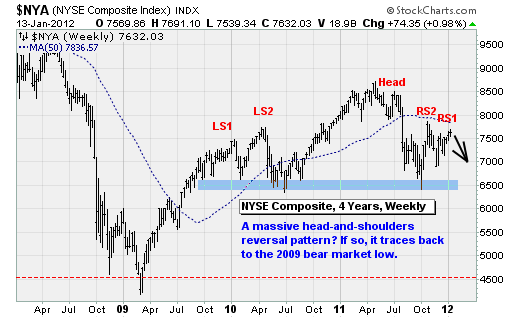 As for stocks, I still believe we're still in the midst of what will prove to be merely a bear market rebound, albeit a very, very powerful one.
There has been a massive shift in sentiment as the temporary boost in U.S. economic data, intermission in the eurozone debt crisis, and the positive seasonality of the holiday trading season combined into a confidence inspiring concoction. It's reaching extremes now just as the fundamental data turns sour.
According to the folks at Sundial Capital Research, for only the 19th time in 25 years, fewer than 17% of individual investors have a bearish outlook for a second consecutive week according to survey data. At the same time, large, heavy hitting S&P 100 options traders are eagerly snapping up put option protection against market declines. Right now, there are 171 put options outstanding for every 100 call options.
 
Historically, ratios this high have presages poor periods of market performance with an average 30-day return on the S&P 500 of -1% with only 33% of all days positive (out of 131 days) over the past decade. Reversing the situation, when calls were more popular than puts, the 30-day return averaged +2.1% and was positive 67% of the time.
 
I guess this was a Santa Claus rally for the record books. But that doesn't change the fact that it was merely a distraction, a head fake on the path to lower prices.

Check out Anthony's investment advisory service The Edge. A two-week free trial has been extended to MSN Money readers. Click here to sign up.
The author can be contacted at anthony@edgeletter.c​​om and followed on Twitter at @EdgeLetter. You can view his current stock picks here. Feel free to comment below.

DATA PROVIDERS
Copyright © 2014 Microsoft. All rights reserved.
Fundamental company data and historical chart data provided by Morningstar Inc. Real-time index quotes and delayed quotes supplied by Morningstar Inc. Quotes delayed by up to 15 minutes, except where indicated otherwise. Fund summary, fund performance and dividend data provided by Morningstar Inc. Analyst recommendations provided by Zacks Investment Research. StockScouter data provided by Verus Analytics. IPO data provided by Hoover's Inc. Index membership data provided by Morningstar Inc.
ABOUT
Top Stocks provides analysis about the most noteworthy stocks in the market each day, combining some of the best content from around the MSN Money site and the rest of the Web.
Contributors include professional investors and journalists affiliated with MSN Money.
Follow us on Twitter @topstocksmsn.