Russell may lead other markets down, too
The index has begun to weaken, and it may be a precursor.
On Monday the markets began to crack. And that falling apart was lead by the Russell, when the Russell 2000 declined 1,6% in about an hour. The Russell ETF (IWM) tells is all.
Recently small-cap stocks were leading the way up. This started when the Russell broke above 866 -- but on Monday the Russell hit 953, and that direction seemed to change course. The other markets were resilient, but the Russell remained weak through to the close. They all experienced a period of intraday weakness, but when Monday had come to an end only the Russell looked exceptionally weak.
When a major turn-down begins investors also want to see follow-through,  to confirm additional downside moves, and that is what happened on Tuesday as well. On Tuesday, that did not happen in the other markets, but that may be because the Russell is focused on smaller cap stocks, which usually represent the riskiest category of stocks on the general market.
So when risk starts to come off of the table it usually starts happening in small cap stocks first. I have been talking about this since Monday, though my nightly newsletter, pinpointing the double short Russell ETF (TWM) as an instrument that was increasing aggressively as these Russell declines transpired. When I wrote this, TWM was up about 7.2% since the break in the Russell began on Monday.
However, it wasn't until Wednesday that the Dow Jones Industrial Average (INDU), S&P 500 (INX) and NASDAQ (NDAQ)actually began to crack. None of these are as broken as the Russell, in fact my observations tell me that the Dow Jones industrial average is still somewhat resilient, but the Russell was leading the way up when the market was surging, so it is no surprise that the Russell leads the market down when the reversal lower begins. If that reversal has already begun the Russell is already leading the way as well.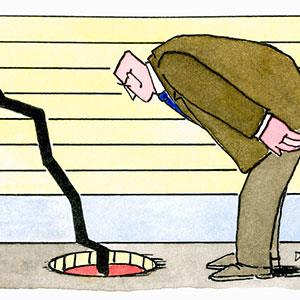 Furthermore, if a turn lower is taking place it is important for us to look closely at longer-term technical patterns to identify possible reversal points, and when we do the S&P 500 stands out clearly. The S&P 500 has indeed reversed below a neutral longer-term trend line which broke higher for only a few hours in total. The slight break above this neutral resistance line and the subsequent reversal back below support tells us that a longer-term reversal in trend could be soon upon us. I would also add that if the S&P 500 tracking ETF (SPY) breaks below $154, a material decline would be suggested there as well.
If that indeed is the case, the current longer-term upward sloping channels that have been in place for the last couple of years also tell us that a 10% slide from the market could happen in as soon as a few weeks. This would be normal, this would not break the upward sloping longer-term cycles, but it would be eye-opening and it would cause people to think about the macroeconomic environment that exists again.
Thus far in 2013 it seems as if everyone has taken their eye off of the ball. In the last reporting season the Dow Jones Industrial Average had negative earnings growth and only meager revenue growth, less than 1%. Still, the Dow  is at all-time highs, almost as if no one cared about earnings results. The macroeconomic conditions that exist today are the reason why the Dow Jones  is not producing results at the rate some other companies seem to be.
I will leave the rationale for the lagging Dow to another conversation, maybe one I will offer next week, but that is not the important part anyway. The most important takeaway from the macroeconomic conditions that exist today is that the Federal Open Market Committee (FOMC) has not stopped it from coming. The Investment Rate, the macroeconomic analysis produced by Stock Traders Daily that has predicted every major market and economic cycle in U.S. History in advance, warns us to expect additional weakness, no matter what the FOMC may choose to do, It also warns us that what seems like a very little thing could manifest itself into a serious issue, given where we are in the course of economic history.
Clearly staring an increasing market in the face does not make much sense, but once the market begins to crack these important things begin to surface again, and euphoric investors begin to come down to earth. My hope is that you do not wait too long to recognize the true state of our economy, and the corresponding fair valuation of the market -- neither of which has been accurately shown by market action recently, but that may be changing. However, as I noted last time, the bond market seems to be more intelligent and it is reflecting this forthcoming weakness already.
My recommendation to clients given this scenario is simple. Use a proven proactive strategy that can work, no matter what happens to the market. That alleviates the stress of being right or wrong about long term market cycles, and makes it possible for investors to make positive headway if the market crashes again. One of those is the Swing Trading Strategy that I offer to my clients.

If this market begins to crack, given where it is relative to the highs that were established in 2000 and 2007, the result could be a mirror image of the fall-outs that came after; anyone who suggests otherwise is blind to the risk, But if you use a proactive strategy and the declines never materialize you will still be able to participate. Proactive strategies can work both ways, so this is the logical choice for people who want to be responsible with their monies going forward.
Are you sure you want to delete this comment?
DATA PROVIDERS
Copyright © 2014 Microsoft. All rights reserved.
Fundamental company data and historical chart data provided by Morningstar Inc. Real-time index quotes and delayed quotes supplied by Morningstar Inc. Quotes delayed by up to 15 minutes, except where indicated otherwise. Fund summary, fund performance and dividend data provided by Morningstar Inc. Analyst recommendations provided by Zacks Investment Research. StockScouter data provided by Verus Analytics. IPO data provided by Hoover's Inc. Index membership data provided by Morningstar Inc.
ABOUT
Top Stocks provides analysis about the most noteworthy stocks in the market each day, combining some of the best content from around the MSN Money site and the rest of the Web.
Contributors include professional investors and journalists affiliated with MSN Money.
Follow us on Twitter @topstocksmsn.