Futures slip ahead of employment report
Global growth fears and comments from ECB President Draghi create a lull in markets.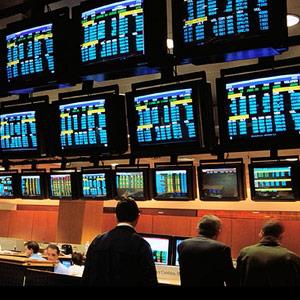 U.S. equity futures fell in premarket trading ahead of the monthly employment situation report. In addition, fears over the lack of a budget deal in the U.S. kept fear high and comments from European Central Bank President Mario Draghi indicate the Bank is less open to rate cuts than previously thought.
In other news, the Bundesbank slashed German growth forecasts for 2012 and 2013 in the wake of deteriorating European growth prospects. The Bank expects the German economy to grow 0.7% in 2012 vs. 1.0% previously and 0.4% in 2013 from 1.6% previously.

The Greek debt buyback plan is set to be complete by noon eastern today and comments and results should be released after that.

ECB President Mario Draghi said that rate cuts risk sparking currency devaluation and widespread inflation, scaring investors away from believing that the Bank is set to cut rates soon. Economists have been calling for the ECB to cut rates further to spur growth.
S&P 500 futures fell 1.1 points to 1,411.9.
The EUR/USD was lower at 1.2929.
Spanish 10-year government bond yields rose to 5.536%.
Italian 10-year government bond yields rose to 4.598%.
Gold fell 0.21% to $1,698.20.
Commodities
Commodities were mostly lower in early trade weighed down by global growth fears. WTI crude futures fell 0.12% to $86.16 per barrel and Brent crude futures rose 0.19% to $107.23 per barrel. Copper futures did rise 0.04% to $364.60 per pound as strength in Australia and China overnight buoyed the red metal. Gold was lower and silver futures fell 0.48% to $32.96 per ounce.
Currencies
The dollar reigned in currency market overnight against most pairs save for the yen in a clear risk-off tone in forex markets. The EUR/USD was lower at 1.2929 and the dollar fell against the yen to 82.37. Overall, the Dollar Index rose to 80.419 on notable strength against the euro, the Swiss franc, and the Swedish krone. In addition, the Aussie dollar was weaker against the greenback and the yen but still rose against the euro in overnight trade.
Premarket movers
Stocks moving in the premarket included:
Earnings
Notable companies expected to report earnings Friday include:
The Bank of Nova Scotia (BNS) is expected to report fourth quarter earnings per share of $1.19 vs. $1.10 a year ago.
KMG Chemicals (KMG) is expected to report first quarter earnings per share of $0.31 vs. $0.31 a year ago.
Economics
On the economics calendar Friday, nonfarm payrolls are due out. By the numbers:
Median estimate is +86k, +90k private payrolls, range is an astounding 15k-145k.
Unemployment rate estimate 7.9% vs. 7.9% previous.
ISM manufacturing employment sub-index 48.4 vs. 52.1 previous.
ISM non-manufacturing employment sub-index 50.3 vs. 54.9 previous.
Also, consumer sentiment and credit data are both due out.
More from Benzinga
Click here to sign up for a free two week trial of Benzinga Pro!

The headline from another article this morning states "US Economy Adds 146K jobs, unemployment rate falls to 7.7%"
This is just another example of a media driven propaganda to give the illusion that things are great when in reality they aren't.  The article however then points out the following:
-The gov says that employers actually added 49,000 fewer jobs than reported for Sept & Oct
-The Unemployment rate fell to a four-year low in November from 7.9% in Oct mostly because more people stopped looking for work and weren't counted in the unemployment figures
-Retailers added 53,000 jobs and temp agencies added 18,000 jobs in Nov
OK..so let's digest this information.  Once again the gov has adjusted downward job creation numbers that at the time were inaccurately reported to give the appearance things were improving which in turn could help our Prez get re-elected.  It's funny how Wall St can make billion dollar accurate stock trades in less than 10 seconds but we can't accurately count how many jobs were created?  Next...we supposedly added 146,000 jobs in Nov but the article then states that of those jobs, 53, 000 were in retail and 18,000 were temp jobs for a total of 71,000 jobs that more than likely were nothing more than part-time, minimum wage, no benefit jobs to support the holiday season and they will be eliminated in Jan/Feb.  So that means we only added 75,000 jobs in Nov and that is even questionable given our gov continued manipulation of data.
So once again, we have a market being driven off HYPE, HOPE and LIES and further fueled by a gov controlled media that wants to give the illusion that all is well when in reality it isn't.  Finally, the media and our gov are so quick to report the various jobs allegedly being created but why don't they also have a monthly report showing jobs that were eliminated?  So for example..if we report that 150,000 jobs were created let's be more specific and identify if they were full-time or part-time, with benefits or without, permanent or temporary etc. and were these jobs net after factoring in the jobs eliminated for the month?  The bottom line...our economy is not growing and anyone who thinks it is needs a good dose of reality. 

I like the idea of making everything that this government says and does meaningless.  These numbers are what they are but any indication of the actual reality of employment in this country should best be left to common sense.  We are still contracting in my opinion and in the past lowering numbers would most time indicate expansion.  But like most government bureacracy it never responds to reality but continues on  its merry path of ineptitude.  Like driving a  50's sedan we are using an antiquated measure to base sophisticated trading models on.  Folks who want to trade in miliseconds should find these numbers helpfull  but I am still bearish and still think Gold is sitting and waiting for just the right moment before it makes a solid run.  With all that has changed and is changing we are still using the same models and tools we did yesterday. We are seeing a gigantic upsidedown disparity in inflation and interest rates and how anyone with any sense can equate that as positive and adding to growth is in denial.  So we shall continue our journey into the land of make believe and hope.  The market is just that and like many I get downright frustrated with the propaganda being fed to us to believe this economy has any traction for today or the immediate future.  Debt spending cannot go on forever and ever  in my opinion but to a guberment bureaucrat?  Well as they say it is just my job!   
Are you sure you want to delete this comment?
DATA PROVIDERS
Copyright © 2014 Microsoft. All rights reserved.
Fundamental company data and historical chart data provided by Morningstar Inc. Real-time index quotes and delayed quotes supplied by Morningstar Inc. Quotes delayed by up to 15 minutes, except where indicated otherwise. Fund summary, fund performance and dividend data provided by Morningstar Inc. Analyst recommendations provided by Zacks Investment Research. StockScouter data provided by Verus Analytics. IPO data provided by Hoover's Inc. Index membership data provided by Morningstar Inc.
ABOUT
Top Stocks provides analysis about the most noteworthy stocks in the market each day, combining some of the best content from around the MSN Money site and the rest of the Web.
Contributors include professional investors and journalists affiliated with MSN Money.
Follow us on Twitter @topstocksmsn.