Here comes the Santa Claus rally
We could be on the cusp of a Christmas miracle as Main Street optimism overpowers Wall Street pessimism.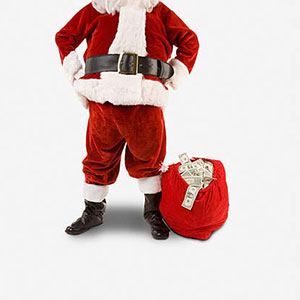 For weeks, there has been a rather large divergence between growing measures of consumer confidence, strength in the housing market, and buoyant retail spending and increasingly nervous CEOs and investors. 
The latter have been obsessing over two large political unknowns: Will the eurozone get the Greek bailout back on track, and will Washington bungle the "fiscal cliff" negotiations?
So, as executives pulled back on hiring and spending, and traders sent stocks reeling, consumers kept humming along. As a result, with Greece getting another debt reduction deal, a batch of better-than-expected​ economic data Tuesday has the pessimists scrambling to unwind their bearish bets -- setting the stage for an end-of-year Santa Claus stock market rally.
Assuming, of course, Republicans and Democrats can agree on a short-term deal on the fiscal cliff.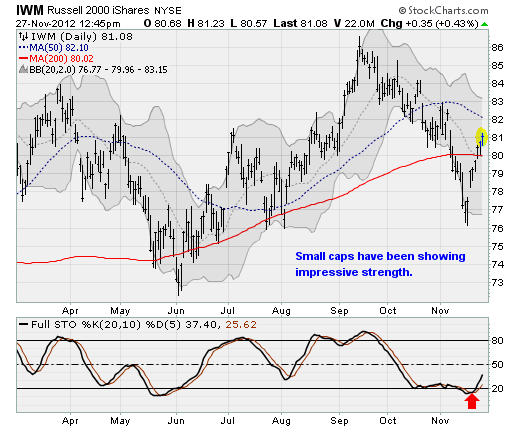 Early Tuesday morning, leaders from the eurozone, the International Monetary Fund, and the European Central Bank -- after holding their third meeting on the Greek bailout/debt sustainability situation in as many weeks -- finally came to an agreement to extend more help to Athens after its conservative government passed painful new austerity measures.
Features include cutting the interest rate on Greek bailout loans, forgoing profits on Greek bonds, and other ideas that are projected to cut Greece's debt burden to below 110% of GDP in 2022.
While this won't solve all of Greece's problems -- it still needs to get its economy growing again and fend off ongoing political turbulence -- it's a step in the right direction and removes a major source of uncertainty in the markets.
This clears one of the two major hurdles we faced heading into the end of the year. Now, we just need a short-term extension of the "fiscal cliff" here at home so stocks and other risky assets can blast higher into 2013 fueled by a likely QE4 Treasury purchase stimulus out of the Federal Reserve in a few weeks.
Also contributing has been a bounce back in the economic data, which led Goldman Sachs to increase its Q4 GDP growth estimate to 1.8% from 1.4% today. Durable goods orders beat expectations in October. Manufacturing in the Richmond region rebounded in November. Home prices are steadily rising in the Case-Schiller index, up another 0.4% in September. And the Conference Board reported its consumer confidence index hits its highest mark since February 2008.
What's driving this? JPMorgan economists note that finished inventory levels have fallen to their lowest level since the current growth slowdown started early last year. In other words, when CEOs get nervous, they can try to insulate their businesses by doing things like pulling back on new orders. But if things don't fall off a cliff, and customers keep coming in, they will eventually need to replenish their warehouses.
So, somewhat begrudgingly, managers are restocking their shelves.
From a technical perspective, things are still looking good. The Nasdaq, after months in the doldrums, is finally enjoying some relative strength against the overall market. Save for a brief spell back in August, this hasn't been seen since March. Also, hedge fund types, based on the latest data from the Commodity Futures Trading Commission, are busily covering their most aggressive net short positioning against stocks in years and moving long. And options traders are feeling more confident, market breadth is improving, and cyclical economically-sensiti​ve stocks are leading the way higher.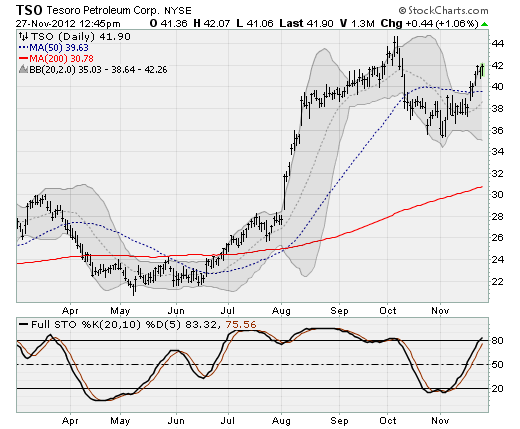 I continue to recommend my clients position for additional gains with a focus on energy and commodities. Ideas include Tesoro (TSO), up more than 10% since I added it to my Edge Letter Sample Portfolio last week. The ProShares UltraSilver (AGQ) is up 9.2% since I added it on November 9.
Disclosure: Anthony has recommended TSO and AGQ to his clients.

Be sure to check out Anthony's new investment newsletter, the Edge, and his money management service, Mirhaydari Capital Management. A two-week free trial has been extended to MSN Money readers. Click the link above to sign up. Mirhaydari can be contacted at anthony@edgeletter.c​​om and followed on Twitter at @EdgeLetter. You can view his current stock picks here. Feel free to comment below.

"WASHINGTON (AP) - U.S. consumer confidence rose this month to its highest level in almost five years, helped by a better outlook for hiring over the next six months. The Conference Board said Tuesday that its consumer confidence index rose to 73.7 in November from 73.1 in October. Both are the best readings since February 2008. The index is still below the level of 90 that is consistent with a healthy economy. It last reached that point in December 2007, the first month of the Great Recession. But the index has increased from the all-time low of 25.3 touched in February 2009.
Higher consumer confidence could translate into a more robust holiday shopping season and stronger economic growth. Consumer spending drives nearly 70 percent of economic activity."
Who actually buys this crap? I'd bet that we have whole states minus 1% that have zero faith in the economy, our leaders, our finance and law sectors. We are plagued-ugly with administrator cancer and shiftless deadbeats high on corruption. No more surveys please... I'll take genuine recovery for $1 quadrillion, Alec.

You and those dumb charts again. Rally? Riot? Go with the latter. The world changed and left the stock and bond markets in the past. Greece will default. France and England will leave the Euro. The 47% of us that Romney doesn't like won't charge-out their credit cards on foreign-made junk and Romney-zombies won't buy what lifts their own holdings. It's getting creepy that you authors here are Kool Aid addicts while absolutely everyone out here--- isn't. Where is the Job Recovery chart? Where is the- Who Still Has A Home At The Holidays chart? How about the Graduated and Owe but Stuck Working At Wal-Mart chart? It's beginning to look a lot like Christmas when those ridiculous jewelry and luxury car gift commercials air.

The Dow drops to zero on 12/21/12 because the Earth explodes.


Are you sure you want to delete this comment?
DATA PROVIDERS
Copyright © 2014 Microsoft. All rights reserved.
Fundamental company data and historical chart data provided by Morningstar Inc. Real-time index quotes and delayed quotes supplied by Morningstar Inc. Quotes delayed by up to 15 minutes, except where indicated otherwise. Fund summary, fund performance and dividend data provided by Morningstar Inc. Analyst recommendations provided by Zacks Investment Research. StockScouter data provided by Verus Analytics. IPO data provided by Hoover's Inc. Index membership data provided by Morningstar Inc.
LATEST POSTS
Bank CEO pay gets more confusing
'Headline pay' vs. 'realized pay'? Cash bonuses and stock awards? It's harder than ever to decipher compensation within the sector.
ABOUT
Top Stocks provides analysis about the most noteworthy stocks in the market each day, combining some of the best content from around the MSN Money site and the rest of the Web.
Contributors include professional investors and journalists affiliated with MSN Money.
Follow us on Twitter @topstocksmsn.