Futures rise on Chinese investment plan
The country aims to open up financial markets.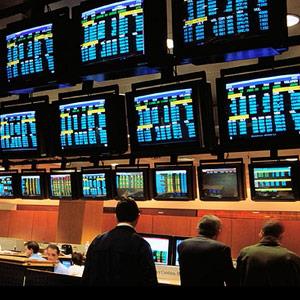 U.S. equity futures rose in early Wednesday trading as China opened up financial markets to further investment from insurers and increased urbanization plans. The moves serve as ways to support the banking sector in the country because insurers can now use bank securities to manage risks.
In other news, Spain sold 4.251 billion euros of a targeted 4.5 billion euros of three-, seven-, and ten-year notes with yields mixed and demand fairly flat from the previous auction. Bond yields rose in the secondary market after the auction, as investors did not like to see Spain unable to fulfill its full target.

The Eurozone Services PMI rose to 46.7 in November from 46.0 in October, stronger than economist expectations of a 45.7 reading.

European finance ministers have yet to finalize the Banking Union that is much sought after. Plans are to have a bill completed by next week for the system.
S&P 500 futures rose 4 points to 1,409.5.
The EUR/USD was was slightly lower at 1.3082.
Spanish 10-year government bond yields rose to 5.348%.
Italian 10-year government bond yields rose to 4.462%.
Gold rose 0.5% to $1,704.30 per ounce. 
Commodities
Commodities were higher in overnight trade following the strength in China and the rebound in European data. WTI crude futures rose 0.31% to $88.77 per barrel and Brent crude futures rose 0.31% to $110.18 per barrel. Copper futures jumped 0.23% to $366.40 per pound following the strength in Chinese markets. Gold was higher and silver futures rose 0.92% to $33.11 per ounce..
Currencies
Currency markets showed a short yen bias in overnight trade as the Japanese currency weakened against most major currencies. The EUR/USD was slightly lower at 1.3082 and the dollar rose against the yen to 82.20. Overall, the Dollar Index rose 0.15% to 79.76 on strength against the yen, the Swiss franc, and the Swedish krone. In addition, the Aussie dollar was moderately stronger in overnight trade, especially against the greenback and the yen.
Premarket movers
Earnings
Francesca Holdings (FRAN) is expected to report third quarter earnings per share of $0.22 vs. $0.14 a year ago.
SAIC (SAI) is expected to report third quarter earnings per share of $0.34 vs. a loss of $0.27 per share a year ago.
Economics
On the economics calendar Wednesday, MBA purchase applications, the ADP employment report and productivity and costs are due out. After markets open, the ISM non-manufacturing index is expected followed by the EIA petroleum status report.
More from Benzinga
Click here to sign up for a free two week trial of Benzinga Pro!

DoDa....Think MSN( believe Microsoft) has changed some of the Formats and Columns ??
MS....and NBC seperated ways a while back, 6 months or so...Strickly MS in charge of content and what they choose to run on the pages...Probably thought enough coverage of Markets and Equities could be found elsewhere in there reports by other Articles and Contributors on Contracted services..
Some other authors are not on their pages as much as they used to be...
I think "Market Watch/Latest Dispatches" is a thing of the past for now ??
Although when I pull it up every couple days, CGT1 is still blogging on the old sight, he is not a "contributor"...Just​ a Commentor like us.
Charley Blaine contributes an Article sporadically on here "Top Stocks".....And I saw another contribution in another area a few days back....Still around, but maybe on "special assignments"
or partially retired ??...He is not a kid anymore....And he was doing interviews or indepths from the floor of the Exchange....I kind of miss his reports, because of good,concise information. 

The Free Trade agreements or low tariffs, that are imposed on our so-called trading partners, are and have put been in place.....So that we don't fall behind other Countries that are beating a path to the doorstep of these growing or expanding Economies...We really have little choice.
I personally do not think Americans see this bigger picture, it's somewhat obvious here on these forums...FOR THE MOST PART, I AGREE WITH MANY OF YOU....BUT IT'S TOO LATE.
The horse or livestock has left the barn...Closing the door now, accomplishes very litte.
If not us, (the U.S.) trading with these locations......THEN WHO ??
We in essence put ourselves in a precarious position, when (requiring ??) allowing Foreign manufactures to build up here, we all know the names, but every year/month more factories for many products are being built here.
That brings us to our own International Companies: Autos, GEs, Apples, and the like...
Most Larger Corporations have to have a "footprint" in these Countries for sales purposes...
And true to form several are there just in the name of "greed" for cost savings...IMO.
We have subjected ourselves to a different way of life, different spending habits and tolerances for what are sometimes inferior products...They have a shorter life or are throw-away items, that are not worth fixing....How did you fix your last TV, Microwave or VCR/DVD player...YOU DIDN'T.  
Monday MSN reported United States, manufacturing shrank in November, turning in its worst showing in more than three years. The Institute for Supply Management's U.S. factory index fell to 49.5 in November from 51.7 a month earlier. The dividing line between expansion and contraction is 50. Today they report The Labor Department said Wednesday that productivity grew at an annual rate of 2.9 percent from July through September. That's the fastest pace in two years and higher than the initial estimate of 1.9 percent. Labor costs dropped at a rate of 1.9 percent, more than the 0.1 percent dip initially estimated. Next time up you nailed it. Until we figure out how to get the jobs back from overseas this problem with entitlements will continue to grow. People still need to provide for their families and the government has become the only reliable game in town. The longer this goes on the more dependent people become and the harder it will be to get people off the government dime. People will not change till they are forced; it will take pain and suffering to make people change and politician's loose votes when people hurt. So don't expect any change any time soon.

Next Time Up
Your comments are all valid and well said!  Contrary to what politicians say..we continue to give tax incentives to American companies to move production to other countries and the outsourcing of other departments will also continue in the quest for cheap labor.  It is time for our gov to truly support economic growth here in America and not foreign countries.  I recognize that many American companies provide some product and service to other countries but overall the impact is minimal.  Let's take care of America first and get her back on her feet economically then we can selectively reach out to help other countries but only if they are willing to be our ally rather than our enemy.  I don't trust China and a few other countries and why the USA sucks up to them is beyond me. 

When did optimism trump common sense.  We have massive head winds from every angle. imaginable and we are to believe they don't exist and we needn't pay attention?  But unlike many I do have a plan for success.  We need to abandon free trade for a bit.  We need our politicians to work the other guy for a while and let the American worker have a breather and gain some economic tranction.   Free Trade mentality is that manufacturing and production workers are unimportant for future American success.  We might reconsider that idea.  Quality of life seems a more important goal for wide ranging policy makers.  Bridling the American Taxpayer for the cost of the success of Internationals,  many of which both pay no taxes as well as have the rest of us pick up the social cost of this attempted transformation is no longer fair in my opinion.  Much like a sick animal or tree in the forrest America is now very vulnerable to the parasites that seem to thrive during stressful times for any culture.  What say?  Continue down a path getting our clock cleaned by Countries who use economics to make decison about trade,  or politics as we do here?  Force the politicians to actually work for a change.  Go speak to the Asians about fairness? Perhaps also about a complete implosion and then they lose lose as well. But most importantly we need to use critical decision making as the Asian trading partners seem to be able to do.  They seem to be have concerns for their citizens while American politicians seem to throw our fellow citizens to the wolves for the right amount of money. JMHO
Are you sure you want to delete this comment?
DATA PROVIDERS
Copyright © 2014 Microsoft. All rights reserved.
Fundamental company data and historical chart data provided by Morningstar Inc. Real-time index quotes and delayed quotes supplied by Morningstar Inc. Quotes delayed by up to 15 minutes, except where indicated otherwise. Fund summary, fund performance and dividend data provided by Morningstar Inc. Analyst recommendations provided by Zacks Investment Research. StockScouter data provided by Verus Analytics. IPO data provided by Hoover's Inc. Index membership data provided by Morningstar Inc.
ABOUT
Top Stocks provides analysis about the most noteworthy stocks in the market each day, combining some of the best content from around the MSN Money site and the rest of the Web.
Contributors include professional investors and journalists affiliated with MSN Money.
Follow us on Twitter @topstocksmsn.