Tax refund shopping spike
Shoppers may be more active after they get their refunds.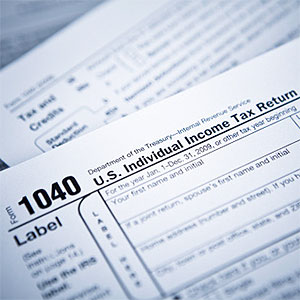 By Jolene Wee, 
Stock Traders Daily
For many Americans, the first quarter of the year is a time when Uncle Sam knocks on their doors to collect taxes. For those who owe the government, tax season is no fun. However, for many others tax season is a time of shopping, and retailers intend on cashing in on the shopping frenzy.
It is estimated that more than $230 billion of tax refunds will be issued to taxpayers this year. Last year, the average federal tax refund was about $2,700, which was more than 75% of Americans' monthly income! Even though many taxpayers vow every year to save their tax refunds, historical retail sales show that most spend their refunds.
In the past few years, retail sales during the tax season have consistently grown. There was an increase of 14% in retail sales in 2007 from the previous year. In 2008, retail sales were up 9%, in 2009 they were up 6%, in 2010 15%, in 2011 16% and in 2012 they were up a whopping 17%. As the economy continues to gain strength, it is likely that the increase in sales for this season will be even higher this year.
Retail spending during the tax refund season is largely driven by demographics. According to a recent survey, 22% of taxpayers making more than $75,000 a year plan to save or invest their refunds, while 17% plan on spending them. Some 20% of men plan on saving or investing their refunds, whereas only 10% of women plan on doing the same. More importantly, the majority of taxpayers making less than $35,000 plan on spending all of their refunds.
And history shows that most people spend their refunds on two kinds of expenses -- large ticket necessities and discretionary items.
With some tax refunds reaching more than $10,000 after earned income and child tax credits, people have used their refunds for a down payment for a car, pay off large bills and fix their homes. These are expensive needs that consumers have postponed due to insufficient funds or lack of income.
It is reported that car sales in February showed strong growth. Preliminary results indicated sales were at an annual rate above 15 million for the month of February.
General Motors
(
GM
) achieved the highest unit sale with 224,314 vehicles sold, up 7% from prior year.
Ford Motor
(
F
) came in second with 195,822 vehicles sold, up 9%; then
Toyota Motor
(
TM
) sold 166,377 cars, up 4%; and
Chrysler
sold 139,015 units, also up 4%.
Big box retailers such as
Wal-Mart Stores
(
WMT
),
Target
(
TGT
) and
Costco Wholesale
(
COST
) expected higher sales during tax refund season, and this year was no different. However, Wal-Mart's sales came short of estimates this year. According to company officials, the delay in tax refund payments has affected customer spending and was below projected sales for the month of February. At this point, the retailer had only cashed $2.7 billion of refund checks, down from $4 billion same period last year. As a result, the company experienced flat sales growth compared to last year. Target experienced similar flat sales results.
Costco, on the other hand, saw its sales rise. Revenue increased by 8% to $24 billion, while net income increased by 39% to $547 million. The company's performance has exceeded Wall Street's expectations thus far as it welcomed an over 15% increase in memberships despite an increase of 10% in membership fees. Its
there-is-something-f​or-everyone
strategy that is drawing customers ranging from small business owners to budget conscious individuals.
As for the discretionary refund check spenders, there are plenty of retailers to choose from. And the larger the refund checks, the more they can buy. Retailers including
Sears Holdings
(
SHLD
) and
Best Buy
(
BBY
) have ramped up their inventory levels to prepare for this season of shopping. In the past, shoppers bought large items such as televisions and computers during this time of the year. Some opt for online shopping and e-commerce sites such sites as
Amazon.com
(
AMZN
) and
eBay
(
EBAY
) also stand to profit.
Not surprisingly, lower income shoppers receive larger tax refund checks due to tax credits that higher income individuals are not eligible for. Due to the delay in refund checks this year, we will likely see this season of shopping extend well past the April 15 deadline. For more information on companies in the retail industry, consult our 
real time trading reports
.   

Those in the group making less than $35,000 are precisely the ones who need to save the most instead of foolishly spending it all.  Refunds within this group never seem to correlate to common sense or cents.  How many spring or summer shirts or dresses can you have over the years.  I have some summer shirts that are more than 15 years old, mainly because they aren't worn over twice during the season, I have so many.  Still driving a 1997 Grand Marquis that was bought brand new that year, and I will probably get a new paint job on it, using savings accumulated in the past.   This article didn't do very much to encourage thrift, I'll tell you that.
Are you sure you want to delete this comment?
DATA PROVIDERS
Copyright © 2014 Microsoft. All rights reserved.
Fundamental company data and historical chart data provided by Morningstar Inc. Real-time index quotes and delayed quotes supplied by Morningstar Inc. Quotes delayed by up to 15 minutes, except where indicated otherwise. Fund summary, fund performance and dividend data provided by Morningstar Inc. Analyst recommendations provided by Zacks Investment Research. StockScouter data provided by Verus Analytics. IPO data provided by Hoover's Inc. Index membership data provided by Morningstar Inc.
ABOUT
Top Stocks provides analysis about the most noteworthy stocks in the market each day, combining some of the best content from around the MSN Money site and the rest of the Web.
Contributors include professional investors and journalists affiliated with MSN Money.
Follow us on Twitter @topstocksmsn.