Target targets showrooming shoppers
The department store announces price-matching for online retailers, including Amazon.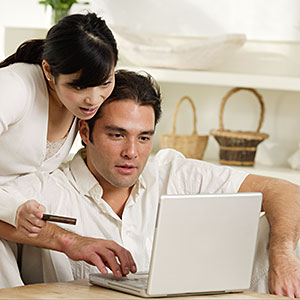 By Michael Comeau
Last summer, I had a revelation while shopping at the Antiques Garage Flea Market in Manhattan's Chelsea neighborhood.

I was looking at a $25 art book and having a tough time deciding whether it was worth it.

So I went ahead and did something that to this day makes me feel really bad about myself -- I whipped out my Apple (AAPL) iPhone and searched for the price on Amazon.com (AMZN).

Now, I'm the type of person who complains that New York has become far too safe and clean, and that it's overrun with big chain stores that push out the very locals that make this city an interesting place.

Luckily, I quickly came to my senses and decided that if I continued on this wayward path, I would have no right to bellyache about the destruction of authentic New York at the hands of the privileged.

So I locked my iPhone without looking at the lowest price on Amazon (about $7 including shipping) and bought the book because it was the right thing to do.

And in putting myself back on the path of the righteous man, I saved my soul -- or at least my right to babble about how much better things were in my day. Of course, in my day (let's call it the '90s), everyone older talked about how great New York was in the '70s and '80s. I'll add in my own defense that over the years, I've spent many, many thousands of dollars on books, movies, food, and clothing from independent shops, including thrift stores, and I'm a damn good tipper when treated right.

Now this absurd tale of big city neurosis (want to hear about my struggle to find the right blue cheese?) does have a point, because the practice of "showrooming" -- where people shop in real stores while comparing prices online via smartphones -- has turned into a problem for brick-and-mortar retailers like Best Buy (BBY).

On Dec. 12, Harris Interactive released a report (see it here) indicating that 43% of U.S. adults showroomed, with the primary beneficiary being Amazon.

Since the dawn of online shopping in the 1990s, online retailers have been a source of tremendous price competition for traditional stores. However, with 3G/4G mobile Internet giving people a fairly sophisticated online shopping experience, comparing price online and offline can now happen in real-time in stores, intensifying the battle.
Target (TGT), however, is fighting back with a new price-matching program that could be construed as a direct reaction to the showrooming boom.

Tuesday morning, the company announced that its new price-matching policy would include online prices from Amazon, Wal-Mart (WMT), Best Buy, and Toys "R" Us. Previously, Target matched online prices during the holidays, but now the program is extended to run year-round.
Post continues below

My initial reaction to the news was very, very negative. I am in the camp that believes physical retailers should focus on offering a better shopping experience (see the Apple Store) rather than trying to compete with Amazon on price. It's a war of attrition and Amazon is happy to take serious casualties in the form of weak near-term profitability.
But ultimately, Target's announcement appears to be a wash in terms of actual profitability because I doubt an awful lot of people are going to go crazy to pursue price matching.
First of all, this isn't an anything-goes type of program. There are plenty of exceptions in Target's price-matching policy, including clearance items, Black Friday deals, marketplace prices, and cell phones, the latter two likely because Amazon is absurdly cheap in these areas. 
And according to the Harris Poll, Target is not a major showrooming target. Just 9% of showroomers did the deed at Target, vs. 24% for Best Buy and 22% for Wal-Mart.
In fact, on the company's third-quarter earnings call, CEO Gregg Steinhafel commented specifically on price matching:
We don't see a lot of price-match activity in our stores. We've been price matching for a long time. Our value proposition is so good day in and day out, and our circular price offering is so good that we don't expect this to be meaningful.
Now let's examine the mechanics of actually getting a price matched.

In the press release, Target says the following:
Price match may be requested at Target's Guest Services prior to a purchase with proof of current price or by bringing the original Target receipt and proof of current price.
Wait on a line before waiting on a line? At peak shopping hours, I think many people will pass. So it's possible that people will only really pursue it for expensive purchases like computers and other electronics.  And in that case, I'm sure Target will still have a shot at coming out ahead on sales of profitable extended warranties.

There will be some annoying people that go gaga trying to price match on every little thing, but maybe it's best to capture a discounted sale than nothing at all.

So overall, I view this news as a fairly mild negative, but not an ultimate surrender to Amazon -- Target's just rolling with the punches and accepting reality, which is way, way better than doing nothing at all.
More from Minyanville

""" physical retailers should focus on offering a better shopping experience""""
are you kidding me?  with minimum wage clerks who never actually know the products being sold, you expect a "better shopping experience"???????
so somehow that is worth being charged 200% to 500% and more per item? 
i'm glad i check periodically.  otherwise i'd get SCREWED by the retailers! 
after all, it's MY MONEY they want!

And after I have been trying to accumulate a little of Target(TGT), and then they go and do this ??
I'm not really sure who pays 300% to 500% more for an item, that sounds a little absurd...??
As far as the Author Michael, I believe he could have bargained the $25 dollar price down to $12-15.?
AND HE COULD HAVE Still had the NEW YORK experience...He probably did...??
We are willing to pay 10-25% more just for the service; AND we EXPECT it.
When we go to any retail outlet, we already have a pretty good idea of what we want or expect to pay.
As far as "flea market or garage sale".....That's another story.
I do not have time, even if I could to check every last price; While standing in front of something I want to buy....Pre-pricing or best cost is the way to go before, and buying on sales.
Are you sure you want to delete this comment?
DATA PROVIDERS
Copyright © 2014 Microsoft. All rights reserved.
Fundamental company data and historical chart data provided by Morningstar Inc. Real-time index quotes and delayed quotes supplied by Morningstar Inc. Quotes delayed by up to 15 minutes, except where indicated otherwise. Fund summary, fund performance and dividend data provided by Morningstar Inc. Analyst recommendations provided by Zacks Investment Research. StockScouter data provided by Verus Analytics. IPO data provided by Hoover's Inc. Index membership data provided by Morningstar Inc.
ABOUT
Top Stocks provides analysis about the most noteworthy stocks in the market each day, combining some of the best content from around the MSN Money site and the rest of the Web.
Contributors include professional investors and journalists affiliated with MSN Money.
Follow us on Twitter @topstocksmsn.