Oil and gas buck the trend
Contrary to the seasonal tendency, technical signals suggest oil and gas prices may decline.

By Tom Aspray, MoneyShow.com
Even though the long-term seasonal tendency is for crude oil to bottom in February and rally through July, this has not been the case in 2012. 
The June crude oil contract hit a high of $111.31 seven weeks ago and has been declining ever since, which has taken oil to more important chart support. From the early-March highs, the June crude contract has dropped 7.7%.
Lower crude oil prices should be a plus for the economy, and there are also signs that unleaded gas futures have topped out. Though local gas prices are still trading near their highs, the technical action in the unleaded gas futures suggests prices should drop before the summer.
In terms of the energy sector, the relative performance and volume analysis of two key energy sector ETFs identifies some key support levels that should be watched.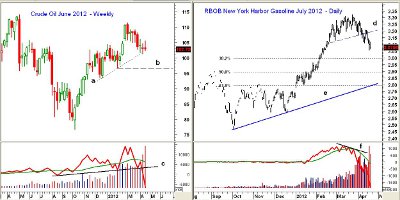 Chart Analysis: The weekly chart of the June crude oil futures shows that the weekly uptrend, line a, is now being tested.
A drop below the support at $101.20 to $100.85 will signal a drop to the $100 level and possibly the next major weekly support at $98-$96.50 (line b)
The volume has been heavy over the past two weeks and the weekly on-balance volume (OBV) has broken below support at line c
Daily OBV (not shown) looks better than its weekly counterpart, but the volume was very high on Thursday
On the upside, the three-week resistance at $105.50-$106 should be watched, as a close above this level is needed to stabilize the outlook for crude oil
The July 2012 RBOB New York Harbor Gasoline contract peaked at $3.32 on March 23 and then broke support, line d, in early April.
The break of support has initial downside targets in the $2.98-$3.00 area, which also corresponds to the 38.2% Fibonacci retracement support
The 50% retracement support is at $2.89 while the daily uptrend and 61.8% support is in the $2.79-$2.81 area
Daily OBV formed a negative divergence, line f, which was confirmed by the plunge through support on March 28. This was seven full days before prices broke support
The volume has been quite heavy over the past few days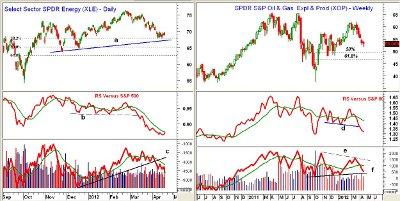 The Select Sector SPDR - Energy (XLE) peaked in late February at $76.50 and is currently down 9.6% from the highs. Exxon Mobil Corporation (XOM) and Chevron Corporation (CVX) account for over 34% of this ETF.
The 38.2% Fibonacci retracement support level at $68 has been tested over the past two weeks
The chart has trend line support in the $67.20 area with the 50% support level just above $65
Daily relative performance, or RS analysis, broke support, line b, in mid-March. The RS line is trying to turn up but is still below its weighted moving average (WMA)
The uptrend in the daily OBV, line c, was broken on April 5. The OBV is well below its declining weighted moving average
Weekly OBV (not shown) does look better, as it is still above its recent lows. A strong, high-volume rally would be needed to turn it around
There is initial resistance at $71.50 and a daily close above $73 is needed to break the daily downtrend
The SPDR S&P Oil & Gas Exploration ETF (XOP) has also been under pressure for the past five weeks, and it is down 14.1% from the high at $65.81. The largest holding in this ETF only amounts to just a few percent of the fund's holdings, so it is much more diversified than XLE.
The 38.2% support level has been broken with the 50% Fibonacci retracement support level at $49.80
XOP has major 61.8% retracement support at $46.85
Relative performance still indicates that XOP is acting weaker than the S&P 500, as it has broken support (line d) and is below its weighted moving average
Weekly OBV dropped below its weighted moving average three weeks ago and is now close to important support at line f
There is near-term resistance at $54.50-$55.50 and then major resistance at $58
What It Means: The technical action indicates that crude oil and unleaded gas are likely to decline further, which should be a plus for the economy and consumers. The remaining question is whether the lower prices are also reflecting future economic weakness.
I would expect that energy stocks could bottom ahead of crude oil, and I will be watching the Select Sector SPDR - Energy in the $65 to $66 area, risking to a level below monthly chart support in the $62.80-$63.80 area.
Because it is more diversified, I favor the SPDR S&P Oil & Gas Exploration ETF in the $50to $51 area, risking to under monthly support at $48.
There are no new buy recommendations at this time.

Maybe someone figured that the public has been gouged enough.  Maybe someone finally got smart enough to realize  that the lower oil and gas prices go, the more money people can spend on other things such as food, clothes, homes and medicines thus IMPROVING THE ECONOMY. I've noticed a trend that says the lower the stock market goes, the more the people who support this stupid country can afford.

It's GREED, and now they are running out of ways to "JUSTIFY" there GREED. sooner or later the gas price crooks will run out of lie's and now they are showing us Technicals  when we all know the price of gas at $4 to $5 bucks a gal will stop us in our tracks The major gas companies have bilked our savings to where we have no more and now it't way past time to refill the saving accounts so they can turn right around and screw us harder next time. EXXON,SHELL,BP and all the other gas companies and Wall Street are crooks and should be treated as such.............. If you steal gas from them they charge you with theft, they steal from us and laugh at us. TAX THEM, there shareholders are crooks, the companys are crooks, Wall Street ane low life s
****
ing crooks and need to put infront of a firing line on TV.
Are you sure you want to delete this comment?
DATA PROVIDERS
Copyright © 2014 Microsoft. All rights reserved.
Fundamental company data and historical chart data provided by Morningstar Inc. Real-time index quotes and delayed quotes supplied by Morningstar Inc. Quotes delayed by up to 15 minutes, except where indicated otherwise. Fund summary, fund performance and dividend data provided by Morningstar Inc. Analyst recommendations provided by Zacks Investment Research. StockScouter data provided by Verus Analytics. IPO data provided by Hoover's Inc. Index membership data provided by Morningstar Inc.
ABOUT
Top Stocks provides analysis about the most noteworthy stocks in the market each day, combining some of the best content from around the MSN Money site and the rest of the Web.
Contributors include professional investors and journalists affiliated with MSN Money.
Follow us on Twitter @topstocksmsn.