Election 2012: The bottom line for your portfolio
No matter who wins in November, our advisors have you covered.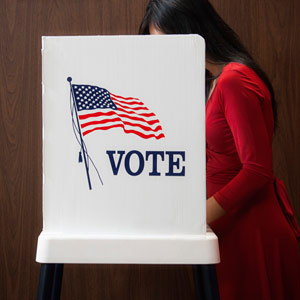 With the presidential election just a day away, the headlines are full of the latest polls, debate gaffes, and battle plans. But how will the results affect investors like you?
Four of InvestorPlace Media's top advisors sat down and discussed how the election will shape the investing landscape. Here's what they had to say:

Hilary Kramer: An Obama victory will boost health care, clean energy

Strategy: Picking growth winners in a volatile market

Her take: If Mitt Romney wins, I would look for opportunities in energy, especially U.S. drilling companies. I would expect to see much more natural gas production, boosted by the newest technologies, such as fracking.

One of my favorite plays in that space is Halliburton (HAL). Romney has also pledged to reduce the size of the federal government and lighten regulation, which means financial companies would likely benefit. Specifically, the big banks such as JPMorgan (JPM) and Citigroup (C) should do especially well. They've been struggling to comply with new financial reform laws, and some of these regulations could be rolled back under a Romney presidency.
If President Obama is re-elected, I think you have to look at hospital and health care services companies as "Obamacare" continues to be implemented more broadly. There is plenty to debate about the specifics, but the bottom line is that more people would have coverage. You'd also have to consider green energy. Companies that provide air-pollution reduction and control services should thrive as Obama continues to push for clean air and NOx emission reduction.

One name I've followed for a while is CECO Environmental (CECE), which helps companies remove airborne contaminants and pollutants from some of the largest industrial facilities in the world. Fuel Tech (FTEK) provides these services to utilities, industrial and energy companies and should thrive in a second Obama term.
Louis Navellier: A ramp into year-end -- either way

Strategy: Growth-stock investing focused on fundamentals
His take: The market is likely to do just fine no matter who is elected. While the major indices typically stumble in early October in election years, this dip is both temporary and an opportunity. In fact, about half an election year's average gains are made between the October lows and year-end. So regardless of who becomes the next president, I expect certainty to return to the market in November.
With that said, there are a few areas that will outperform depending on who sits in the Oval Office. If Mitt Romney is elected, I expect to buy more domestic energy stocks, since one of his main objectives is to create more jobs in the energy sector. If President Obama is re-elected, I expect that blue-chip companies will ramp up stock buybacks as the tax rate on dividends may increase. This shift will boost earnings and make this class of stocks more attractive. We may also see a stronger outlook for global stocks that have a tax advantage compared to U.S. companies.
Ahead of the election, an investor's best defense is a strong offense -- this is the time of year when fundamentals matter most. If you're not sure how to evaluate a stock based on its fundamentals, I have an easy-to-use proprietary screening tool, Portfolio Grader, which rates stocks across a number of fundamental criteria. Take a look and see how your portfolio stacks up!
Dan Wiener: Energy, industrial stocks will love a Romney win

Strategy: Unlocking upside from Vanguard mutual funds and exchange-traded funds (ETFs)
His take: No matter who wins on Nov. 6, I don't see interest rates moving higher or lower in the near term, so yields will remain punk. That means high-yielding stocks such as the battleship balance sheet companies owned by funds like Vanguard Dividend Growth (VDIGX) and Vanguard Equity Income (VEIPX) will remain in demand.
A Romney win will most likely mean "drill, drill, drill." I'd expect investors to bid up prices of stocks in the energy sector, so a fund like Vanguard Energy (VGENX) should do well. Ditto companies in heavily regulated industries like chemicals, which may see an easing of restrictions, so sector ETFs like Vanguard Industrials ETF (VIS) and Vanguard Materials ETF (VAW) could benefit.
A second Obama term should be fine for financials, as there's no uncertainty about what's going to happen in the sector -- Dodd-Frank is already on the books and stays in place. So, Vanguard Financials ETF (VFH) could be a good bet.
No matter who wins the White House, just the fact that the unease and uncertainty around the election will be over (unless we have another "hanging chads" moment) should be good for the markets overall. So, while it's fun to speculate over which sectors will rise and which will fall, my preference as always is to stay diversified.
Richard Band: Dividends are still king

Strategy: Low-risk, long-term investing with dividend opportunities
His take: Despite the coming tax changes, dividend stocks still offer income, appreciation, and an admirable level of safety.
The balance of power favors Democrats no matter who wins the election. Democrats will control the Senate and the White House during the lame-duck session, so they can force concessions from the Republicans by threatening to take us over the fiscal cliff well into 2013.
I expect investors will face at least some tax increases in 2013. But I don't believe the dividend tax will go up as much as Wall Street had feared earlier; a ceiling of 20% or 25% seems more probable now.
Thus, I see a buying opportunity shaping up over the next few weeks in high-dividend stocks -- especially those yielding 3% or more. Good values cut across sector and industry lines. Some of my favorites include PG&E Corp. (PCG) in the utility space; McDonald's (MCD) among the restaurants; Intel (INTC) in the tech sector; and Chevron (CVX) among the oils.
More from our experts

DATA PROVIDERS
Copyright © 2014 Microsoft. All rights reserved.
Fundamental company data and historical chart data provided by Morningstar Inc. Real-time index quotes and delayed quotes supplied by Morningstar Inc. Quotes delayed by up to 15 minutes, except where indicated otherwise. Fund summary, fund performance and dividend data provided by Morningstar Inc. Analyst recommendations provided by Zacks Investment Research. StockScouter data provided by Verus Analytics. IPO data provided by Hoover's Inc. Index membership data provided by Morningstar Inc.
ABOUT
Top Stocks provides analysis about the most noteworthy stocks in the market each day, combining some of the best content from around the MSN Money site and the rest of the Web.
Contributors include professional investors and journalists affiliated with MSN Money.
Follow us on Twitter @topstocksmsn.