Coke and Pepsi may be losing their fizz
Soft-drinks consumption is going flat in North America, so is now the time to invest in these soda stalwarts?
Have you ever tried to put down a bowl of cola-flavored liquid -- carbonated or non-carbonated -- in front of your dog or cat? Chances are they'll take one sniff and turn up their noses.
More and more homo sapiens are having the same reaction, and that has companies Coca-Cola (KO) and Pepsico (PEP) sweating big, anxious drops.
In an article last weekend in The Wall Street Journal titled "Is This the End of the Soft Drink Era?," Mike Esterl made a timely observation:
As U.S. consumption [of soda beverages] slipped over the past eight years, the beverage giants typically were able to raise prices enough to keep soda revenue growing.
 
But soda sales at U.S. stores declined in the send half of last year -- including the holidays, when partygoers normally pay up to gulp more.
The baby-boom generation, still over 73 million in number, is becoming more concerned about the ramifications of ingesting too much sugar or artificial sweetener.
"The question from here is if that is the new norm," Steve Powers, a beverage analyst at Sanford C. Bernstein, told the Journal after reviewing the latest store sales numbers. Last year the sale of carbonated, flavored sugary beverages (a.k.a. "soda") declined by 0.6% to $28.70 billion at American stores. In terms of volume the sales actually dropped by almost 2%.
The article quoted statistics by SymphonyIRI Group, a consulting company that claims to be "...a global leader in innovative solutions and services for the CPG, retail and health-care industries." Its clients are most of the members of the Fortune 100 CPG and retail companies.
In a story on Tuesday, SymphonyIRI said its fourth-quarter 2012 MarketPulse survey "found that shopper sentiment dropped to its lowest point since Q3 2011. While consumers across all age groups feel the strain of ongoing economic strife, those aged 35-54 convey particularly gloomy attitudes, with 43% stating that their financial situation deteriorated in 2012."
This doesn't help the angst that management is feeling at both Coke and Pepsi. The chart below clearly illustrates what's been unfolding when it comes to KO's share price and the trailing-twelve-mont​h revenue-per-share direction.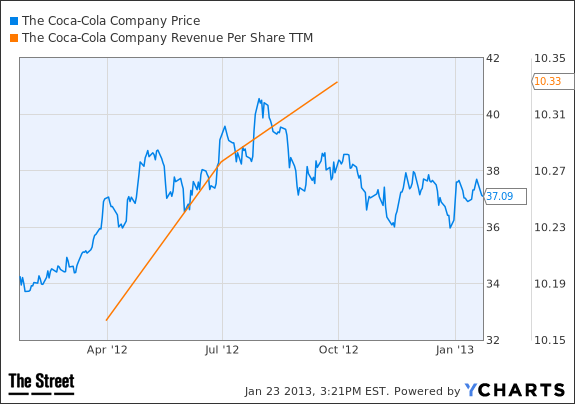 There are two conclusions I draw from this chart. First, there appears to be good support at around the $36-a-share level. The second is that revenue per share, which had moved up buoyantly for most of 2012, apparently didn't fare as well in the fourth quarter, which Coke reports on Feb. 12.
The analyst consensus estimate for sales revenue for the fourth quarter of 2012 is $11.54 billion, an increase of 4.6% over the year-ago same quarter. Earnings per share (EPS) are estimated to have risen 12.8% to 44 cents. Coke will be under tense scrutiny to come close to or exceed these numbers.
Pepsico is also feeling the pinch from declining soda sales, but not as much as Coke, which derives about 60% of revenue in the U.S. from carbonated soft drinks. Pepsi has a wider array of other products, including such food brand names as Lays and Ruffles potato chips, Doritos and Tostitos tortilla chips, Cheetos cheese-flavored snacks, branded dips, Fritos corn chips, SunChips multigrain snacks, and Santitas tortilla chips in North America.
In addition, Pepsi makes money selling Quaker oatmeal, Aunt Jemima mixes and syrups, Quaker Chewy granola bars, and Quaker grits, Captain Crunch cereal, Life cereal, Rice-A-Roni side dishes, Quaker rice cakes, Pasta Roni, and Near East side dishes throughout North America.
Let's look at PEP's chart.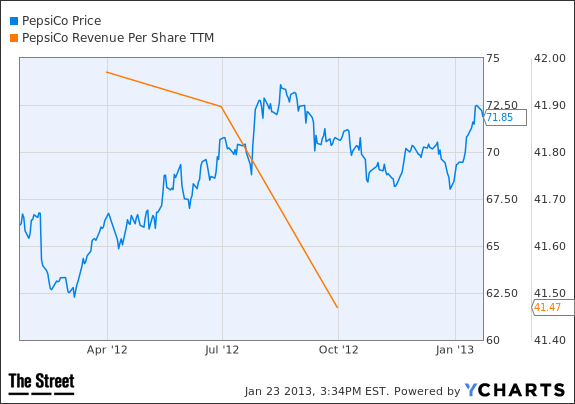 Even though PEP's revenue per share plunged through the end of October 2012, the share price movement suggests that when it reports fourth-quarter revenues and EPS on Feb. 14, analysts and shareholders will like what they hear.
The analyst consensus estimate for PEP's sales revenue for $19.65 billion, less than 1% improvement over the same quarter in 2011. EPS average estimate calls for $1.05, which would be an 8.7% decline from the year-ago quarter.
If that news is already baked into PEP's share price, there's probably an opportunity here for an upside surprise since expectations are so measly.
PEP pays a current annual dividend of $2.15, which represents a payout ratio of 56%. With over $6 billion in levered free cash flow that dividend looks sustainable. At a $71.84 share price this would mean a yield-to-price of a delectable 3%.
PEP shares sell at around 16 times forward earnings compared to KO's forward PE of 17. Coke's current dividend payout ratio is 52% with $6.4 billion in levered free cash flow. Its current yield-to-price is a slightly less desirable dividend yield of 2.75%.
The 200-day moving average price for PEP shares is just below $70-a-share. That improves the yield to price to 3.07%. So I'm putting my buy-limit order in at around $69.80 for my strategy of buying PEP in increments, also known as "doubling-down" by some. I like to let the stock come to me, and I'm patient.
Both Coke and Pepsi's soda sales are bubbling overseas, and Coke is making money from last year's acquisition of coconut water brand Zico. The company also bought a stake in the U.S. dairy market by purchasing part of Core Power, a maker of a workout recovery shake.
Not to be left in the lurch, Pepsi's Naked Juice brand rose 25% last year. The Journal article also reported that Pepsi's "...tea and coffee sold through joint ventures with Lipton and Starbucks (SBUX) are posting healthy growth."
At the risk of looking like I favor PEP over KO, let me show you the same one-year chart of PEP where I included a line for the direction of its cash from quarterly operations. You can draw your own conclusions. I've already drawn mine and won't be buying too many shares until after they both report earnings in February.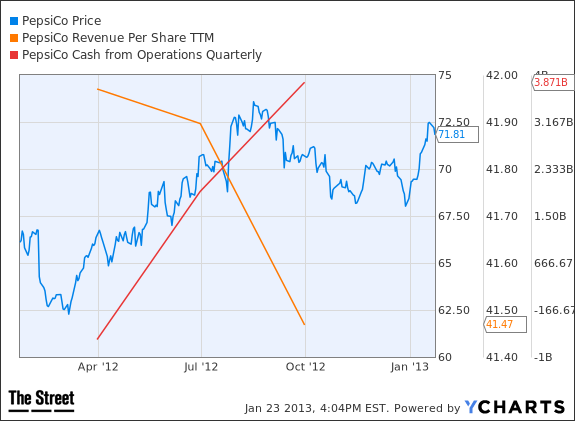 More from TheStreet.com

Soft drinks are the one item that have absolutely no nutrition or goodness in its product and thankfully the public is waking up to the fact that consuming these products is both dangerous and leads to obesity.  I for one gave them up sometime ago and will never drink another sickeningly sweet poisonous beverage again.  Even when I occasionally eat at fast-food restaurants I bring my own drink into the restaurant. Since completely swearing off of them I am now at my ideal weight and lost those 10 stubborn pounds I never seemed to be able to lose and I am feeling great quite possibly due to stopping all that excessive sugar consumption. I now weigh what I  did in high school which my doctor said is our most ideal weight. Stevia and those other horrific sweeteners are sickening, literally!
Are you sure you want to delete this comment?
DATA PROVIDERS
Copyright © 2014 Microsoft. All rights reserved.
Fundamental company data and historical chart data provided by Morningstar Inc. Real-time index quotes and delayed quotes supplied by Morningstar Inc. Quotes delayed by up to 15 minutes, except where indicated otherwise. Fund summary, fund performance and dividend data provided by Morningstar Inc. Analyst recommendations provided by Zacks Investment Research. StockScouter data provided by Verus Analytics. IPO data provided by Hoover's Inc. Index membership data provided by Morningstar Inc.
ABOUT
Top Stocks provides analysis about the most noteworthy stocks in the market each day, combining some of the best content from around the MSN Money site and the rest of the Web.
Contributors include professional investors and journalists affiliated with MSN Money.
Follow us on Twitter @topstocksmsn.