Are investors overreacting to possible Fed tapering?
It's conventional wisdom that's creating the havoc we are now stuck in, yet this isn't the end of the world.

Do you accept the beat-down like a man or do you actually fight it?
It's been almost a month since David Tepper came on CNBC and laid out a blueprint that said the Federal Reserve's tapering is necessary and will ultimately be good.
That thought had been impermissible by all of those that have waited for the tapering or had sold before the tapering. It was an icon-smashing moment -- with the icon having said that the patient would die as soon as the Fed took off life support. With it, a hideous decline not can but must occur.
For several weeks there was a grudging acceptance by many that maybe Tepper was right. That's because he was forceful, not "on the one hand or on the other," and he had made a lot of money, so he was no joker for saying so.
But, in the past 10 days, Tepper's view has been forgotten. It's been replaced with a cold, hard reality that Tepper is dead wrong and that the reverberations from the end of tightening will spell the end of the bull market in the U.S. and everywhere else. That it is inevitable, and that the beat-down will be severe.
We are in a mode now that says, if you don't sell, you are a moron. Along with the Fed's lack of bond-buying comes the end of any hope that China's market will ever rally; a total implosion of Japan; the denouement of Europe and the euro; the beginning of the end of Brazil and Russia and India; the crushing of all commodities; and the stoppage of any profit growth.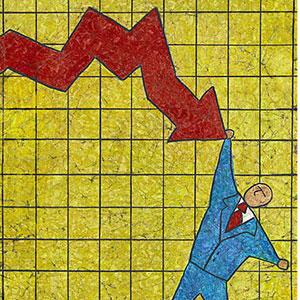 The only thing that's not being attributed to the end of Fed largesse is an epidemic of fatal illness, a tenth plague like a wave of death, with only the bears who smear bear blood on their doors to be spared.
Come on, you know this. This is the state of affairs we are in now.
Is it right? How about this? It doesn't matter if it's right -- we simply can't handle the decline from these levels without bailing.
But against this is the calculation I did last week that showed the downside per stock if the life support gets taken away -- the actual point declines from companies that may or may not be seriously impacted by the end of quantitative easing.
So take the banks. We know that this sector is upset by currency turmoil. That's supposed to be the end of anything good that can happen to them. In fact, on Tuesday we had reports from Charles Peabody, a known analyst, saying the currency losses will be horrendous for the international banks -- $7 billion, to be precise, by Citigroup (C). Despite Citigroup's attempts to deny this, it became common parlance within 15 minutes of a story on Bloomberg, spelling out the banks-as-deathtrap theory, even as the notion was refuted intra-article by an analyst with a better record than what Peabody has. But who cares about records when you are in the grips of Fed tightening? Yes, let's call it what it is: Fed tightening.
Meanwhile, what's happening in the real world? Certificates of Deposit -- which I monitor through Rate Watch, the keeper of the numbers -- has shown that the five-year CD has gone down in yield, with the differential now at 20 basis points in favor of the banks. That's huge. That should be the talked-about number. But disaster is in the air, and if you are an analyst who is prone to thinking disaster, you have the ball. So don't go all LeBron on me. Go to the hoop.
So nobody cares what's relevant. Instead we care about the unintended ramifications of the Fed seeking to stop the economy in its tracks. That's another "truth" that's been impacting the housing stocks, which benefited in an outsized way from the Fed giveaway.
Of course, that's flagging just one group that's big in the S&P 500 ($INX), and giving you the reality of the net interest margins with the Fed walking away. A second group? The industrials. These stocks have shown signs of doing better, courtesy a nascent return to growth, as represented by eurozone production numbers Tuesday night. I know, let's just dismiss that out of hand as impossible. Third group? The techs. They, too, are impacted by a turn in Europe and a turn in Japan, even despite endless attempts to say Abenomics isn't working. Fourth beneficiary? The drugs. Why? Because the dollar's been weakening against Europe, a major spur to earnings.
I could go on and on, but the simple fact is that this isn't the end of the world. We just have to accept the portrayal of it for the moment. Which brings me, full circle, to what I wrote at the beginning: You have to take the beat-down, because you don't know how long it will last or whether it will be as devastating as presumed. In other words, despite Tepper's disappearance from the scene, I think he will turn out to be right after some initial turmoil.
But you have to accept that, right now, at this very moment, he is viewed as a total Pollyanna.
I am betting that's wrong. That's a minority bet, but I am stuck with the havoc being created right now by conventional wisdom before I can be freed by its aftermath.
So is everybody else.
The choice for the beat-down is yours. It may be worth taking, too, even as that seems to be ludicrous for everyone except for those who have been right all along so far.

Jim Cramer is a co-founder of TheStreet and contributes daily market commentary to the financial news network's sites. Follow his trades for Action Alerts PLUS, which Cramer co-manages as a charitable trust and has no positions in stocks mentioned. 
More from TheStreet.com
DATA PROVIDERS
Copyright © 2014 Microsoft. All rights reserved.
Fundamental company data and historical chart data provided by Morningstar Inc. Real-time index quotes and delayed quotes supplied by Morningstar Inc. Quotes delayed by up to 15 minutes, except where indicated otherwise. Fund summary, fund performance and dividend data provided by Morningstar Inc. Analyst recommendations provided by Zacks Investment Research. StockScouter data provided by Verus Analytics. IPO data provided by Hoover's Inc. Index membership data provided by Morningstar Inc.
ABOUT
Top Stocks provides analysis about the most noteworthy stocks in the market each day, combining some of the best content from around the MSN Money site and the rest of the Web.
Contributors include professional investors and journalists affiliated with MSN Money.
Follow us on Twitter @topstocksmsn.