Apple, publishers may be sued for e-book price fixing
The DOJ is investigating possible antitrust violations.
Apple
(
AAPL
) and five large book publishers could be slapped with a lawsuit by the U.S. Department of Justice for allegedly
colluding
to keep the prices of e-books high, according to a report last Friday.
The book publishers in question are five of the largest in the U.S., including Simon & Schuster, Hachette Book, Penguin, Macmillan and HarperCollins. The DOJ alleges that the publishers teamed up with Apple to take on
Amazon
(
AMZN
), which was starting to exert a huge control on the publishing industry with its highly discounted e-book editions.
Traditionally, book publishers sold physical books to stores for about half the recommended retail price. Retailers such as Amazon could then price their books as they wished. With physical books, Amazon rarely discounted the books heavily because the industry was already huge with lots of competition. Moreover, reading an e-book on a laptop or a desktop was hardly a good enough user experience to drive a shift in trend towards e-books.
Publishers unhappy with Amazon's heavy e-books discounts

However, with the advent of the e-book readers, users began to buy more e-books. Amazon came up with its own e-reader, the Kindle, to drive the sales of its e-books up. Further, seeing the huge growth opportunity that the e-book market presented, it started discounting the e-books heavily in order to rapidly gain a bigger share of the nascent online market.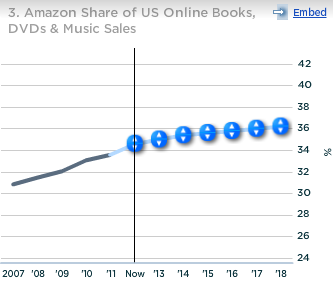 This had the publishers worried. Not only did the hugely discounted prices cannibalize on the sales of their higher-priced physical editions but they also undermined the value of their content to such an extent that the publishers were concerned about the long-term impact on their business. This brought back memories of the music industry's death at the hands of the Apple iTunes. Then, the record companies had not realized the impact of the Internet as a disruptive force, and before they knew it, Apple's iTunes had become a phenomenon selling music for 99 cents.
Apple stages a coup
The shocking precedent had publishers wary and wondering what they could do to avoid a repeat of this scenario. At the same time, Apple was readying plans to launch the iPad and Steve Jobs had his eyes trained on the growing e-book market to supplement his iTunes and App stores and drive iPad sales. An unlikely collaboration ensued. Taking advantage of the Amazon-publishers rift, Apple came up with an agency pricing model that lets publishers set the prices of their e-books with Apple keeping a 30% cut for every e-book sold on its iBooks platform in return.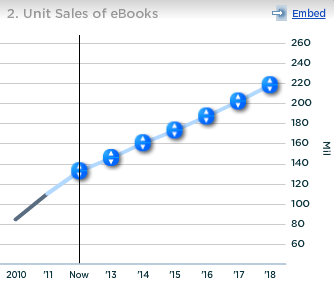 One might wonder why the publishers would choose to collaborate with another company that could also pose the same threat to their higher-margin physical books business as Amazon in the longer term. Isn't the whole online market a threat to their core traditional businesses?
It is in our view, and this is what the publishers understood better than their music counterparts. The online market is here to stay. Moreover, it is only going to grow going forward. If the publishers do not embrace this inevitably, they could see their businesses suffer as well. What Apple was giving them was better control over the pricing of their content and a chance to play a bigger role in this online boom -- a chance that the record companies never got.
Also, it allowed publishers a secondary choice of distributors for their digital content, thereby increasing competition and the value of their content as well. Apple, on its part, got a chance to give its mobile ecosystem a more complete feel with the publishers' support.
The DOJ sees the potential of foul play

But, wait a minute. How is any of this illegal?
Allowing Apple to compete with Amazon doesn't decrease competition. But surprising as it may seem, increasing competition in this case may lead to increased prices. Some have alleged that Apple forced the publishers to not let others sell the same e-books at a cheaper price through a clause in their contracts. Essentially, what this means is that the publishers could price their e-books higher on the iBooks platform but refuse to sell their content to any retailer that deigns to set a cheaper price.

The DOJ is investing to what extent this may act as a fixing mechanism and has raised anti-trust concerns as it leads to higher prices and lower competition. In particular, if the publishers look to have acted in concert, this could be a violation of the DOJ's interpretation of price fixing.

THIS IS NOT THE DOJ'S MANDATE!! TREVINO IS NOT DOJ'S MANDATE!! wats the problm wit da nigerin at doj?? he abomination kotex!? dats wat! w.t.f. dikhead!? u noe that doj wurks at da plezure of da prez! mak no mstake, tlk lik a egypton an u ax lik a egypton, and dat holders wlk. he nutin oder dan a klinton wannabe,dumbo dimwit.dis alls cuz abomination not culd fine a nuder querblk wurman to puts ina hit plaz. da doj, is not a social media outlit. da milifairy is not a social expermnts.christ ona cross, save us frm afrmatv akton. ern ur own ways, blk aint a minorty anyways. illegals is!!
Are you sure you want to delete this comment?
DATA PROVIDERS
Copyright © 2014 Microsoft. All rights reserved.
Fundamental company data and historical chart data provided by Morningstar Inc. Real-time index quotes and delayed quotes supplied by Morningstar Inc. Quotes delayed by up to 15 minutes, except where indicated otherwise. Fund summary, fund performance and dividend data provided by Morningstar Inc. Analyst recommendations provided by Zacks Investment Research. StockScouter data provided by Verus Analytics. IPO data provided by Hoover's Inc. Index membership data provided by Morningstar Inc.
ABOUT
Top Stocks provides analysis about the most noteworthy stocks in the market each day, combining some of the best content from around the MSN Money site and the rest of the Web.
Contributors include professional investors and journalists affiliated with MSN Money.
Follow us on Twitter @topstocksmsn.